Paul Revington picks his final Ireland squad for summer games
Last updated on .From the section Hockey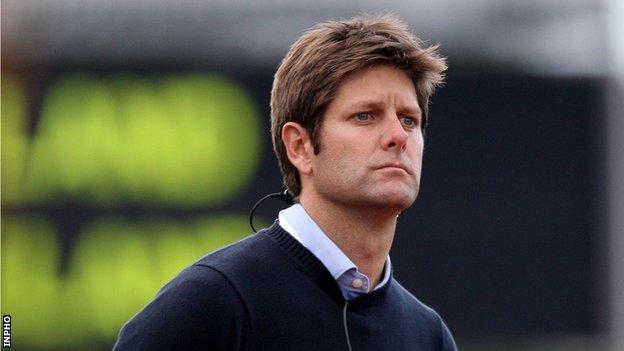 Paul Revington has named his final Ireland squad for next month's series against Spain plus the Celtic Cup tournament and further Tests.
Revington will step down in July after the end of the Celtic Cup and further Tests against South Africa and Belgium.
Several experienced players will miss part or all of the itinerary because of injuries and exam commitments.
The squad includes Ulster players Jonny Bell, Phillip Brown, Drew Carlisle, Tim Cockram and Stephen Dowds.
Monkstown players David Cole and Stephen Cole are also included along with Cookstown's Ian Hughes, Lisnagarvey's Peter MacDonnell, Banbridge's Bruce McCandless and Cookstown's Ian Sloan.
Those missing the series against Spain because of injury include Peter Caruth, Kyle Good, Michael Maguire, Geoff McCabe and Iain Walker.
Ian Sloan is among the exam-tied players.
Ireland squad: David Ames, Jonny Bell, Phillip Brown, Jonny Bruton, Chris Cargo, Kenny Carrol, Drew Carlisle, David Carson, Tim Cockram, David Cole, Stephen Cole, Brian Doherty, Stephen Dowds, David Fitzgerald, Ronan Gormley, Conor Harte, David Harte, Ian Hughes, John Jackson, John Jermyn, Stuart Loughrey, Jason Lynch, Peter MacDonnell, Eugene Magee, Bruce McCandless, Andy McConnell, Shane O'Donoghue, Ian Sloan, Alan Sothern, Clinton Sweetman, Michael Watt, Stephen West.