Mayer says Leicester Ladies can be proud of Europe run
Last updated on .From the section Hockey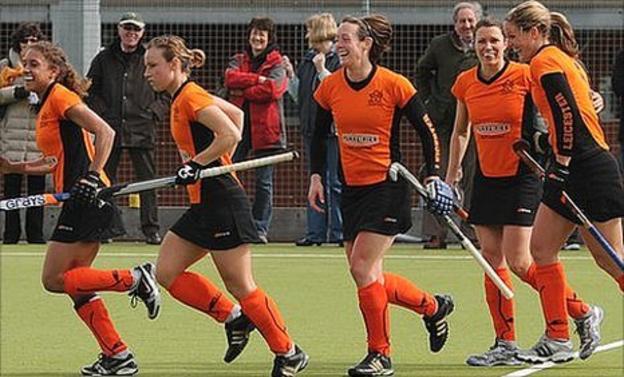 Leicester Ladies head coach Chris Mayer says his side have plenty to be proud of despite their defeat in the EuroHockey Club Champions Cup final.
Leicester, who beat Slough in the semi-finals, were beaten 4-1 by Den Bosch in Sunday's final in the Netherlands.
Mayer told BBC Radio Leicester: "We are gutted that we lost but there's a lot to be proud of. There's a lot of people who would like to have been here.
"We were in it to win it but we just didn't quite make it happen."
Mayer's side, who were also beaten in the Premier Division play-off final this season, had edged past English rivals Slough 2-0 on penalties in Friday's semi-final.
"We can't brush the stuff that went wrong under the carpet," he added.
"We have to use it as a springboard and have to be able to put right what we did wrong, individually and collectively."
Despite Leicester's Crista Cullen scoring the opening goal of the game, Den Bosch stormed back to win their 12th successive title.
Cullen, an England international, said: "It is credit to the girls that we got ourselves 1-0 up but they [Den Bosch] are a class act.
"We gave them opportunities but we did not take our own.
"You have nothing to lose when you are in a final. The worst you can do is a silver medal so you have to go for it.
"We were the underdogs, we really did give it our all and I am very proud to play for Leicester."