Guernsey women lose EH Vase final by one goal
Last updated on .From the section Hockey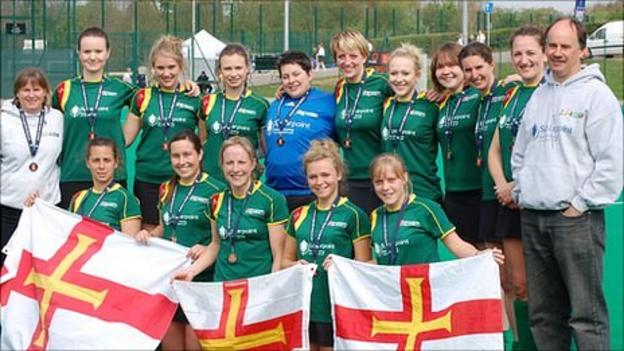 Guernsey's women lost the final of the EH Vase 2-1 to Cheshire's Alderley Edge at Tonbridge in Kent on Sunday.
It was the island side's first entry in the national women's hockey competition.
Guernsey captain Mickie de Vial said: "The girls played brilliantly, it was 2-1 at half time, we held them to 2-1 all the way through the second half.
"We hit the post, we went wide of their goal, we tried everything it just wasn't going to go in."
Island coach David Wray said: "Obviously disappointed for the girls as they've come a long way this season.
"We didn't play very well in the first half, maybe the water-based pitch we haven't got one of those at home takes a bit of getting used to, maybe the pace of the game.
"After some reorganising at half time we came back in the second half and we showed what we could do, we played much better as a team and had a lot more attacking play.
"I actually thought we'd get onto level terms, they dropped back a bit which helped us, but it just wasn't to be unfortunately."
He said: "We need to get more experience and that's what the whole cup run was about."