Hard-up GB squad short of four players for Italian qualifier
By Nick Hope
BBC Olympic sports reporter
Last updated on .From the section Handball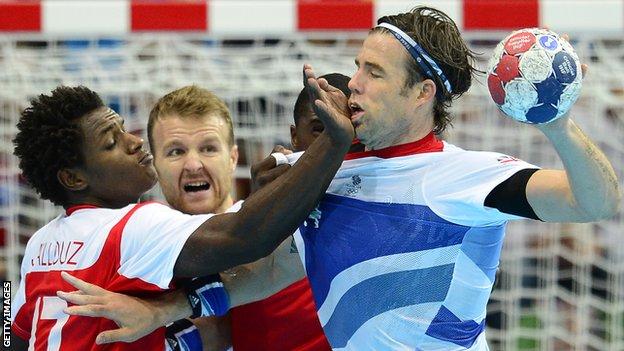 The British men's handball team head into their final European qualifier against Italy with just 12 players after a series of late withdrawals.
In December the team lost its funding for the Rio Olympics and consequently athletes have had to pay their own expenses to attend matches.
The cost of late flights to Italy has prevented GB from taking a full squad of 16 to next Wednesday's game.
"It's not an ideal situation," said GB handball head coach Bill Baillie.
"When we booked the flights four or five weeks ago they were only £50 each, but they're now over £140 and the players just don't have that sort of money."
Finances were also tight ahead of London 2012 and several of the Olympic squad made themselves unavailable after the Games whilst they found work and means of paying off the debts they had accrued.
"Some of the players are owed over £9,000 and wanted to pay back their families, partners and friends before committing to the future of the [GB Handball] programme which I completely understand," stated Baillie.
Great Britain cannot qualify for the 2016 European Championships, having lost all three of their qualifying matches.
With four fewer players to select from and rotate into and out of the match against Italy, attaining a positive result will be a big ask for the British team, who were defeated 47-23 by their opponents in the home match in April.
"It's going to be difficult, but the boys want to continue the momentum from the Olympics and showcase the sport," Baillie told BBC Sport.
"I'd be happy with a five-six goal turnaround [deficit], because that would be a massive improvement."
Next Wednesday's fixture is the GB men's last scheduled competitive international game.
They could return for the World Championship qualifiers in October, but if finance is not found it means the team would not compete again until late 2014.