London 2012: GB handball men make sacrifices for success
By Nick Hope
BBC Olympic sports reporter
Last updated on .From the section Handball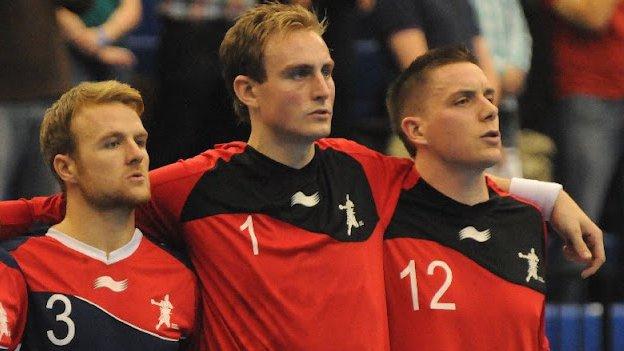 Great Britain handball captain Bobby White insists the personal sacrifices made by his team will help them compete with the sport's elite at London 2012.
The GB men's team have been scattered across Europe since their centralised training programme in Denmark was closed down in 2009.
Many players juggle both domestic handball and part-time employment.
"The Olympics doesn't comes cheaply and sometimes you have to sacrifice something to achieve," said White.
"Financially it's tough, I'm living out in France on my own, not in a particularly nice area, but I'm getting good handball out there and it's better than what I can get back at home."
The Valence-based GB goalkeeper, who admits his personal finances "aren't looking too healthy" says many British players are in a similar position.
"A lot of the lads have made the same kind of deal, they've moved away to other countries to try and improve and that's something that has to be done."
"Two boys in Iceland work in a plant nursery, two in Denmark are part-time cleaners at a sports complex where they train and others have factory work," continued White.
"I'm lucky I get paid by my club, it's not much but it's enough to get by."
In January White suggested his team needed to 'step up' if they were to avoid being whitewashed at this summer's Games.
And after an opening 32-15 defeat to Argentina at the London Handball Cup earlier this month GB head coach Dragan Djukic said it was a "meeting with reality".
A crushing 41-15 loss to Tunisia followed, but the team drew encouragement from their performance in their final match, where they were narrowly edged out by Korea.
Djukic, who has frequently lamented the lack of time the team have been able to spend together, feels the next few months will be crucial. At the end of May the players will join the women's team at the National training centre in Crystal Palace.
"Unfortunately we had just three days together [in London] and we played against strong nations, but when we start our final preparations in May we will have a much bigger chance to complete the team and learn daily to avoid these situations," Djukic told BBC Sport.
White added: "Everyone plays different styles of handball in their clubs, different moves, different tactical defences, so when we come back together as a squad you have to try and remember what your role is and how you slot back into the system.
"We'll have over two months towards leading to the Olympics, so we've got plenty of time to work on the things and I'm confident we can close that gap."
The British Handball team are aiming for a top-eight finish at the Games and will learn their 2012 group opponents on 30 May.