London 2012: Olympic venue name-change angers handball chief
Last updated on .From the section Handball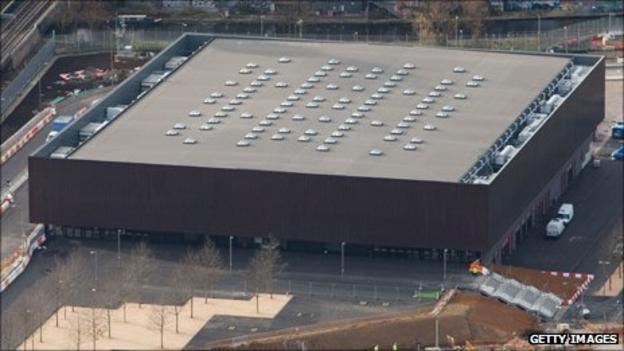 British Handball chief executive Paul Goodwin says the decision to change the name of the Olympic handball venue to the Copper Box is the wrong one.
The arena's new name is a reference to the materials used on the outside of the 7,000-seater stadium.
But British Handball is starting a campaign for it to revert to its original name - the Handball Arena.
"Retaining the name of the sport in the title of the venue is important to us," said Goodwin.
"The Olympics has given handball a great opportunity to grow in popularity, and all the indications are that we are achieving that.
"I think we deserve to have all our good work in developing the sport recognised by the authorities by not giving the venue a generic title that does nothing to reflect its use," he added.
Across Europe, and the second most popular for men, and in Britain it is growing in popularity.
Great Britain will have a men's and women's team at London 2012 and almost 60,000 children and young people were introduced to the sport last year.
The first competition at the Handball Arena was the Olympic test event in November, where Britain's women produced a surprise result by beating African Games champions Angola.
Goodwin asked: "Why have they not renamed other facilities in a similar vein?
"Perhaps the Olympic velodrome will be called 'the big round wooden building' or the basketball arena renamed as 'the marshmallow'?"
The Handball Arena - or Copper Box - will host handball, goalball and the fencing discipline of modern pentathlon at the Games, and afterwards will be adapted to become a multi-use community sports centre, incorporating athlete training and small-to-medium-sized events.
A Locog spokesman told the BBC: "During the Games the venue will host a number of different sports.
"At the Olympic Games it will host modern pentathlon (fencing) as well as handball, with the finals taking place in the larger basketball arena.
"During the Paralympic Games, goalball will be played at the venue. To avoid any confusion with spectators during the Games we have created a name which reflects the venue's iconic boxed-shape and distinct copper cladding rather than name it after a single sport."