Gymnastics abuse claims: British Gymnastics steps aside from independent review

By Dan Roan
BBC sports editor
Last updated on .From the section Gymnastics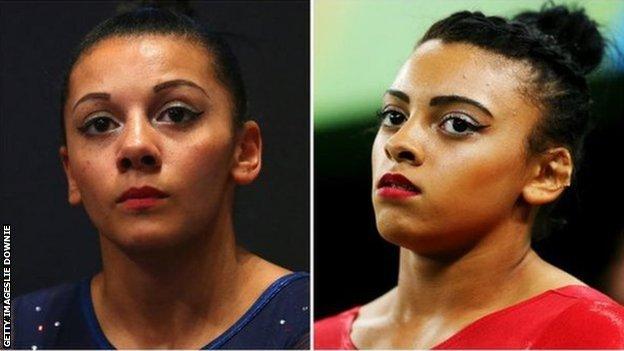 British Gymnastics has stepped aside from a review into allegations of widespread mistreatment in the sport to "remove any doubt" over the "integrity or independence" of the process.
UK Sport and Sport England will now co-commission the independent review aimed at "bringing about positive change".
Several gymnasts have come forward detailing their experiences of mistreatment in recent days, including Olympians Becky and Ellie Downie, who claimed abusive behaviour in gymnastics became "completely normalised".
British Gymnastics chief executive Jane Allen said the decision was made to "retain the trust of the gymnastics community", adding: "In the past week, the complexities have increased.
"Our priority is to learn the lessons and ensure the welfare of all those within gymnastics."
The British Athletes Commission (BAC) said it welcomed the decision by British Gymnastics and will work with UK Sport and Sport England to "ensure a truly independent review that can command the confidence of gymnasts and all others affected by the allegations".
A confidential helpline is also being set up for British gymnasts who say they have suffered bullying or abuse.
The service, run jointly by the BAC and the National Society for the Prevention of Cruelty to Children (NSPCC), comes amid widespread allegations in the sport.
The dedicated helpline will be "a safe place for athletes to go to", BAC board member Peter Crowther told BBC Sport.
"We will then get each of these athletes the respective support they need. We have already had inquiries.
"It was gut-wrenching to see these utterly disgraceful allegations be made public and concerning not just athletes, but young children.
"This is likely to be one of the more in-depth and broad-ranging situations we've faced, but unfortunately we've dealt with many situations of alleged abuse… across many sports."
Earlier, Crowther had said the BAC should also help decide the terms of reference for the panel that leads the inquiry.
"It is understandable that British Gymnastics wants to have an independent investigation… when something as serious as this emerges," he said.
"[But] frankly, it's not in the interest of anyone, including British Gymnastics, to commission a report where they set the terms of the investigation and tell the investigating panel what sort of questions to ask.
"It doesn't inspire confidence - athletes need to go somewhere they feel completely safe."
British Gymnastics has encouraged athletes with "concerns around specific incidents or behaviours" to contact its integrity unit.
The BAC/NSPCC helpline will also now be available from 20 July.
On Wednesday, Olympic medallist Beth Tweddle said "there is no place for bullying or abuse in the sport that I love", and urged all gymnasts to share their feelings.
Meanwhile, International Olympic Committee president Thomas Bach said the organisation takes the allegations of emotional and physical abuse in British gymnastics "very, very seriously".
"These cases are clearly against everything we stand for and therefore we will do everything we can with regard to prevention," he said.
"But also to then follow up on cases if they should come under our jurisdiction."
British Gymnastics is the latest governing body to be engulfed in an athlete welfare crisis since Rio 2016, and Crowther said the development shows "more effort needs to be put into policing the high-performance system".
Crowther said the funding the BAC received from UK Sport was "deeply insufficient".
In 2018, UK Sport announced a range of new initiatives to improve athlete welfare, upping investment for the BAC to £1m for the rest of the Tokyo 2020 cycle which it said would generate "a three-fold increase in its capacity to support its members".
Dame Tanni Grey-Thompson, who led a duty of care review in 2017, called for her recommendations of a sports ombudsman and independent funding of the BAC to now be implemented.
"Ultimately, I don't think enough has been done," the cross-bench peer and 11-time Paralympic gold medallist told BBC Sport.
"With each new issue that arises and hits the media for a brief amount of time, it then disappears again and everyone just gets back to normal.
"We do need to look at a massive cultural change. I don't think applying duty of care to anyone in the system means less medals, it just means that we help people survive the system in the best way they can."
Meanwhile, Team GB chef de mission Mark England told BBC Sport's Nick Hope that the British Olympic Association (BOA) is "alarmed" by the allegations of widespread mistreatment.
England, who led Team GB at Rio 2016 and will do so again at the Tokyo Olympics next year, insists the welfare support system in place for next summer's Games is already "hugely sound".
He says the BOA will consider the findings of the independent review.
"British Gymnastics took a very important step to announce an independent review," England said. "It's important athletes have a voice."