Rhys McClenaghan: Injured gymnast to miss German World Cup event
Last updated on .From the section Gymnastics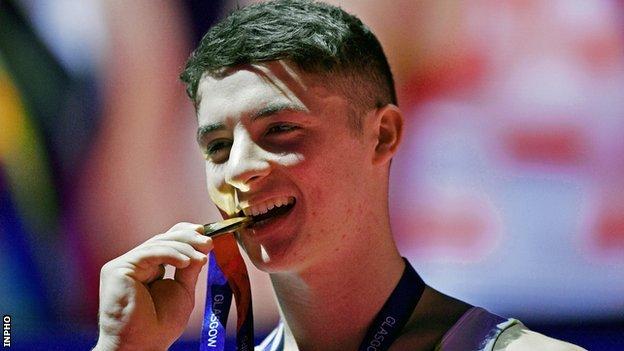 Commonwealth and European pommel horse gold medallist Rhys McClenaghan will miss the upcoming World Cup event in Germany because of a shoulder injury.
He had the injury diagnosed by doctors on his return home and has been advised to rest the shoulder.
"I hope to see a speedy recovery and I'll be back on track in no time," said the Northern Irishman.
"I came back from the World Championships and got the injury diagnosed by doctors," said McClenaghan said on Twitter.
"It was decided that it was best not to compete at the World Cup in Germany," he added. "We thought an injection would be the best course of action.
"It seems to have gone well and I'll be working hard in my rehab exercises and training from here on out."
McClenaghan had a breakthrough 2018, stunning Olympic champion Max Whitlock to win gold at the Commonwealth Games in Australia, adding European gold to his tally in August.
The Newtownards teenager also won World Cup gold in Turkey, preparing for the event by training in his back garden after coach Luke Carson was made redundant from Rathgael Gym in Bangor.