USA Gymnastics: United States Olympic Committee wants to strip governing body of status
Last updated on .From the section Gymnastics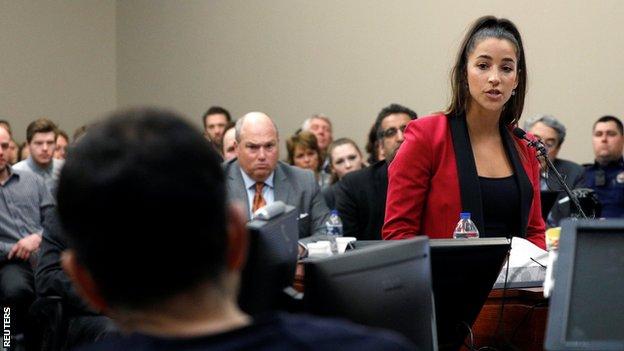 The United States Olympic Committee is seeking to strip USA Gymnastics (USAG) of its status as a national governing body, saying "athletes deserve better".
In January ex-USAG team doctor Larry Nassar was sentenced to up to 175 years after nearly 160 women accused him of sexual abuse.
His victims included Olympic champions Aly Raisman and Simone Biles.
USAG chief executive Kerry Perry resigned in September after criticism of her handling of the fallout.
A month later interim boss Mary Bono also stepped down.
Bono previously worked for a law firm which defended USA Gymnastics and Nassar during a sex abuse scandal in 2015.
She had also been criticised after appearing to oppose a Nike advertising campaign with Colin Kaepernick, the former NFL player and civil rights activist.
'Today is only the beginning'
Explaining the decision to begin proceedings, United States Olympic Committee chief executive Sarah Hirshland wrote an open letter to "gymnasts and the gymnastics community in the United States".
It read: "Seeking to revoke recognition is not a decision that we have come to easily, but I believe it is the right action.
"We believe the challenges facing the organisation are simply more than it is capable of overcoming in its current form.
"Even weeks ago, I hoped there was a different way forward. But we now believe that is no longer possible.
"Today is only the beginning of an important process for gymnastics in the United States. The path is not crystal clear, but our motives are.
"We move forward, committed to ensuring the type of organisation each gymnast and the coaches, trainers and club owners who support them, deserves."
Rachael Denhollander, the first gymnast to come forward with allegations against Nassar, said "a complete regime change should start right now" and that the news was "for every survivor".
She added: "After overseeing the abuse of hundreds of children by Larry, national coaches and club coaches, it is high time for this organisation to end and a new one, truly dedicated to athlete safety, to begin."