Nile Wilson ruled out of World Gymnastics Championships in Qatar with injury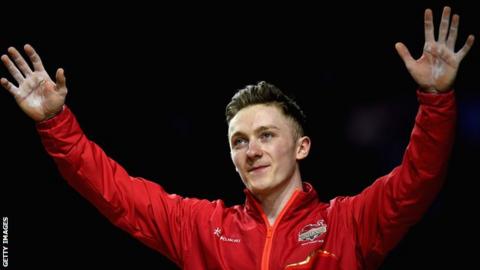 Olympic medallist Nile Wilson has been ruled out of this month's World Gymnastics Championships with a finger injury picked up in training.
He missed the European Championships in August with a neck injury and was due to return to major competition in Qatar.
The 22-year-old will be replaced in the five-man Great Britain team by fellow Rio Olympian Brinn Bevan.
"I am so gutted. I will have some time to be upset and grieve," Wilson said.
"I am going to come back stronger than always, as a Wilsonator would do."
Wilson said on social media that he injured two ligaments in his middle finger during a routine on Friday.
"I honestly felt I was the strongest version of Nile Wilson ever," he added.
"I've made the right decision. I've got to think long term. The next year and the Olympics is more important."
Wilson won three gold medals at the Commonwealth Games in April and also won bronze at the 2016 Olympics in Rio on the horizontal bar.
This year's World Championships are the first opportunity for countries to secure a team place for the 2020 Tokyo Olympics, which they can do by finishing in the top three.
The World Championships begin in Doha on 25 October.