Wales reveal their Commonwealth Games gymnastics team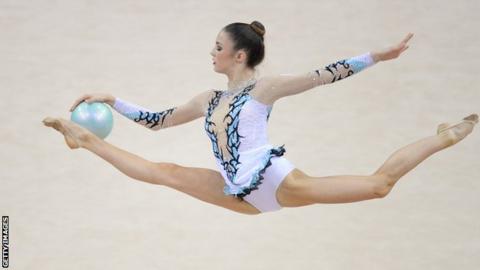 Wales has selected 13 gymnasts for this April's Commonwealth Games.
21-year-old Laura Halford - who won a silver and two bronze medals at Glasgow 2014 - is one of three rhythmic gymnasts chosen.
2017 British floor champion Maisie Methuen is included in the five-woman artistic team.
Commonwealth debutants Gemma Frizelle and 15-year-old Abigail Hanford complete the women's rhythmic gymnastics team for 2018.
Jac Davies, Iwan Mepham and Clinton Purnell all return for a second time in the men's squad.
Wales are bidding to improve on their 10 gymnastic medals won in Glasgow.
"Glasgow was beyond my wildest dreams," Halford told BBC Sport Wales.
"We were hoping for a team medal but I didn't have any individual expectations. So to come away with two medals individually was just amazing.
"I would love to experience that feeling again and maybe this time I'll hear the anthem [on top of the podium]!"
'They did it - so we can too'
Led by Frankie Jones, Wales' rhythmic gymnasts came away from Glasgow with eight medals.
The women's artistic team brought back an individual bronze on the beam for Georgina Hockenhull and a bronze in the team competition.
"I saw the girls in Glasgow and they did really well," said 17-year-old Holly Jones - one of the five teenagers in the 2018 women's artistic team.
"That's just pushed all of us to work even harder. We know they did it so we can do it too."
Her teammate Maisie Methuen shot to gymnastics fame in 2017 when - aged just 15 - she beat four-time Commonwealth gold medallist and former Strictly Come Dancing star Claudia Fragapane at the British Championships.
"It was crazy - I thought Claudia was going to win definitely!", she said. "But to realise I could win that medal was really nice.
"It's going to feel like a dream just going there [to the Commonwealths]. Ever since I was little I've thought about it but it's come so fast."
Emily Thomas, Latalia Bevan and Jolie Ruckley make up the rest of the women's team.
Josh Cook and Benjamin Eyre complete the men's team. They'll hope to add to Wales' one and only Commonwealth medal in men's gymnastics - the silver won by David Eaton back in 2006.
The 2018 Commonwealth Games begin in Australia on 4 April.