Larry Nassar: The doctor involved in gymnastics' abuse scandal
By Saj Chowdhury
BBC Sport
Last updated on .From the section Gymnastics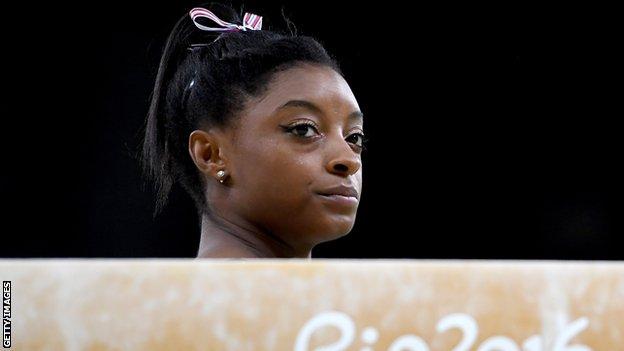 This week four-time Rio Olympic champion Simone Biles became the highest-profile athlete to state she was sexually abused by former USA Gymnastics team doctor Larry Nassar.
The 20-year-old is one of more than 140 women to have accused of the 54-year-old of abuse, and the latest gymnast after Aly Raisman, McKayla Maroney, Gabby Douglas in what is the biggest scandal of its kind to happen in sport.
Nassar, who also worked with gymnasts at Michigan State University, has already been sentenced to 60 years in jail for three counts relating to child sex abuse images on his computer.
He faces further sentencing on Tuesday after pleading guilty in November to seven counts of sexual assault. And there will be additional sentencing later in January on three counts of sexual assault in Eaton County, near the campus of the Michigan university.
How did the allegations come to light?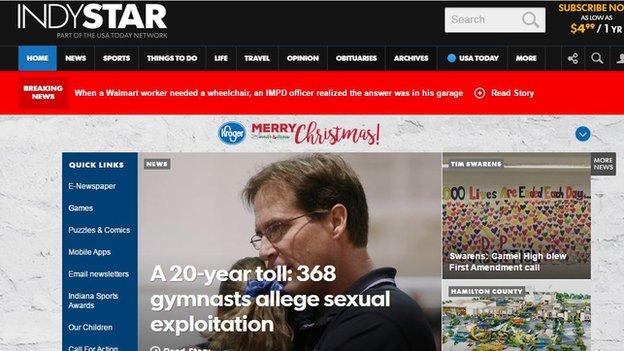 In August 2016, the Indianapolis Star published a story detailing allegations of sexual abuse committed by coaches working for USA Gymnastics. It claimed that the sporting body did not report allegations of abuse to relevant authorities.
Tim Evans, one of the journalists working on the paper's ongoing investigation, told BBC Sport they first heard details of the abuse in March.
"My colleague Marisa [Kwiatkowski] was looking at another case in basketball when it was suggested she look at gymnastics," he said.
"When that initial story was published we had three women call us and say that Dr Nassar did things to them. They did not know each other and their stories were almost identical.
"We spent a month or so investigating Nassar."
The following month, former club gymnast Rachael Denhollander waived her right to anonymity and, in an interview with the Indy Star, detailed the abuse she allegedly suffered at the hands Dr Nassar.
Speaking to BBC World Service's Sportshour programme, Denhollander said Dr Nassar allegedly sexually assaulted her during treatment for back and wrist injuries, despite her mother being in the room.
Since the initial allegations, those who were treated by Nassar in Michigan and at USA Gymnastics have come forward.
What has USA Gymnastics been accused of?
Raisman, Maroney and Douglas - members of the 'Fierce Five' that won team gold in London 2012 - have suggested that USA Gymnastics was to blame for turning a blind eye to Nassar's actions.
Maroney, 22, sued the organisation for what she believes was an attempt to buy her silence with a confidential settlement agreement in 2016. Douglas, 22, said "we were conditioned to stay silent", and last week Raisman, 23, tweeted that USA Gymnastics allowed the abuse to "thrive for decades", adding that it was "100% responsible".
The latest accusation came in Biles' statement where she mentioned the "guilt carried by Nassar, USAG and others".
How has USA Gymnastics responded?
USA Gymnastics had told the BBC it severed ties with Dr Nassar in 2015 when claims were brought to its attention. It denies that allegations of abuse were kept quiet in order to preserve the sport's reputation.
The organisation said it is "proud of the work it has done to address and guard against child sexual abuse" and passed evidence on to the FBI.
The organisation was also asked in 2016 whether its staff knew of Dr Nassar's alleged misconduct during the period he was employed.
It responded: "When USA Gymnastics learned of athlete concerns about Dr Nassar we immediately notified the FBI and relieved Nassar of any further assignments.
"Since then, we have co-operated with the FBI while the investigation has moved forward. Our support has and continues to include refraining from making further public statements or taking any other action that might interfere with the investigation. We are grateful to the athletes for coming forward to share their concerns."
In response to the latest suggestion by Biles that it was guilty of allowing the abuse to occur, it said: "USA Gymnastics is absolutely heartbroken, sorry and angry that Simone Biles or any of our athletes have been harmed by the horrific acts of Larry Nassar.
"USA Gymnastics' support is unwavering for Simone and all athletes who courageously came forward to share their experiences. We are our athletes' advocates. USA Gymnastics will continue to listen to our athletes and our members in our efforts of creating a culture of empowerment with a relentless focus on athlete safety every single day."
Who is Dr Nassar?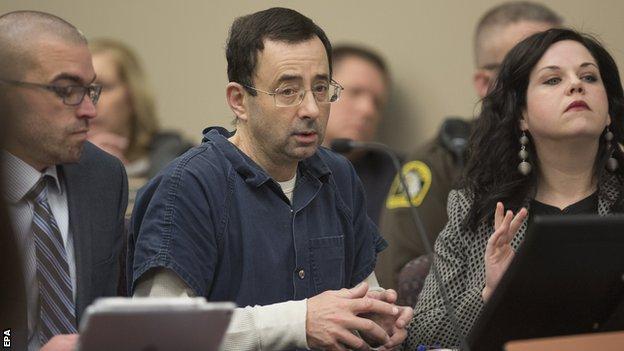 Nassar was a member of the USA Gymnastics medical staff from 1986 and team doctor for the women's team from 1996. He left the Indianapolis-based organisation in 2015.
He also worked with gymnasts at Michigan State University and has a website selling DVDs of rehabilitation programs for injured gymnasts.
He was initially arrested and charged on 21 November, 2016 for alleged criminal sexual conduct against a child, who was neither a gymnast nor a patient. The abuse was alleged to have taken place at his Michigan home.
Where are we now?
On Tuesday, Nassar attended a hearing in Lansing, Michigan where the first of many victim testimonies was heard before his sentencing for seven sexual assault charges.
A former babysitter, Kyle Stephens, was the first to give her testimony and recalled, in graphic detail, her own ordeal.
The Michigan Attorney General's Office, which prosecuted Nassar, has asked the judge to sentence Nassar to 40 to 125 years in prison.