Dan Keatings: 'The climate of fear is real in British Gymnastics'
By Nick Hope
BBC Olympic sports reporter
Last updated on .From the section Gymnastics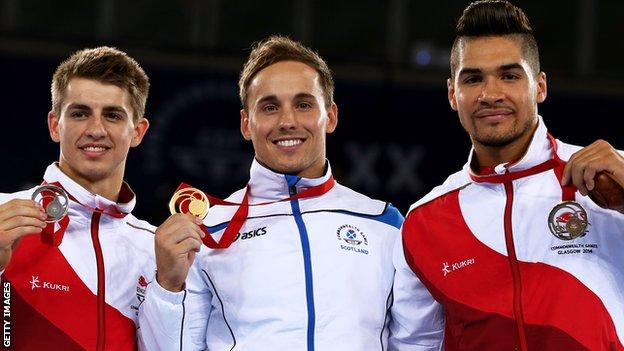 Commonwealth champion Dan Keatings says he experienced a culture of "bullying and manipulation" throughout his time as a British gymnast.
Keatings, 27, described retiring in January as a "relief", following a decade in which he won world, European and Commonwealth honours.
British Gymnastics has denied claims by a group of coaches that "appalling leadership" within the governing body had led to a "culture of fear".
"The fear is very real," Keatings said.
Speaking to BBC Sport, he added: "I'm one of the athletes that was never able to say anything because I was scared of not being selected for the team which then leads to losing funding."
In a statement, British Gymnastics said they were aware of the complaints and encouraged athletes to come forward.
Chief executive Jane Allen said: "Our safeguarding processes are robust and I can assure people that complaints and appeals, regardless of their nature, are dealt with fairly and effectively where we have the authority to act.
"We take all of our responsibilities towards our staff, coaches, participants and elite athletes extremely seriously."
British Gymnastics is the latest national governing body in the UK to become embroiled in an athlete welfare controversy after inquiries into duty of care standards at British Swimming, British Canoeing, GB Taekwondo and the British Bobsleigh and Skeleton Association (BBSA) among others in recent months.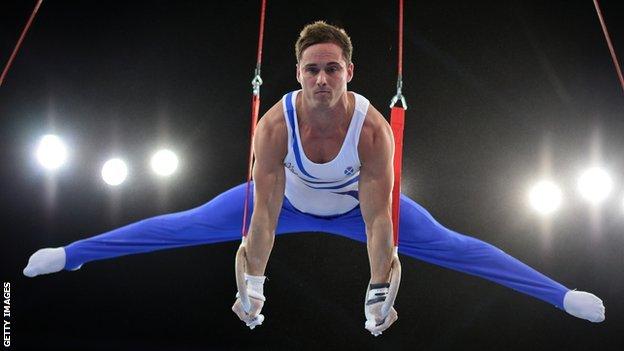 'I was repeatedly called fat'
Keatings became Britain's first all-around World Championship medallist when he claimed silver in 2009, and says his problems grew after missing out on the London 2012 Olympics through injury.
"You're trying to become an Olympic medallist and people are putting you down all of the time," said Keatings, who says he was repeatedly called "fat" during training.
"There were times where I was really quite down and I'm pretty certain I was depressed at certain times. There were times I didn't even want to leave the house."
Led by Max Whitlock's historic two Olympic titles, British gymnasts secured a record haul of seven medals at the Rio 2016 Games.
However, Keatings - who missed the Games as a result of injury and a loss of form - believes the team's success has come at a cost.
"With gymnastics doing really well at the moment, people think behind the scenes that everything is perfect, when that's not the case," said Keatings, who won pommel horse gold and silver medals in the all-around and team events for Scotland at the 2014 Commonwealth Games in Glasgow
"When I was retired it was like a big weight was lifted off my shoulders and it shouldn't be like that.
"You should be happy that you've had the career you've had, but I was happy to get away from the sport and start a new life."
Delays in signing new contracts
Keatings, who now works as a 'process officer' for Weetabix, is pleased Whitlock and several other leading athletes have delayed signing new World Class Performance Programme contracts with British Gymnastics.
Although no athletes have refused to sign the agreement, a number are unhappy with the current commercial arrangements as they feel it could impact their ability to make money outside the sport.
"I'm really happy because these guys are standing up to it," Keatings said. "It's almost like British Gymnastics want complete control of people.
"There are people doing really well and getting their own sponsors, but British Gymnastics want to grab a hold of that and put everything through them, which is restricting everything athletes can do."
British Gymnastics says more than 50% of the athletes on the World Class Performance Programme have signed new contracts and that discussions with other athletes are ongoing.
"We are working hard to ensure that all athletes are comfortable with the agreement because we respect their views on matters that directly impact them," Allen added.
"Whilst we had planned to have the agreements signed before the Artistic World Championships in October, once it was understood that the athletes wanted more time, we naturally agreed to this.
"We want to make the nation proud but 'how we win' is just as important. This administration has never had a desire to win at any cost and under my leadership I expect the athletes' welfare to be given the highest priority."