Louis Smith: Olympic silver medallist visits mosques after 'messing up' with video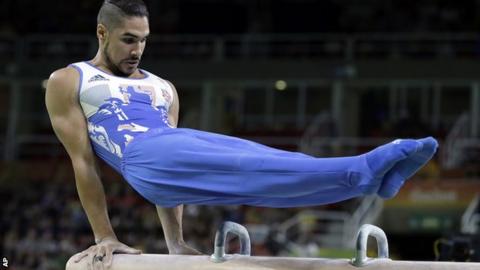 Olympic silver medallist Louis Smith visited two mosques in London instead of joining his Great Britain team-mates at a celebration in Trafalgar Square to honour their achievements in Rio.
The 27-year-old last week told the BBC he had received death threats "every day" after a video was posted online in which he apparently mocks Islam.
Smith said he had previously been "ignorant to people's religion".
He could still be banned or expelled by British Gymnastics.
The video, filmed by Smith and obtained by a newspaper, appears to show him laughing while retired gymnast Luke Carson mimics Islamic prayer practices.
"I visited two mosques in London that I was invited to," wrote Smith on his official Facebook fan page.
"I was ignorant to people's religion. And I apologised for offending those who follow the faith.
"We can all exercise our right of freedom of speech but, being in the public eye and someone of sporting influence, it's my responsibility to exercise it in good taste, and on that part I messed up."