Claudia Fragapane: life changed after Commonwealth Games golds
By Nick Hope
BBC Olympic sports reporter
Last updated on .From the section Gymnastics
Twelve months ago life was very different for little-known gymnast Claudia Fragapane.
The then-15-year-old had missed out on British team selection for the 2013 World Championships after enduring a "frustrating" time with a heel injury.
But then came a 'stunning' European senior debut in May and less than three months later she claimed an incredible record-equaling haul of four gold medals at the 2014 Commonwealth Games in Glasgow.
BBC pundit and former GB gymnast Craig Heap
"When I first saw her compete I said to myself 'this is someone who could win an Olympic gold medal'."
It led to experts to dub the teenager the 'new Beth Tweddle' and 'a much-needed breathe of fresh air' in the women's side of the sport.
Fragapane, who has an Italian father and British mother, has spent the months since Glasgow 2014 adjusting to her new-found fame and fighting off interest from numerous agents desperate to represent the sport's rising star.
This week the Bristol-based gymnast will learn just how highly she ranks against the sport's elite when making her senior World bow in Nanning, China.
"My life has changed so much," said 16-year-old Fragapane, whose Twitter followers jumped from 1,000 to 10,000 during the Commonwealths.
"It hasn't really sunk in what I achieved and sometimes I forget, but then I just walk into a shop and people say 'can I take your picture'.
"I didn't know after coming home that I was all over the newspapers and I didn't think everyone would notice me."
Fragapane factfile

Born in Bristol to a British mother, but has a Sicilian father

Finished her GCSE's this summer and will focus on training rather than continuing in education

Made her senior international debut in May, winning European team silver

She won four Commonwealth gold medals at the age of 16. Beth Tweddle won one gold and two silvers at the 2002 Commonwealth Games aged 17
Fragapane can be shy and often nervous in front of the camera; one reason why she has delayed making a call on which agency would take the greatest care when representing her, until after the World Championships.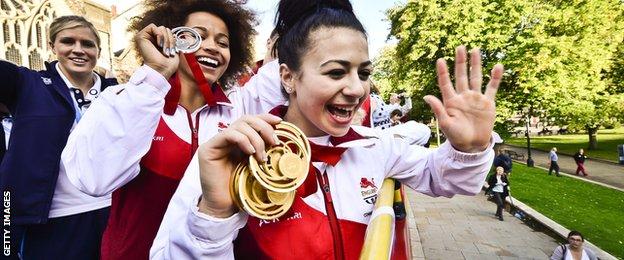 When the camera is not rolling though, the gymnast can be very different.
"We know her as 'Frags' and she's so funny," says Beijing Olympian and British team-mate Becky Downie. "She's the one with all of the jokes and keeps our spirits up."
It is that 'bubbly and outgoing' personality which saw her thrown into the sport by her parents Paolo and Teresa at the age of six.
"She was a bundle of energy, who used to bounce all round the house," reflected Teresa.
Claudia adds: "I was literally jumping all over the place and doing cartwheels on my I own, I think they just needed to find something that would tire me out."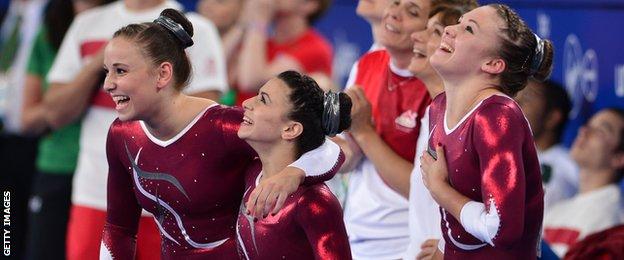 Her initial progression in the sport could be described as gradual at best, while her growth also stalled around the age of seven, with other girls developing much quicker.
"I remember my parents asking my coaches why I wasn't doing well [in competitions] and wondering if they could do anything more to help," she said.
"My coaches would just say 'be patient with her' and then eventually it all just clicked."
Her strength was to become a key component behind her success, with the gymnast reaching her current height - of 4ft 6in (137cm) - at the age of 14.
London 2012 bronze medallist Beth Tweddle on Claudia Fragapane
"She is so special, so talented and has a great work-ethic. In gymnastics she's still a baby but winning all those gold medals in Glasgow will give her so much confidence. She was nicknamed the 'pocket rocket' because she flies and has so much power for her size."
"If you have shorter levers then you can create more power and it's a massive advantage compared to those with long levers," said BBC pundit and former GB gymnast Craig Heap - a diminutive figure himself during his competitive days. "Claudia has truly incredible power."
Fragapane has so far escaped any major injuries, but a bruised heal which worsened and resulted in her wearing a protective boot - unable to train fully for several months - saw her miss the 2013 Worlds.
However, she would draw inspiration from Downie, who suffered a career-threatening Achilles injury and missed the London Olympics, before claiming European and Commonwealth titles.
"It [the injury] was at a frustrating time when I was really building up all of my confidence across the apparatus," she said.
"Becky just kept going and going and really fighting though when she was injured which gave me the push to carry on."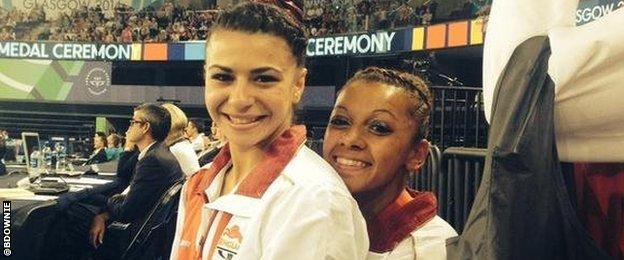 In addition to her British 'grit and determination' the 'Latin-flair' she demonstrates on the floor can also be potentially attributed to her family and specifically her father, Paolo, who hails from Sicily.
There are elements of Latin dance to her routines, which also draw heavily on hip-hop and other performances she takes a shine to on YouTube.
"The way I see it is that the judges are sat there judging people for absolutely ages and it must get boring, so I just give them something different and to be excited by," she said.
"If I was a judge I'd want to get up and dance with me."
Heap feels Fragapane's mix of creativity and ability can finally fill the gap left by London 2012 Olympic bronze medallist Tweddle following her retirement last year.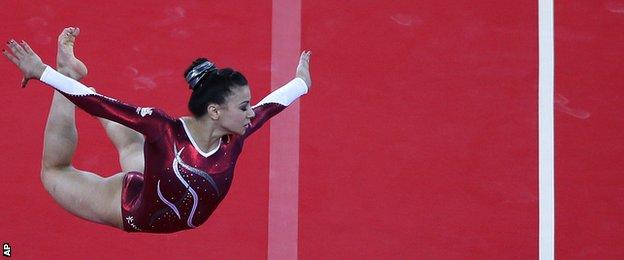 "People would remember Beth for all of the difficult skills that she used to put together and that's what Claudia is like - doing things the best in the world do" Heap told BBC Sport.
"But she's also a bit different to what is out there and I think women's gymnastics needs someone like her who's a breath of fresh air."
The major challenge with Fragapane is how to manage her incredible talent over the coming years.
Others, such as Gabby Jupp and Rebecca Tunney, who was Team GB's youngest competitor at the London Olympics, have been dubbed the 'new Tweddle' but suffered injuries, which slowed their progress.
"She [Fragapane] has done fabulously," said British women's team head coach Amanda Reddin - who guided Tweddle throughout her impressive career.
"She's our little 'pocket rocket' but you have to taper that in training sometimes and can't be super-fast everyday, so there's still development and it's not all about now - the main focus is Rio 2016."
Claudia Fragapane on leaving education
"I did OK in my GCSE's but I'm not really smart in the academic way. I prefer gymnastics to school and it's nice to put that to one side now as it was a bit of pressure dealing with both of them. I'm not going to college but I'm going to focus on becoming a gymnastics coach as well so everything will revolve around gymnastics going forward."
Fragapane's career will ultimately be judged by how she performs at future Olympics and therefore the World Championships are essentially a stepping-stone towards the next Games.
The gymnast insists her priority is the team event, but is also targeting qualification for the floor and vault finals as she prepares to take on world leading nations for the first time.
"I'm not guaranteed to come out with medal because the competition is so much stronger than the Commonwealths, but I don't think I have too much pressure," said the 16-year-old.
"I'm really excited as I've never competed against the USA or China and as it's my first Worlds I just want to do my best," she said.