Lisa Mason battles competitive gymnastics nerves on her return
By Nick Hope
BBC Olympic sports reporter
Last updated on .From the section Gymnastics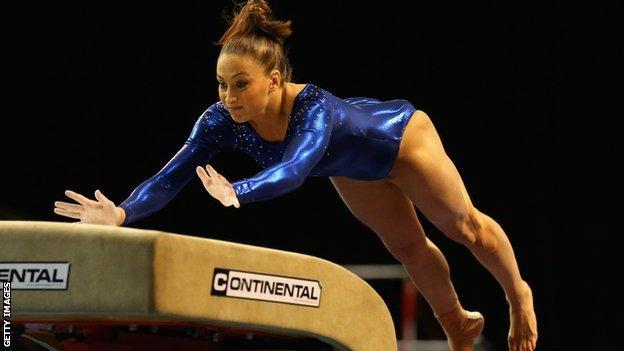 Former Commonwealth champion Lisa Mason says conquering competition nerves is key
The 31-year-old earlier this month but was sixth at the British Championships this weekend.
"Being up against these girls who are pretty much half of my age and training full-time is a little bit nerve-raking," Mason told BBC Sport.
"It's been such a long time out, I have to re-train myself emotionally."
The gymnast, who missed out on the beam final at the British Championships, continued; "I got up there and I was shaking, it was a bit overwhelming and didn't go as well as I had hoped, so I need to do a lot more competitions.
"My target was to make a final and I did with the vault, so I have to be happy with that."
The mother-of-one banned her daughter Yalarna Elena from watching her competitive return last month to avoid any distractions, but permitted the eight-year-old to attend the British Championships in Liverpool.
"It's bad, but I had to try and not look at her," admitted Mason.
"She made me a big banner and cut out a heart shape and put her face through it and went 'I love mum' but I had to stay focused and not get distracted.
"It was lovely, but also really strange being there with the other gymnasts and saying, 'oh that's my daughter' by the way."
In her two outings since returning to a sport she last competed in at the Sydney Olympics in 2000, Mason has competed on both the vault and beam apparatus, but hopes to add the floor discipline to her schedule for the British team championships in May.
"It is my favourite piece and people have been asking me when I'm going to bring it in but I didn't want to kill myself too early and need I need to be patient and learn to walk before I can run," said the Huntington gymnast.
"I'm also looking at a competition I have in America called the PGC [Pro Gymnastics Challenge], it's not really a big competition more a bit of a fun in an arena setting, but it's all about getting as much experience as I can."
After seeing her English rivals for a place at next year's Commonwealth Games in action, Mason is aware of just how difficult reaching Glasgow will be, but she is determined to challenge the current crop of talented gymnasts.
"This is my last shot, but all I can do is keep trying keep pushing and doing my job - everything else is out of my hands," she said.
"It [qualifying] is as big-a-dream as ever, I'd love to do the Commonwealths again. That would be me quite content."