London 2012: GB's Beth Tweddle fit for last gold medal attempt
Last updated on .From the section Olympics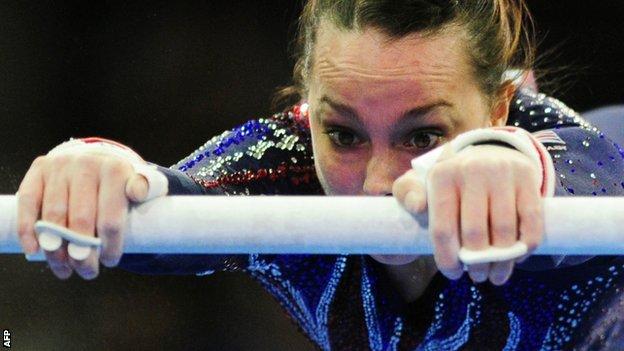 Three-time world champion Beth Tweddle has been declared fit for a final attempt at an Olympic gold medal.
Also included is 15-year-old Rebecca Tunney, who is the youngest Team GB athlete from any sport.
Medal hopeful is the only trampolinist selected for Team GB, while Louis Smith is Britain's best gold-medal prospect in the men's team.
Dan Keatings, a 2009 world silver medallist, has been dropped from the men's squad.
The rhythmic gymnastics team's participation is confirmed after a successful appeal against their own governing body's decision not to send an Olympic team earlier this year.
Tweddle, who plans to retire after competing on the bars and floor at London 2012, said: "This is my third Olympics and with it being on home soil it's definitely the most special.
"After 2008 I wasn't even sure I would carry on, but the huge support for London and the enthusiasm of the public has really motivated me and inspired me to carry on training hard."
Smith, a 2008 bronze medallist, set a new personal best of 16.375 on the pommel horse at last month's trials, a score his rivals may struggle to match at the Games.
"Now we've got to do the business at the Games, which we're all capable of," said the 23-year-old.
"It's just been a crazy four years since Beijing, for me and especially for gymnastics in this country. I'm not sure anyone ever expected such rapid development and it's such a positive thing for everyone involved in the sport. Now we have a chance to really show how far we've come."
Keatings, who has struggled with injury over the past couple of years, has been overlooked for 19-year-olds Max Whitlock and Sam Oldham, leaving the 22-year-old "angry" at the decision.
"The anger has kicked in because I want to prove I was supposed to be in that team," he told BBC Radio Northampton.
"It goes to show you the strength-in-depth of the squad so you've got to remain positive and support the guys in the team," added his Huntingdon Gymnastics Club team-mate Smith.
Whitlock earned his place by helping GB's men to their first-ever European team gold medal earlier this year, while Oldham impressed at last month's British Championships.
World championship silver medallist Driscoll, 26, will face stiff competition from China's gymnasts, but has been tipped for a medal.
She said: "I've dreamt of competing at an Olympic Games since I was a child and continually told my dad that I would be there one day as part of Team GB."
Tunney was selected after a strong first half to 2012.
The rhythmic gymnastics team is not considered a medal threat at the London Games.
FULL GB SQUAD:
ARTISTIC GYMNASTICS
Women: Beth Tweddle, Hannah Whelan, Rebecca Tunney, Jennifer Pinches and Imogen Cairns
Men: Louis Smith, Dan Purvis, Kristian Thomas, Max Whitlock and Sam Oldham
TRAMPOLINE:
Kat Driscoll
RHYTHMIC GYMNASTICS
Individual: Francesca Jones
Team: Georgina Cassar, Jade Faulkner, Francesca Fox, Lynne Hutchison, Louisa Pouli and Rachel Smith