London 2012: Gymnastics duo chasing first Scottish Olympic gold
Last updated on .From the section Gymnastics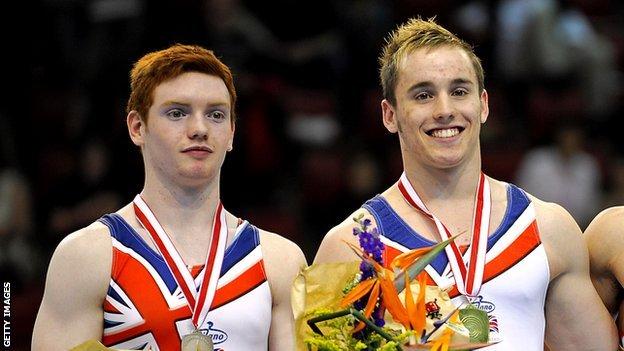 Such is the focus on Sir Chris Hoy, Andy Murray, Katherine Grainger, Hannah Miley and their respective sports, that they are now becoming household names in Scotland.
But, in gymnastics, there are two other men who are equally confident of bringing medals back to Scotland.
They are the two Daniels - Purvis and Keatings - who could well become Scotland's first ever gymnastics medal winners.
In 2010 Purvis won bronze medals at both the European then the World Championships. Last year, he was ranked number one in the world. All this in a sport which places huge physical demands on the athletes - even the best in the world must practice until they drop.
Keatings says: "Competition's the easy bit, really, because when we're training we do three routines every day and it's that third routine that's really hard. But it makes us fit for competition.
"Once you get off the pommel you can't feel your arms, you have to rest a lot before your next routine - and that's day in day out, so you're really pushing it.
"But I think that's why gymnastics is artistic, we try to make it look easy and elegant in competition, that's where the training really pays off."
Keatings represented Scotland in the 2006 Commonwealth Games, but, in 2009, he arrived on the world stage when he became the first British gymnast to win a medal at the World Championships, taking silver in the all-round competition.
For Keatings 2010 also started well, but then he suffered a horror injury.
"I became European champion on the pommel horse in 2010. Two days later I went back into training to try and increase my routines and I snapped my cruciate ligament in my right knee and it kept me out for the best part of a year.
"When I first did it, I thought, 'Oh God, is this going to be career ending?' But I kept thinking positively and within a few months I was back on my feet. I was back training hard again."
He was fully recovered by the World Championships in 2011, but a poor performance from Keatings and the team meant the test event at the Olympic arena earlier this year was the last chance for the men to qualify for London 2012.
With a fully-funded full-time training programme with coaches, nutritionists, psychologists and doctors, British gymnasts have enjoyed unprecedented success since the last Olympics in Beijing. But that's only part of the explanation. A big factor in their success is the spirit within the team.
"Gymnastics is looked at as an individual sport, but it's also a team competition as well," says Keatings.
"So it's great to stay together as a team. If we see people doing good routines in training then it boosts our confidence as well.
"I think we really push off each other and that's why we've been getting these good results.
Purvis agrees that confidence in the squad is growing: "Over the years British gymnastics hasn't been amazingly strong at world level.
"But I think, the next cycle, the ones behind us, they're going to be even more confident because of what we've achieved."
Now, with the British team safely qualified for London, Keatings and Purvis have moved beyond hoping - they now expect to become the first Scots to win medals in gymnastics.
"We are contenders," says Purvis.
"But we have to keep our feet on the ground and really focus. The way I see it, every session counts.
Keatings is also focused on his goal of Olympic glory.
"Obviously, I'd love the gold, an Olympic medal in London, that would be the biggest thing ever.
"That's why I'm in the gym every day working 110% to try and enable that dream to become reality."