GB earn rhythmic gymnastic spots for 2012 Olympics
Last updated on .From the section Gymnastics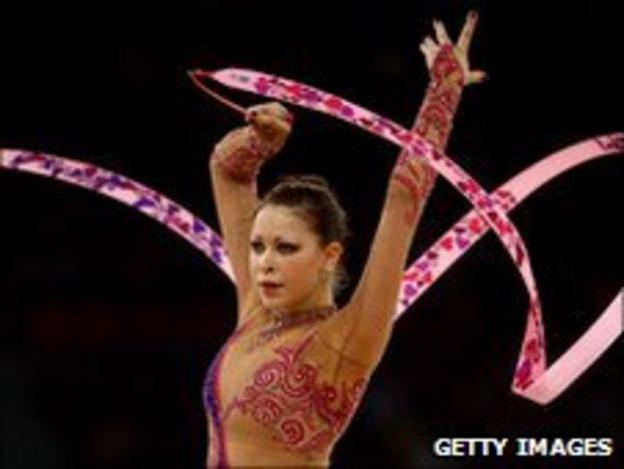 GB earn rhythmic gymnastic spots
Great Britain will be able to utilise host nation qualification places to compete in the rhythmic gymnastic events at the London 2012 Olympics.
The British Olympic Association says a place will be available in the individual competition and a further six places for the group event.
The sport is one of those which is already a sell-out at the Games.
Team GB's chef de mission Andy Hunt believes the decision will offer the sport a great chance of success.
"The fantastic level of interest demonstrated by the ticket sales represents a huge opportunity to showcase rhythmic gymnastics and ultimately increase the long-term participation in the sport throughout the UK," said Hunt.
"The ability to fill host nation qualification places is subject to the respective gymnasts meeting the Olympic selection criteria, as the BOA insist they must first demonstrate the ability to deliver a credible performance."
The sport, which is a combination of gymnastics and dance, is performed exclusively by women.
The gymnasts perform choreographed movements with musical accompaniment using hand apparatus such as rope, hoop, ball, clubs and a ribbon.
Francesca Jones, who won silver for Wales at last year's Commonwealth Games in Delhi, is relishing the chance to compete in front of a home crowd.
"It is fantastic for rhythmic gymnastics that our sport has the opportunity to be represented at London 2012," she said.
"I'm sure that the thousands of gymnasts, coaches and volunteers involved in the sport will be hugely excited by the announcement. On a personal note, having trained for over 10 years and committed a huge part of my life to the sport, it is brilliant that I may now have the opportunity to complete my dream and compete in the Olympic Games for Team GB."
A rhythmic gymnastics 2012 Games test event will be held at the O2 Arena from 15-18 January 2012.