European Gymnastics: Dan Purvis wins all-around bronze
By Ollie Williams
BBC Sport in Berlin
Last updated on .From the section Gymnastics
Britain's Dan Purvis said he was surprised after winning a European Gymnastics bronze medal following a "nerve-wracking" wait.
Southport's Purvis, 21, saw his name slip down the rankings as the remaining gymnasts competed - and thought he had missed out on a men's all-around medal.
"I thought I was fourth and I was a bit down, but then I looked up and saw I was joint third," he told BBC Sport.
GB team-mate Kristian Thomas came 11th as gold went to Germany's Philipp Boy.
Boy pipped Romania's Flavius Koczi to the title inside Berlin's Max-Schmeling-Halle.
Purvis, who won bronze on the floor at last year's European and World Championships, tied for third place with Ukrainian Mykola Kuksenkov.
The women's all-around final was won by Russia's Anna Dementyeva, with Britain's Hannah Whelan and Danusia Francis 13th and 16th respectively.
But another Russian - 16-year-old double world champion Aliya Mustafina, widely tipped to dominate in Berlin - was taken to hospital after suffering a knee injury early in her competition.
In the men's event, Purvis' score on his final and strongest apparatus - the floor - temporarily handed him the lead. He admitted the ensuing wait to discover his fate was "very nerve-wracking".
He said: "It was definitely my floor at the end [that secured a medal], that final tumble where I stuck it.
"I can still improve my all-around score - in qualifying I scored about a mark higher.
"It's always a great feeling to get medals like Louis Smith and Dan Keatings."
Missing the injured Keatings, who won silver the last time the all-around was contested at European level in 2009, Britain's men seemed outsiders for a medal in their all-around final.
But Purvis scored 88.350 from the six pieces of apparatus which make up the men's event - the floor, pommel horse, rings, vault, parallel bars and high bar.
His floor score of 15.175 was the second-highest of the competition on that apparatus, behind Koczi. The Romanian finished with 88.825 points overall, fractionally behind Boy's 88.875.
Purvis and Thomas are longstanding workhorses of the British men's team, used to labouring outside the limelight generated by stars Keatings and Olympic bronze medallist Smith.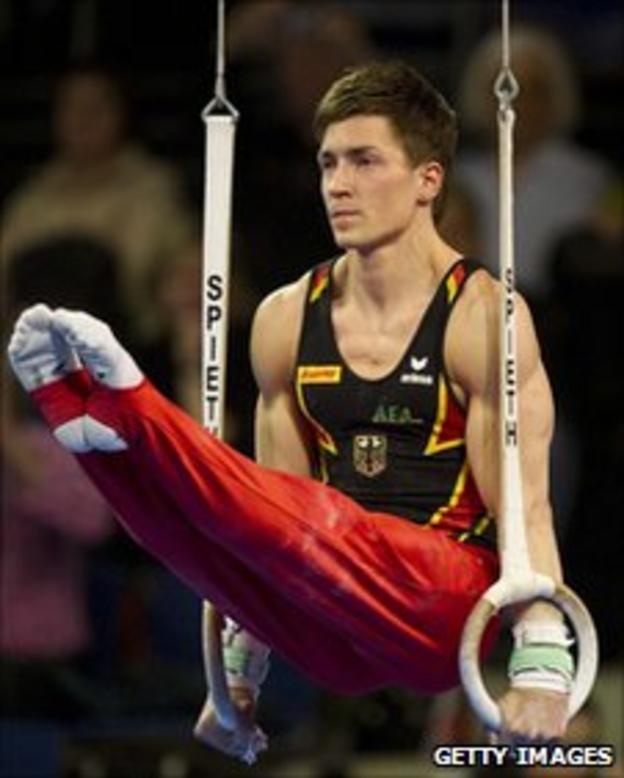 Birmingham gymnast Thomas, 22, produced a highlight on the vault with a score of 16.025.
But he fell from the parallel bars and high bar to end his hopes of reaching the podium, scoring 85.700 in total.
Keatings is expected to return to action in next week's Glasgow World Cup.
In Friday evening's women's all-around final, Whelan suffered an early mishap as she fell at the start of her uneven bars routine.
After that, both Whelan (total score: 54.175) and Francis (53.375) delivered clean routines but both are let down by comparatively low difficulty scores.
Only with greater difficulty can they threaten the highest echelons of the women's sport, Dementyeva posting a winning overall score of 57.475.
With more difficulty comes more risk, and Russian superstar Mustafina collapsed following a painful landing in which her left knee was seen to wobble awkwardly.
The fall ruined her attempt at gold in all five women's events at this tournament - and potentially sets her back for this year's World Championships in October.
She joins Britain's Theo Seager on the sidelines but Mustafina will hope her injury is not as serious.
British Gymnastics have yet to confirm the extent of Seager's injury, sustained in training on Thursday, but BBC Sport understands he could be facing a lay-off until the end of the year with ligament damage.
Back on the mat, Britain will look for more success on Saturday and Sunday as the individual apparatus finals begin - four for the women and six for the men.
On Saturday, Purvis and Thomas take part in the floor final, Smith goes for pommel gold and Beth Tweddle defends her European uneven bars title.