European Gymnastics: Sam Oldham impresses on GB debut
By Ollie Williams
BBC Sport in Berlin
Last updated on .From the section Gymnastics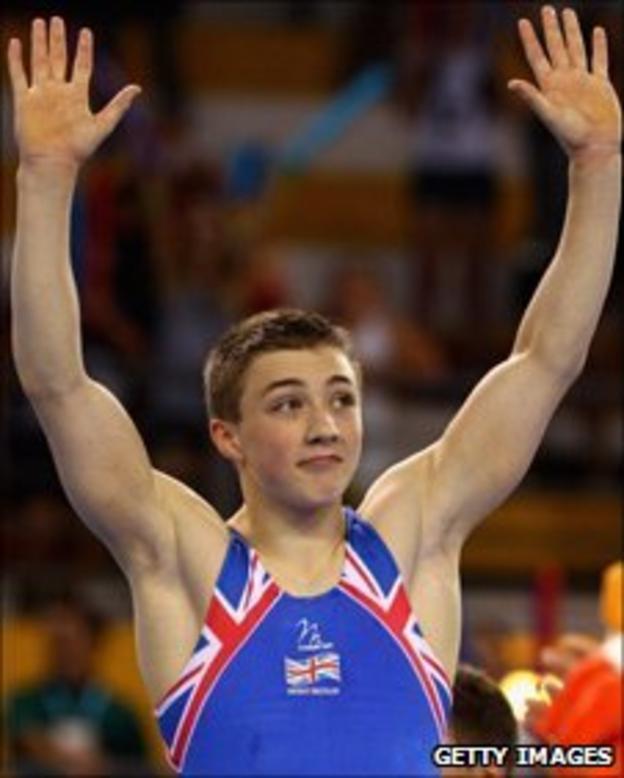 Teenager Sam Oldham made his mark on his major championship debut at the European Gymnastics in Berlin, reaching the final of the men's high bar event.
Oldham, 18, believes he can "improve a few things" in Sunday's final having placed fourth in Thursday's qualifying.
British gymnasts have secured 11 berths in this year's individual finals, which begin on Friday - a national record.
Louis Smith competes for pommel gold on Saturday while Beth Tweddle has reached the floor and uneven bars finals.
Tweddle, who turned 26 at the start of the month, is unbeaten in both events since 2008 at European level, having won double gold at Milan 2009 and repeated the feat in Birmingham last year.
But she is nursing a "niggling injury" which explains a stuttering performance on the floor - she crept into that final in eighth place with a score of 13.850.
On the uneven bars she proved more impressive, scoring 15.550 as she looks to introduce new elements to the routine which won her a world title in Rotterdam last October.
"To be honest, making the floor final is just a bonus," said Tweddle.
"Up until Wednesday morning I was unsure whether I was even going to compete on the floor. I am happy now that I went out there, and a few more days' work should mean I will be in better shape for the final.
"As for bars, I'm really happy to have shown everyone my new routine [but] there's room for improvement."
Even there, she was narrowly beaten in qualifying by Russia's Aliya Mustafina, who looked in commanding form inside Berlin's Max-Schmeling-Halle arena.
The 16-year-old, already a double world champion, led qualifying in the all-around, uneven bars and beam, placing second on the floor and third in the vault, setting up an assault on all five women's titles over the coming three days.
But Mustafina's success will not faze the British, who continue to progress with every major championships.
Their newfound strength in depth is embodied by Oldham, who has stepped into the shoes of absent European pommel horse champion Daniel Keatings, still recovering from injury.
"I wasn't too nervous - I think I handled it pretty well," said the Nottingham 18-year-old, who was a reserve at last year's World Championships.
"I've not done a lot of senior competitions but I knew if I did a good routine I'd be thereabouts.
"I'm pretty surprised to be among such amazing gymnasts but, with an apparatus final, anything can happen. A few weeks ago, I was in a final where five people fell off."
Smith, an Olympic bronze medallist in Beijing three years ago, qualified in fourth place for the pommel horse final with a score of 15.000.
The Huntingdon gymnast's arch-rival, Hungary's Krisztian Berki, led qualification with a score of 15.425. Smith has long spoken of his bid to outdo Berki, who has thwarted the Briton at a number of recent major championships.
"My routine today was shaky but clean and that's all you need to do in qualification," explained Smith.
"If I go clean again I should put myself in contention for a medal but we'll have to wait and see."
Dan Purvis, a bronze medallist at European and world level, reached both the all-around and floor finals for Britain alongside Kristian Thomas, while Hannah Whelan is through to Sunday's women's beam final - the GB team's bogey apparatus, in which British finalists have been a rarity of late.
Whelan joins team-mate Danusia Francis in the all-around final, completing the set of 11 British finalists despite the absence of Keatings and injury to GB's Theo Seager, who was taken to hospital having hyperextended both knees in vault training earlier on Thursday. The British team are waiting for news of his condition.
Britain managed 10 individual finalists at last year's European Championships in Birmingham, though the 2010 tournament lacked an all-around event.
These European Championships are seen by the British team as a chance to try new routines ahead of October's World Championships, which are due to take place in Tokyo - though, owing to recent events in Japan, there has been talk of moving the tournament elsewhere.
The 2011 World Championships are vital for Olympic qualification, particularly in the team event, where a top-eight finish for Britain would guarantee them a place in the London 2012 team competition.