The Match: $9m event indicates dangerous direction golf is heading

By Iain Carter
BBC golf correspondent
Last updated on .From the section Golf325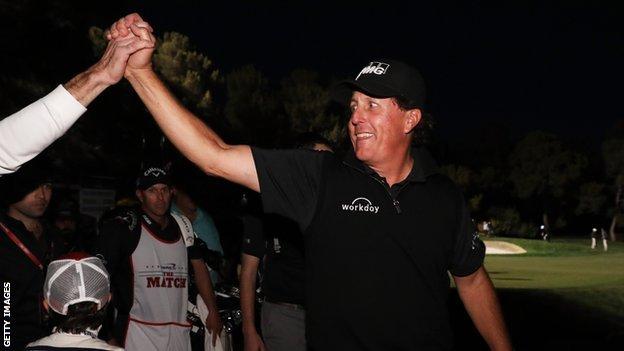 Cards on the table, I did not watch it. I had plans last Friday night and they were not going to be changed by The Match even though it carried a scary significance that stretched beyond a contest between America's two best known golfers.
The golf was mediocre by their standards, their much-vaunted "smack talk" was pretty dull and the destiny of the $9m (£7m) was settled by a 93-yard pitch and putt.
But this contrived contest offered a glimpse of where professional golf is headed. The destination looks terribly tawdry and potentially downright dangerous.
This was nothing more than a desperate attempt to make a quick buck. Never mind the $19.99 television charge, the most significant ground broken by this pay-per-view pantomime was the wager culture it promoted.
Changing odds were constantly updated as MGM's gambling app offered an assortment of "in-play" punts. The telecast featured betting experts effectively promoting the idea that the only way to enjoy the golf was to have some money on it.
Timing is everything and American sport is on the threshold of a betting revolution. Golf does not want to miss out after the US Supreme Court's decision to end a federal ban on sports punting.
The Match was a cynical play to get the ball rolling. It is well known that Mickelson loves a bet and plays high stakes money matches with fellow pros on the Tuesdays of tournament weeks.
Woods said "we'll play for whatever makes him feel uncomfortable" when the idea of a winner-takes-all match was initiated at last May's Players Championship. It would be all about the money.
So it was perfectly in keeping when the publicity shoot last week had both players posing with millions of greenbacks piled around them. It was so tacky, so out of touch, so unfeeling for the world outside their super-rich existence.
"When they put that photograph out of both of them caressing nine million we were left going 'hang on a minute, this is not our sport'," Sir Nick Faldo told BBC Radio 5 live's Breakfast show.
Yet those tasteless, gaudy pictures did their job; they stoked interest, had people talking and got The Match trending.
This was never going to be a worthy, legitimate sporting occasion which makes the fact that it appeared as a sanctioned event on the PGA Tour calendar hard to stomach.
How could they let it overshadow the World Cup in Australia? Well, The Match was a cash cow, a vehicle to open golf to fledgling US gambling markets and so commanded official endorsement.
The PGA Tour wants sports betting on its platforms. It recently announced an agreement with distributors to circulate scoring data for media usage and gambling purposes.
There is no doubt golf lends itself to in-play betting, a type of wagering that nets huge sums for bookies. It reportedly accounted for 77% of Bet365's revenue when the online bookmaker last week revealed an operating profit of £660m.
That is money largely extracted from losing punters' pockets, many lured by Ray Winstone's uninvited living room incursions instructing us to take note of changing odds and to have a wager.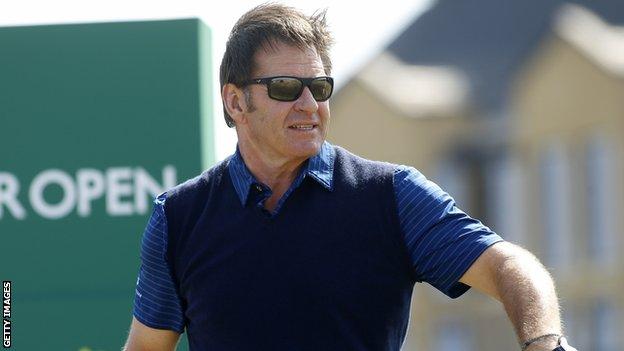 For some it is a welcome bit of fun to enhance our viewing, for others it is a dangerous assault on impressionable minds that can lead to a lifetime of misery.
Either way, this is the world that has caught the eye of professional golf and it wants its share.
There is already gambling on golf but it is now headed to another level. So far the sport has been spared a betting scandal but it needs to be wary of the way integrity easily disappears when betting becomes a central part of proceedings.
It would be naive to think otherwise, especially if we are headed down the "exhibition" route of The Match.
Many have wondered whether Mickelson and Woods privately decided to split the $9m so both were guaranteed a big pay day regardless of the result. There is no evidence to suggest this, but cynics still ask the question.
Faldo called The Match meaningless. "The bottom line, in the real golf at the Ryder Cup Tiger and Phil couldn't get a point," said the six-time major winner. "That's when you are playing real golf with heart and passion. Everything [about it] was wrong to be honest."
These sentiments illustrate what sport should be about and what made it attractive in the first place. They explain the enduring success of events such as the Ryder Cup where there is not a penny or cent of prize money.
Plenty of people make a lot of money out of the Ryder Cup - it props up the entire European Tour - and the players indirectly profit from playing in it too. But ultimately, it needs no cash prize to be be golf's most compelling event.
Amid the torrent of comment on last Friday's Las Vegas pantomime, Faldo delivered a terrific tweet.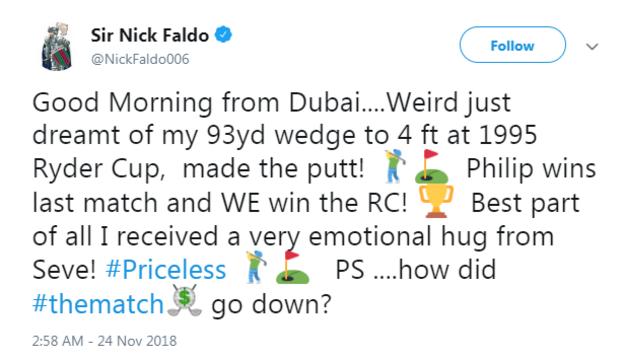 "Good morning from Dubai….Weird just dreamt of my 93 yard wedge at 1995 Ryder Cup. Philip [Walton] wins last match and WE win the RC! Best part of all I received a very emotional hug from Seve! #Priceless PS ….how did #thematch go down?"
That is a fine summation of what proper sport should mean. Especially on the night when Mickelson's wedge from the same distance netted him $9m he does not need.
But Faldo was wrong to say The Match was "meaningless." The outcome might have been and certainly, for me, it wasn't worth watching but the implications for golf run deep.
It is one of life's more reasonable bets that this sport is headed in a potentially damaging and dangerous direction. Beware the bookies, a betting culture brings a massive potential threat to the integrity that golf enjoys.
Unlike $9m to a billionaire, that is a prize the game cannot afford to lose.