Tiger Woods v Phil Mickelson: A glimpse into the future of TV golf?
By Jonathan Jurejko
BBC Sport
Last updated on .From the section Golf
The Match: Woods v Mickelson
Venue:
Shadow Creek, Las Vegas
Dates:
23 November
Coverage:
Live text commentary on the BBC Sport website
An entertaining showdown between two of the game's all-time greats to settle a score which has rumbled on for more than two decades?
Or simply a crass cash generator for two ageing millionaires which leaves the sport looking desperate for attention?
Opinion has been divided over 'The Match' between Phil Mickelson and Tiger Woods in Las Vegas on Friday, a $9m (£7m) winner-takes-all showdown which is being streamed on pay-per-view across the United States on Thanksgiving weekend.
One thing everybody can agree on is, for better or worse, golf will never have been seen anything like this before.
No spectators will be allowed on the course, meaning the only way to watch the matchplay contest in the US is by paying the $19.99 (£15.50) fee for commercial-free coverage on television.
Viewers will be provided with a candid insight into what the microphone-wearing players and their caddies are saying between shots, while betting odds will be displayed on the screen to tempt them into wagering.
Real-time, hole-by-hole statistics, displaying the probability of different outcomes, will help them make their choices.
Other gimmicks include drones providing camera angles that "have never been seen before" in live golf coverage, according to the organisers, and a one-hour pre-event programme featuring NBA legend Charles Barkley and Hollywood actor Samuel L Jackson.
"This is me versus him, this is winner take all and it has a unique, special feel golf doesn't have all the time, or rarely has ever had, if ever," said Mickelson.
"I am hopeful this is received well, I am hopeful we provide a glimpse into the future of what sport-watching is all about."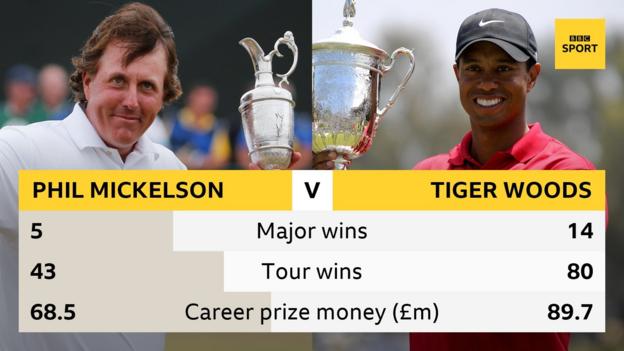 All about the cash?
Woods and Mickelson, who will tee off at Shadow Creek around 20:00 GMT on Friday, were pictured behind stacks of cash - purportedly the money the victor will take home.
But the image of the American pair, who are among the richest golfers in history, drew some criticism.
Despite being outside the world's top 10 and winning few tournaments, Woods and Mickelson still earned more money last year than any other golfers - $43.3m (£33.6m) and $41.3m (£32.1m) respectively - according to sports finance experts Forbes.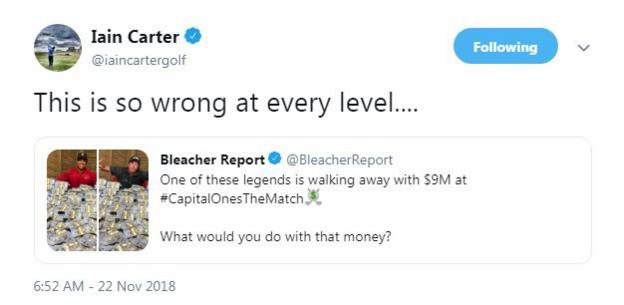 Money, unsurprisingly, is a key theme of an event being held in the US gambling capital.
During the round Mickelson and Woods will challenge each other with side bets - for example, nearest the pin or longest drive - with the money reportedly going to charity.
The bravado started at Tuesday's news conference when Mickelson laid down a $100,000 (£77,600) wager that Woods would not birdie the first hole. Woods told him to double it to $200,000 (£155,200).
If, indeed, that money is coming out of the pockets of the players - or sponsors - the rest of the pot is being paid for by the viewers.
Mickelson says the watching public are being given the ability to play "fantasy golf" and believes allowing them to take part in live, real-time betting will only pique interest in the sport.
PGA Tour commissioner Jay Monahan admitted in April that "there are commercial opportunities" for the professional body in the expansion of legalised sports betting in the United States.
Fifteen years too late?
With 19 majors between them and two decades apiece at the top, Woods and Mickelson are two of the most recognisable golfers on the planet.
Battles for the game's biggest prizes and the number one ranking, plus a frostiness in their relationship which has since thawed, created an enduring rivalry between the pair.
In recent years their powers have waned, 42-year-old Woods not adding to his 14 majors since 2008 after personal and injury problems and 48-year-old Mickelson not lifting one in the past five years.
However, both have shown glimpses of recapturing their form by claiming PGA Tour victories this year and, in Tiger's case, threatening at the Open Championship and US PGA Championship.
Nevertheless, it does not seem to have captured the imagination of the younger generation of leading players.
"Look, if they had done it 15 years ago it would have been great," Northern Ireland's Rory McIlroy said. "But nowadays, it has missed the mark a little bit."
World number four Justin Thomas, who is an American Ryder Cup team-mate of Woods and Mickelson, indicated last month he would not be paying the $19.99 subscription fee to watch.
"Love TW and Phil to death, but there's a zero percent chance I order that," Thomas tweeted. "I'll be watching football!"
Spain's Jon Rahm, ranked eighth, said he felt the match is "10 years too late".
"Maybe when they were both in their prime it would have been extremely amazing," he said.
England's Eddie Pepperell, the world number 38, described the match as "putrid attempt at attention" which will "be futile for everyone".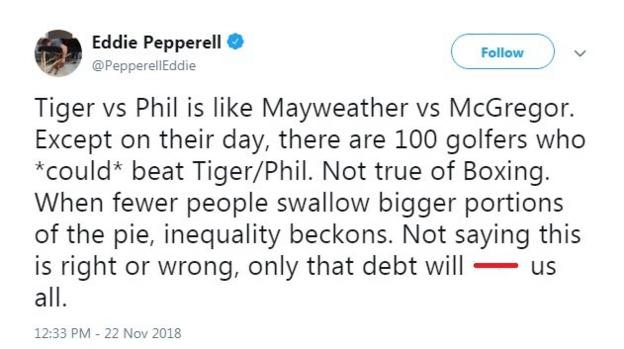 Anyone in favour of exhibition golf?
While there have been plenty of dissenting voices, few high-profile players have publicly backed the event.
When the Mickelson versus Woods match was confirmed earlier this year, former Masters winner Adam Scott said he was open to more exhibition golf being played and welcomed the prospect of a 18-hole match against fellow Australian Jason Day.
"I think it'd all be in good fun," Scott said. "I'd like to think there is room for exhibition golf; it's something the tour down there should maybe look at trying to do."
One suspects any future plans will depend on the number of people who engage with - and most importantly, spend money on - Friday's match between Mickelson and Woods.