Danny Willett wins DP World Tour Championship: 'This was Englishman's proudest victory'

By Iain Carter
BBC golf correspondent
Last updated on .From the section Golf34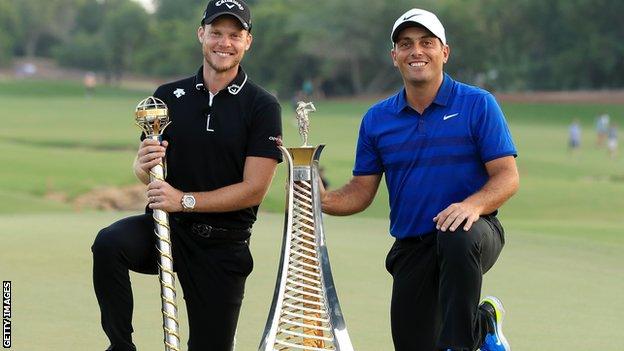 As he sat in the clubhouse at the Abu Dhabi Golf Club last January, Danny Willett had no idea what 2018 might deliver for his golf.
His shoulder was sore, his back was troublesome and his confidence was low. Yes, there was optimism - he is that kind of guy - but there was uncertainty and no guarantee he would ever rediscover a game that had been good enough to win the Masters.
As we chatted, memories flooded back of that stunning Augusta Sunday in 2016, when he seized the moment - as Jordan Spieth capitulated - and won his first major to don the famous Green Jacket.
Not many players get to feel golf's most coveted garment being draped over their shoulders, but it is not that win that gives him most pride. That came in Dubai on Sunday.
In golfing terms, Willett has been to hell and back and his extraordinary triumph in the DP World Tour Championship indicates he is at last ready to back up that maiden major win.
The scale of the victory can be measured in what he was saying when we spoke in Abu Dhabi at the start of the year.
"Frankly, people don't have a clue about it," he said. We were reflecting on his post-Masters troubles, when confidence, form and fitness deserted him in a triple whammy that would be the dread of any athlete.
"You get a lot of stick on Twitter but it's from people who have zero idea about where your life has gone and what you do.
"I was up at five every day in the gym trying to work out, trying to get better, smashing my head against a wall wondering why I wasn't getting better. I was working harder than ever and trying to get back to that place. Working too hard? Potentially.
"Every waking minute you are looking at old swings, new swings, how your body is moving, why does it do this? Why am I not feeling very well?"
Now the 31-year-old Yorkshireman is feeling on top of the world - not a bad spot to be when you had fallen as low as 462 in the global standings last May.
It is because he beat a stellar DP World Tour Championship field - seeing off the reigning Masters champion, Patrick Reed, in the final group.
He may have won a major, but this is his proudest victory. "It is, yes," he told The Cut, the BBC golf podcast.
"From where we've come and the struggles that we've had, the drop in the world rankings, the drop in form, the drop in health... to be able to battle through and to come out the other end winning again.
"To be in contention is an amazing feeling, just hitting good golf shots and being pain-free is an amazing feeling, but to win - you say you're not that bothered about winning until you actually win and you realise how good those feelings are."
Since winning the Masters, Willett has switched coaches, management companies and caddies. His long-time friend Sam Haywood returned to Willett's bag after he split from Jonathan Smart, who had been at his side at Augusta.
"He put in the hours, he always has done," Haywood told BBC Sport. "For the last six months we knew his game was back to a certain standard and obviously it is just getting the good breaks at the right time when you have that chance.
"So it wasn't a shock that he was right up there because he'd been playing well since probably May and June but these last three weeks have been really good."
Credit also goes to Sean Foley, who took over coaching duties at the PGA Championship in August 2017. The extrovert Canadian is a bio-mechanics expert and his job was to find his pupil a new swing that did not hurt.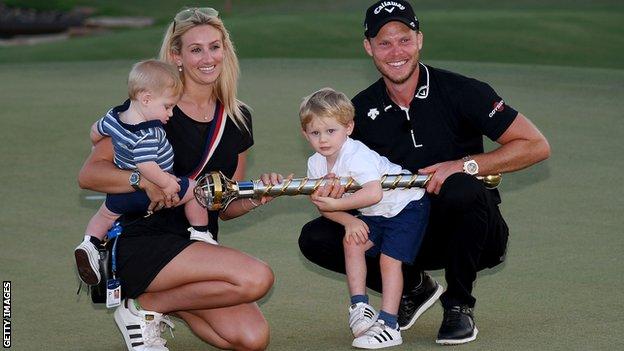 In a sense, Willett had to relearn certain aspects of the game.
"We had a lot of good stuff in there when I went to Sean," he said.
"I did a hell of a lot of good work over the years with Mike Walker and Pete Cowen that got certain areas of my game world-class. Unfortunately my driving of the golf ball and some of the longer stuff wasn't quite as good.
"That's where Sean really took over - to use physics to our advantage and to be ultimately pain-free and in this position. He will be getting a nice Christmas present!"
But for Willett, the biggest gift is the absence of physical soreness.
"When you are in pain it is not a pleasant game to play," he said. "You can't hit the shots that you want to. You are seeing shots and you can't do it because physically you are not in a place to do so.
"Pain-free is always going to be top of my list from now. If I can be that for the next 15-20 years then you never know what's going to happen.
"I know what happens when I am in pain, I can't play golf."
Now Willett has another title of genuine substance in his locker, a potential launchpad for the rest of his career.
"Moments like this are very pleasing," he said. "To know we had a world-class field here challenging for the Race to Dubai, the Ryder Cup team that did so great in Paris and all the guys I've been playing against and beating me non-stop because I've not been in a place to compete.
"No-one knows the work I do at home - I keep it very much behind locked doors - but I know that I've been working really, really hard so it is incredibly satisfying to be here."
Willett now heads into an eight-week off-season, but it will include plenty more work in the gym and on the range to ensure he is ready for the 2019 campaign.
And, at long last, it is one that he can view with genuinely well-founded optimism.