Rory McIlroy defends leaving European Tour to focus on PGA Tour

By Iain Carter
BBC golf correspondent
Last updated on .From the section Golf49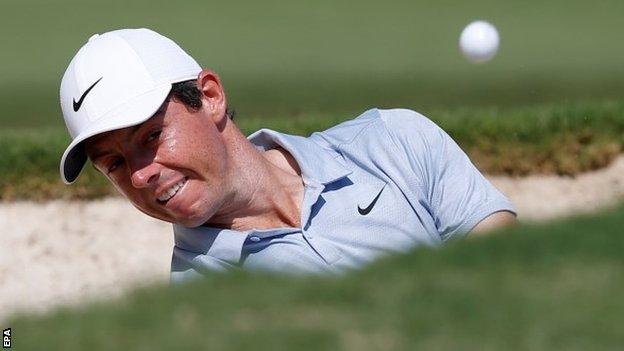 Rory McIlroy will not let a rule preventing him from becoming a future Ryder Cup captain influence his plans to leave the European Tour next season.
The Northern Irishman this week told BBC Sport that he may play only two events on his home circuit in 2019.
Sacrificing his European Tour membership, under current regulations, would cost him the chance of leading his continent in a future Ryder Cup.
When asked if that would influence him, he said: "It's 20 years away."
McIlroy's plans to leave the Tour and miss next year's Irish Open have been questioned by former skipper Paul McGinley and are a big blow to the European Tour. The four times major champion is their biggest name.
But he insists he wants to do what he thinks is best for his game and believes those interests are best served by basing himself on the PGA Tour in the United States.
The 29-year-old confirmed that he met European Tour chief executive Keith Pelley in South Africa last week and informed him of his plans.
"Everyone has to look out for themselves and next year I'm looking out for me," McIlroy said. "At the same time, I don't have to make a decision on it. I didn't say that it was a definite. It's up in the air. I don't have to make a decision until May. We'll see how it goes."
McIlroy has indicated he is more likely to play the Scottish Open next year rather than the Irish Open a week earlier. This has prompted dismay in the Irish game and McGinley has expressed his concerns in a column for Sky Sports.
"It's very disappointing," said the victorious 2014 Ryder Cup captain. "I've been racking my brains wondering how that can be.
"Obviously Rory sees it in other ways and has got his own rationale for that, although I'm finding it hard to understand," added McGinley, who will succeed McIlroy as the Irish Open's tournament host at next year's event in Lahinch.
McIlroy was unrepentant when confronted with McGinley's comments. "Again, everyone looks out for themselves," he said.
"McGinley is on The European Tour board. He's involved and he has to protect what he has, and I get it.
"Again, look, everyone has to do what's best for them, and for me next year, I'm trying to do what's best for me to help get back to the best player in the world and try to win majors again.
"I'd cause all the stirs in the world if I go back to winning majors."
European Tour players are required to play at least four events on the circuit outside the majors and World Golf Championships. McIlroy says he would rejoin the Tour in 2020 to ensure he is eligible to play the next Ryder Cup at Whistling Straits.