Stephanie Meadow: From cornfield galleries to LPGA Tour return
Last updated on .From the section Golf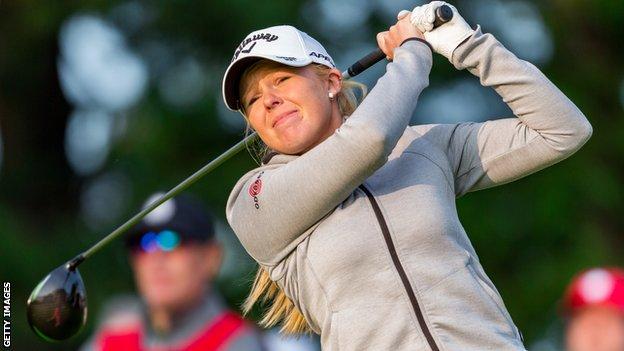 "It has gone full circle," beams Stephanie Meadow as she reflects on how her fortunes have changed over the course of the past two years.
The Northern Ireland golfer is ready to make her return to the LPGA Tour after overcoming injury and a loss of form.
A serious back injury cost her a playing card for 2018 but she recovered by qualifying from the second tier Symetra Tour with a sixth-place finish.
"This year was a lot about swallowing my pride," said Meadow.
"I was lucky enough to have some amazing sponsors to still back me while I wasn't on the LPGA Tour and give me that support and allow me to play my way back up and I did it!"
The Jordanstown woman marked her professional debut with a third-place finish at the 2014 US Women's Open and went on to represent Ireland at the 2016 Olympic Games in Rio de Janeiro but a loss of form and a stress fracture in her lower back meant that she struggled to match those achievements in 2017.
Cornfields for galleries
A year on the Symetra Tour, which included a victory at the IOA Championship in April and seven other top-10 finishes, has helped to rekindle her passion for the game.
"It's definitely different. First of all we went to the middle of nowhere - small towns in Kentucky and Kansas - and cornfields were pretty much our audiences," the 26-year-old added.
"It teaches you that you really love golf because if you don't love it when you're out there then you probably don't really like it and I still wanted to compete and the girls out there are actually really good, the top half of the tour is very solid, so it was a great competition and a great preparation for next year.
"I really feel like I know who I am as a golfer now and I'm very confident that when I get to the LPGA Tour and I just stick with that and not be torn in different directions then I'll do just fine."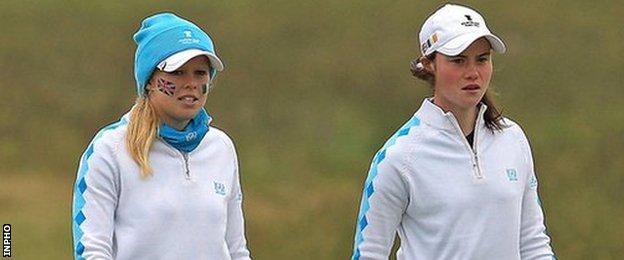 Top 40 is the target
Since securing her return to the LPGA Tour in October, Meadow has taken a complete break from playing to recharge her batteries and during her time off she has returned home to help foster the next generation of Northern Ireland golfers.
A morning spent at the Rockport School's golf academy has filled her with enthusiasm for the future and she hopes she will be able to return during the season for the debut of the new-look Northern Ireland Open on the Ladies European Tour.
"Irish and Northern Irish people love to watch golf and they support no matter what the weather," she added.
"Maybe it's just perspective and they just go out and grind it out, but I'm sure it will be really well supported and I'd love to be a part of it."
Her more immediate focus will be on her performances in the United States and ensuring that she cements her place on the tour next year: "My target is top 40 on the money list.
"I think it's doable, if I play as well as this year I know I can definitely do it, I've been out there before so I know what to expect and now I've just got to knuckle down, work hard and get it done.
"I'm definitely more appreciative of everything that is going to come along with being on the LPGA, nice places and great golf courses and being able to come back here and play in the British Open and the Scottish Open is always something that has meant a lot to me."