'Justin Rose's rise to number one sold short by ponderous threeball format'

By Iain Carter
BBC golf correspondent
Last updated on .From the section Golf104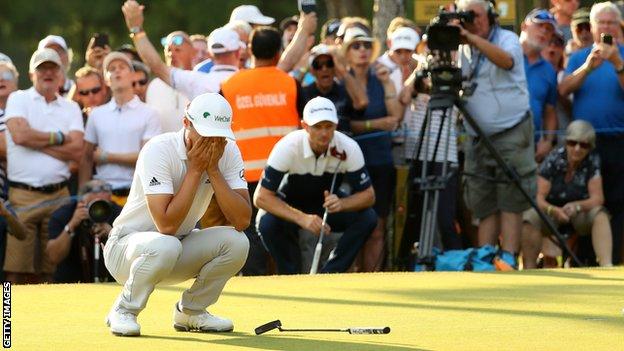 It was a swift return to the top for Justin Rose - world number one again, two months after he had earned the honour for a single week.
But there was nothing quick about the gutsy way the Englishman seized his opportunity to become the world's best player for the second time.
Rose needed to win the Turkish Open and got the job done at the first extra hole. It was a scrappy end; Li Hoatong's dramatic three-putt capped a climax in which Rose nervously bogeyed the final two regulation holes.
But a win is a win and every one of them is precious - this one more than most given its world ranking implications.
While there is no doubt Rose's victory ultimately made for dramatic viewing, it took way too long to unfold because the final round was played in threeballs - a trend that seems increasingly prevalent and does nothing to sell the game as a spectacle.
Too often professional golf goes into its own little world in a tournament week and forgets that life goes on elsewhere. To give the fantastic duel that developed between Rose and China's Li its due attention would have involved viewers sacrificing nearly six hours of prime weekend time.
A few of the most ardent golf fans might stretch to that but there are plenty who would find it impossible. And what of the casual sports fan, who would normally delight in seeing a Briton ascend to the game's summit? No chance. It was a big missed opportunity.
Now, I know traditional twoball play can also seem fairly pedestrian but at least there is a reasonable pace to proceedings. The ebbs and flows of a final round come at a quicker and more engaging rate.
When circumstances dictate and golfers play in threes, it becomes stodgy fare, indigestible in this time-pressured era. Ultimately, great golfing athletes such as Rose lose out on the recognition they deserve.
Even my television had enough last Sunday - that annoying "press back up" message flashed up as the set threatened to go into "sleep mode" because it had been on so long. I could not blame it.
When players are sent out in threes, there is always a greater possibility of one of the trio fading from contention - and therefore relevance. This happened to poor Alexander Levy while Rose and Li were battling away.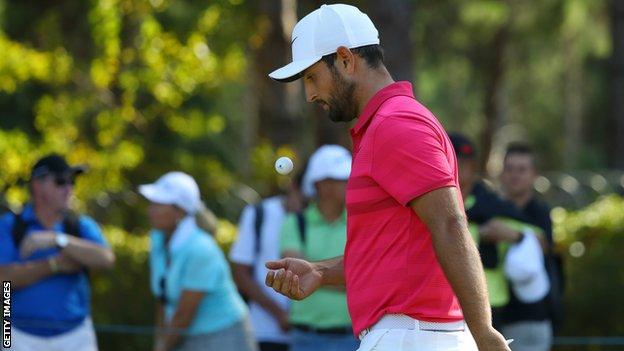 It was horrible for the Frenchman as he sought to recover his game to rescue vital ranking points from this big-money event. It was painful for an audience growing increasingly aware of weekend duties remaining undone.
The nadir was sorting out a lengthy drop on the 72nd hole while Levy's playing partners waited to decide the climax of the tournament.
How does this portray golf in its best light? Organisers should preserve the concept of twoball play for final rounds at all costs even in tournaments where there are no cuts, as was the case in Turkey.
The perception and attractiveness of the sport is paramount and making the most of characters such as Rose is vital if the game is to grow.
But it would be churlish not to reflect on Rose's latest achievement because this was a hugely satisfying way to return to the number one spot.
When he first got there in September, there was an air of frustration because he did it with a play-off defeat by Keegan Bradley at the BMW Championship.
This was his fifth win, among 24 top-10 finishes, in his past 31 starts and Rose is determined there should be no let-up.
"I love the grind of it," he said. "I love that feeling. So the more I can be competitive, the more I can play under pressure; that's what I really enjoy. And then the reflection, the warm, fuzzy feeling, we'll save for down the road."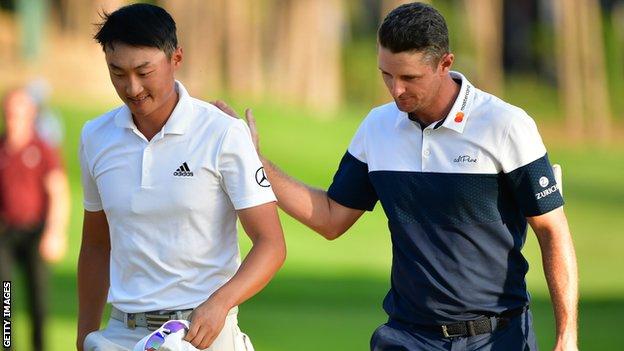 Rose, the reigning Olympic champion and 2013 US Open winner, acknowledges he has been playing the best golf of his life. "As a collective body of work, no doubt about it," he said.
"Just the consistency of it, churning out - I think I average 68.9 [it is actually 68.243] on the PGA Tour this year and that's way lower than I've ever averaged before.
"The fun thing is I still feel like there's improvement to be had and that's what I'm looking for."
His schedule is unlikely to include the season-ending DP World Tour Championship in Dubai, but he will play the Indonesian Masters and the Hero World Challenge in the Bahamas, where he lives.
He says he will dedicate his "off season" to further improvements and can do so safe in the knowledge that, at 38, he has already taken huge strides in making himself a complete golfer.
"This week I didn't really drive the ball well but my iron play was great," he reflected, before leaving Turkey with the first successful title defence of his career.
"Some weeks I drive the ball really well. Some weeks I chip it really well. Some weeks I putt it really well.
"I feel like all aspects of my game are there to bail me out on a given week. It's just a matter of trying to get more of them together, more often."
If we were allowed to watch all of these attributes within a decent timeframe, we could all appreciate them that much more. And that would do the game a massive favour.