Ryder Cup: Spectator blinded in one eye says she could have died on golf course
Last updated on .From the section Golf
A spectator blinded in one eye at the Ryder Cup says she could have died after being hit by a wayward golf ball.
Corine Remande, 49, was injured when American Brooks Koepka's drive on the par-four sixth hole veered off course at Le Golf National and struck her.
The Frenchwoman has told BBC Sport she would have been even more seriously injured if the ball had missed her right eye and hit the side of her head.
"For me, it's finished. I could not speak with you," she said.
Mrs Remande had travelled with husband Raphael from their home in Egypt to watch the Ryder Cup on the outskirts of Paris.
She is planning legal action against the organisers after being hit by the stray ball on Friday, saying course officials did not give adequate warnings.
"It's so nice to be on the golf course, to see the players. I hope that this terrible accident will improve safety for the public," said Mrs Remande, who has been treated at a hospital in Lyon where she used to work as a secretary.
"The doctor said immediately to my husband that it was a very big explosion in my eye and it was impossible for me now to see again with this eye."
Mrs Remande said she did not blame Koepka but was worried about her future.
"I don't know how to live with only one eye. I like walking, sport, going to the gym and playing golf," she said.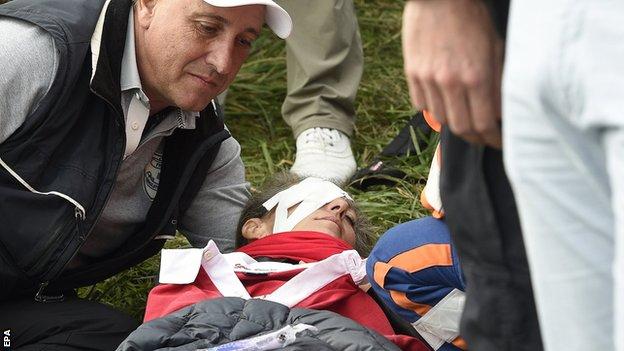 Mrs Remande said she was "very angry" about a number of issues:
She believes the marshals should have warned that a ball was coming as spectators would not have heard shouts of 'fore' from the tee.

She says the marshals did not communicate that players were attempting to drive for the green instead of laying up on the fairway.

She claims officials did not check on her or visit her after she was taken to hospital.

She alleges there was a lack of safety warnings on the ticket and signage around the venue.
What do the organisers say?
The European Tour says 'fore' was shouted several times, and that marshals are not aware of a player's strategy in advance of any shot, especially in matchplay like the Ryder Cup.
It says there was contact with the family from the moment the incident happened - initially on site, then through the French Golf Federation, and subsequently by Ryder Cup Europe.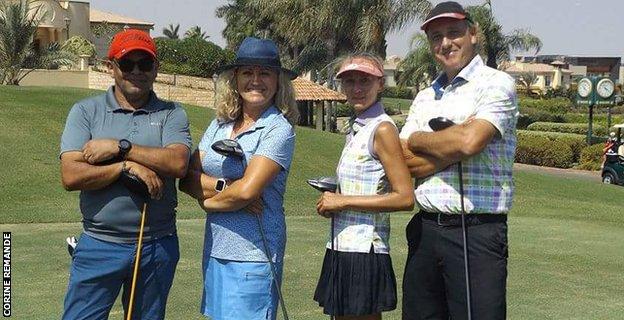 The organisation said Ryder Cup tickets contained ground regulations which clearly stated that spectators acknowledge the general risks associated with golf, including risks with errant shots.
Keith Pelley, chief executive of the European Tour, said: "Our deepest sympathies continue to be with Mme Remande and her family. Brooks Koepka, who has said he is heartbroken by the incident, has also contacted the family.
"We take our responsibility for fan safety extremely seriously and we have been in regular contact with the family since the accident to offer our support and we will continue to do so.
"Millions of spectators attend and enjoy golf events each year. Incidents of this severity are extremely rare. The safety of our spectators is our paramount concern, and this will continue to be the case."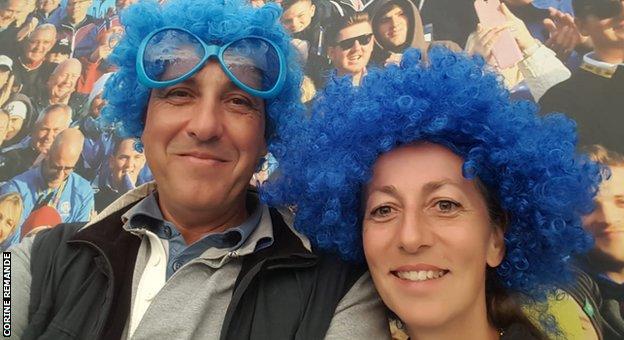 What does golfer Koepka say?
Koepka has said his "stomach sank" when he heard the spectator had lost the sight in her right eye.
At a news conference before the Alfred Dunhill Links Championship at St Andrews, the world number three said he heard the news about Mrs Remande after arriving at the course on Tuesday.
"Yesterday was probably one of the worst days of my life," said the 28-year-old.
"I haven't had too many tragedies in my personal family where there's been a loss or any kind of tragic accident, so I've been lucky in that sense.
"I'm not the biggest person on social media so when I got here and had about seven missed calls and 25 text messages I was like: 'What's going on?'
"Then I was told the news and obviously I am really heartbroken. My stomach sank. It's sad and I'm really torn up about it."
He had earlier posted on social media to offer his "sincere and heartfelt sympathy" to the injured spectator.