Ryder Cup: Brooks Koepka 'heartbroken' over fan blinded in one eye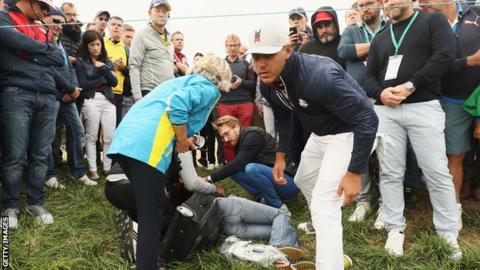 Brooks Koepka says he is "heartbroken" that one of his tee shots at the Ryder Cup on Friday resulted in a spectator losing the sight in her right eye.
The American's drive on the par-four sixth hole veered off course and struck Corine Remande, 49, who had travelled from Egypt.
He said his "stomach sank" on learning she had been blinded.
Koepka also denied reports he had a fight with team-mate Dustin Johnson after the event, which Europe won.
At a news conference before the Alfred Dunhill Links Championship at St Andrews, Koepka said he heard the news about Mrs Remande after arriving at the course on Tuesday.
"Yesterday was probably one of the worst days of my life," said the 28-year-old world number three.
"I haven't had too many tragedies in my personal family where there's been a loss or any kind of tragic accident, so I've been lucky in that sense.
"I'm not the biggest person on social media so when I got here and had about seven missed calls and 25 text messages I was like: 'What's going on?'
"Then I was told the news and obviously I am really heartbroken. My stomach sank. It's sad and I'm really torn up about it."
He had earlier posted on social media to offer his "sincere and heartfelt sympathy" to the injured spectator.
Koepka , playing in his second Ryder Cup, went over to the Frenchwoman to check on her condition after the incident. In an earlier interview with AFP, Mrs Remande said she downplayed the incident at the time so the golfer "would stay concentrated".
She added: "It happened so fast, I didn't feel any pain when I was hit.
"I didn't feel like the ball had struck my eye and then I felt the blood start to pour. The scan on Friday confirmed a fracture of the right eye-socket and an explosion of the eyeball."
A Ryder Cup spokesperson told the BBC that the tournament organisers had been in communication with her family and that they would "continue to offer support for as long as necessary".
'There was no fight' with Johnson
Koepka denied widespread reports he and Johnson had to be separated during an argument in Europe's team room on Sunday, after the United States' 17½-10½ defeat.
The pair were also reported to have argued on the flight to France before the Ryder Cup started.
But Koepka said: "This Dustin thing I don't get. There was no fight, there was no argument. He's one of my best friends. I love the kid to death.
"We spoke on the phone on Monday and Tuesday. You tell me how there's a fight."
The team spirit in the US camp has been questioned, with Masters champion Patrick Reed blaming Jordan Spieth for the end of their successful Ryder Cup partnership
"I think the camaraderie was fine, was perfect," said Koepka.
"The problem is you guys try to make a reason why we lost. We just didn't play good enough."