Ryder Cup: WhatsApp, a postman & a tattoo - reaction to Europe's victory
By Alex Bysouth
BBC Sport at Le Golf National, Paris
Last updated on .From the section Golf
As Rory McIlroy and his Ryder Cup-winning team-mates basked in the success of their victory over the United States on Sunday, it emerged the spirit in the European team was epitomised by one thing - a "love-in" on their group WhatsApp chat.
With glasses of fizz in hand amid a party atmosphere transferred from the 18th green at Le Golf National, McIlroy told a news conference he didn't even have the messaging service before the week began.
After being coaxed into downloading it to communicate with the rest of his Team Europe colleagues when they met up on Monday, he's now a convert.
"Thorbjorn Olesen didn't chime in for a while," joked McIlroy, before Sergio Garcia said the Dane would do now after winning his match against Jordan Spieth as Europe regained the Ryder Cup with an emphatic 17½-10½ victory over the United States.
"We've had this WhatsApp group going for a while which was one big love-in," said McIlroy. "That was a big part of it. We all get along so well.
"There's something about this group of guys. There's a continuity in our group that maybe the other side don't quite have.
"The rookies in our team we've known for a long time. The great camaraderie we have is built up on the European Tour. It was such a good week."
Thomas' tattoo promise
The Americans headed to the Versailles venue as strong favourites, but captain Thomas Bjorn armed his players with an added incentive to regain the Ryder Cup - the promise of a tattoo.
"We had an extra bit of motivation this week," said Ian 'The Postman' Poulter, draped in his country's flag.
Quizzed what that might be, McIlroy jumped in: "There could be a visit to a tattoo parlour coming for Mr Bjorn."
Justin Rose asked his captain whether it was going to be a sketch of the winning score, and when asked where and what size it should be, McIlroy added: "As big as possible!"
"It's the worst decision I made all week," said Bjorn, admitting he had agreed to get inked in a place only his partner, Grace, should witness.
Bjorn added: "Some people say golf is boring. Well, this is certainly not boring. I've experienced a lot of Ryder Cups but this is the top one."
'Postman' Poulter delivers again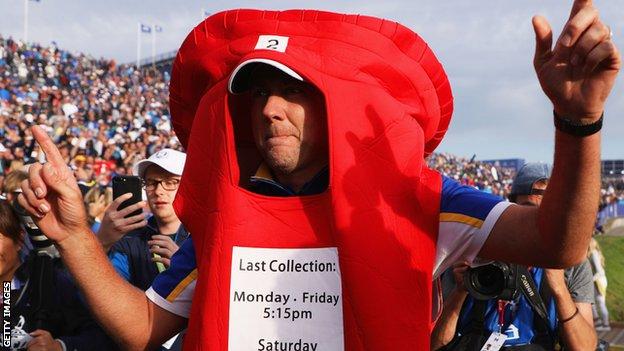 Poulter is nicknamed 'The Postman' because he "always delivers". He did just that again on Sunday, the wildcard pick seeing off world number one Dustin Johnson.
Poulter was met with adulation by the fans on the outskirts of Paris, and even nabbed one fan's letterbox outfit to don for the celebrations on the 18th green.
"I might go and post some letters when I get home," the beaming Englishman chuckled, before suggesting he would get the costume framed.
Praising his captain, Poulter added: "Thomas has been extremely calm all week. He's allowed us all to be very relaxed and understands every player on a personal level."
World number two Rose momentarily brought the news conference back to a serious note.
"What this team did was not drop their guard until this moment right here," he said.
"We ticked every single box all week long. Our focus was unbelievable."
'Moliwood' bromance continues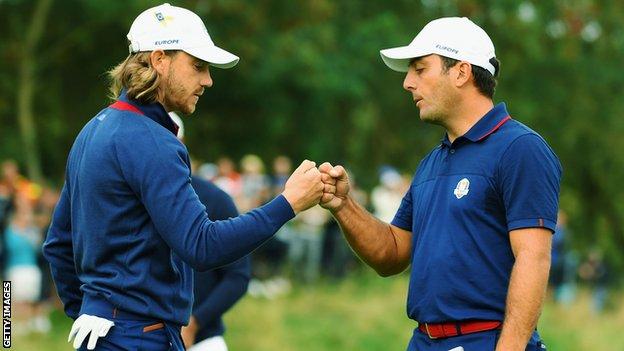 Francesco Molinari wrote himself into Ryder Cup folklore with five points from five matches, the last of those tipping Europe over the magic 14½ mark as he beat veteran Phil Mickelson.
Four of Molinari's points came with Tommy Fleetwood at his side, and the Merseysider blew kisses as his team-mate was quizzed by the media.
Molinari, who clinched his first major at the age of 35 by winning the Open earlier this year, became the first European player to compile a perfect 5-0 record at the Ryder Cup.
But he was quick to distance himself from being the hero, saying he was due points in the competition having previously failed to register a win in two Ryder Cups.
"My summer has been great, but it's about these guys," said Molinari.
"I've been on tour winning things, doing a little bit and not a lot, my record [at Ryder Cups] was shocking coming into this week so statistically there was a good chance of winning some points."
Fleetwood chirped up, with a chuckle: "You're so full of yourself!"
Molinari fired back: "I love Tommy. We need to spend more time together."
He added: "It's been intense, but the adrenaline is so much you could keep going.
"It's not about individuals, it's about the other guys on the team. The atmosphere we created, I don't feel any difference from bringing five points or one point.
"It doesn't mean anything if you don't win the cup."
Tears, cheers & beer for Europe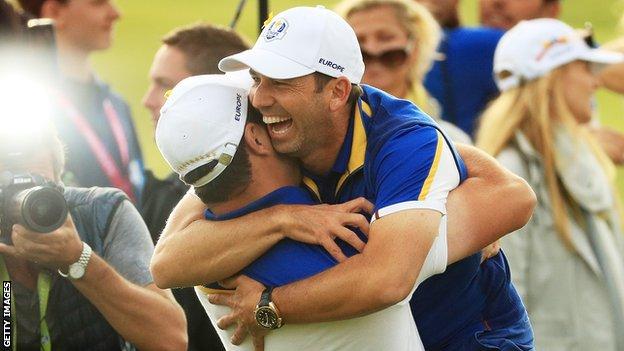 Sergio Garcia: "I don't usually cry, but I couldn't help it. What a week. It's been a rough year, but we fought hard. I'm so thankful to Thomas Bjorn for believing in me."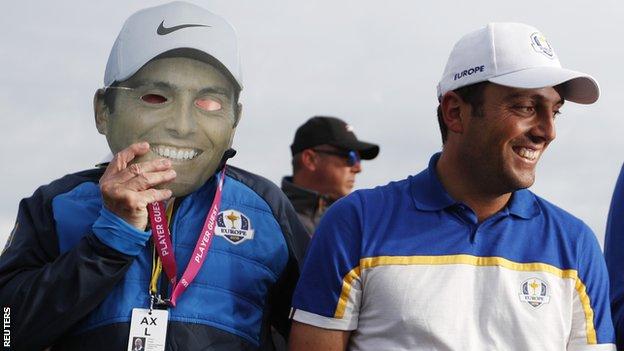 Francesco Molinari: "This means more than majors, more than anything."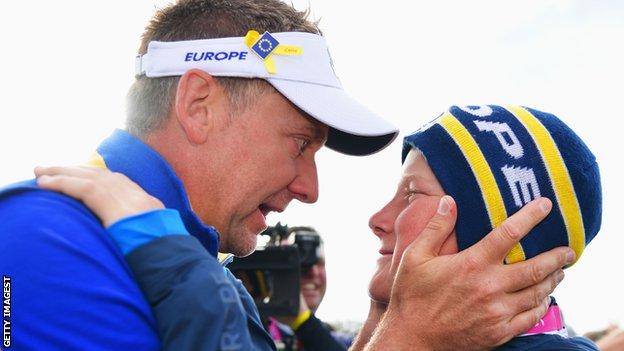 Ian Poulter on Twitter: "As a parent, these moments we get to spend with one another sometimes are few and far between, Luke, but when moments like this come around, I was not letting you down today."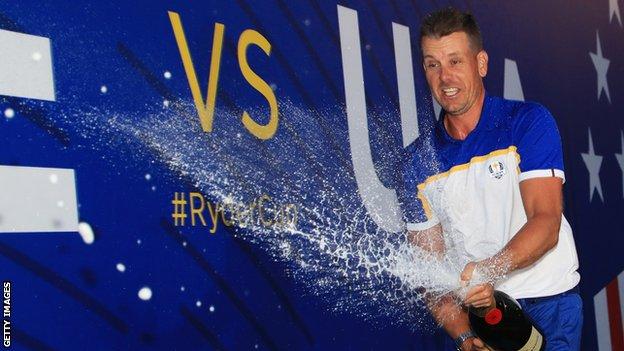 Henrik Stenson: "We played our hearts out - that's why we are here standing with the Ryder Cup. I played my best round of golf this week."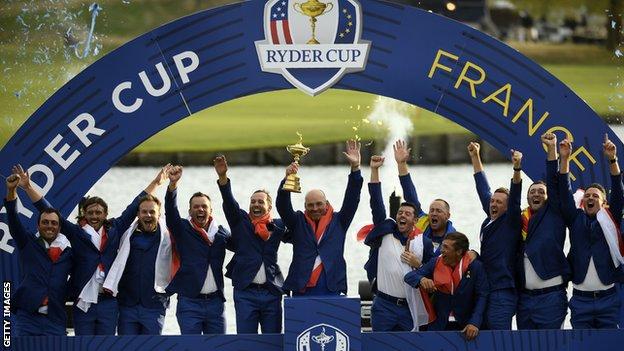 Rory McIlroy: "We took a really tough loss in Hazeltine a couple of years ago. People questioned the picks and quality and we showed this week our cohesiveness and togetherness."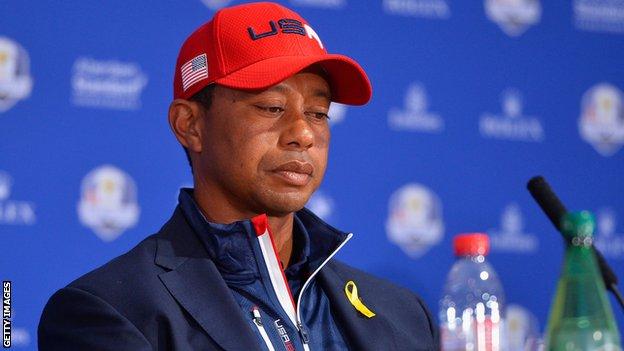 Tiger Woods: "I'm one of the contributing factors to why we lost the cup, and it's not a lot of fun."
How the European players did
EUROPE

Name

Country

Won

Lost

Draw

Points

Paul Casey

England

1

1

1

1.5

Tommy Fleetwood

England

4

1

0

4

Sergio Garcia

Spain

3

1

0

3

Tyrrell Hatton

England

1

2

0

1

Rory McIlroy

Northern Ireland

2

3

0

2

Francesco Molinari

Italy

5

0

0

5

Alex Noren

Sweden

1

1

0

1

Thorbjorn Olesen

Denmark

1

1

0

1

Ian Poulter

England

2

2

0

2

Jon Rahm

Spain

1

2

0

1

Justin Rose

England

2

2

0

2

Henrik Stenson

Sweden

3

0

0

3