Tadd Fujikawa: Japanese-American golfer comes out as gay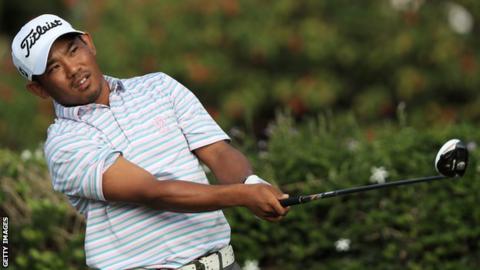 Japanese-American golfer Tadd Fujikawa has come out as gay in a post on his Instagram account.
Hawaii-born Fujikawa, 27, made the announcement on World Suicide Prevention Day.
"So, I'm gay. Many of you may already have known. I don't expect everyone to understand or accept me," he said.
"My hope is this post will inspire each and every one of you to be more empathetic and loving towards one another."
He added: "I've been back and forth for a while about opening up about my sexuality.
"I thought that I didn't need to come out because it doesn't matter if anyone knows. But I remember how much others' stories have helped me in my darkest times to have hope."
In 2006, Fujikawa - now the world number 2,042 - became the youngest player to qualify for the US Open, aged 15.
At the following year's Sony Open in Hawaii, he became the youngest player in 50 years to make the cut at a PGA Tour event, eventually finishing tied for 20th.
In 2017 he won the Hawaii State Open and two months later, on World Mental Health Day, he posted on Instagram: "Not many people know this but I've gone through 'it.'
"Anxiety and depression are too real. What I have gone through may not seem as 'bad' or detrimental as some other people. But regardless we all have our issues and problems, just in different ways."