Ryder Cup: Tiger Woods and Phil Mickelson difficult to leave out - Jim Furyk

By Iain Carter
BBC golf correspondent
Last updated on .From the section Golf200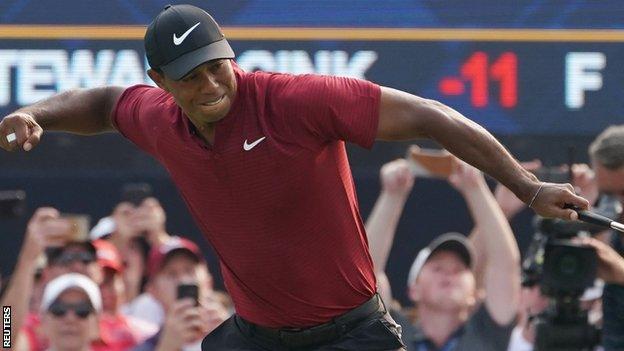 By having Brooks Koepka as their top qualifier, the United States Ryder Cup team can boast 2018's most devastating golfer among its ranks.
The 28-year-old from Florida has been celebrating a stunning PGA Championship win - one that will live long in the memory despite the one-dimensional nature of the long and soft Bellerive course that staged last week's tournament.
And as US Open champion Koepka collected his second major of the year, Tiger Woods also left us in no doubt that he will also be part of Jim Furyk's American team. Even though the 42-year-old finished outside the automatic top eight qualifiers, he looks certain to receive a wildcard pick.
Woods has already been named as a vice captain for the US defence of the Ryder Cup in France next month, but his claims to be there in a playing capacity are now overwhelming.
His closing six-under-par 64 in St Louis gave him the runner-up spot a month after finishing joint sixth at the Open.
"He's the guy who can just will himself to play good golf," Furyk told BBC Sport. "I realise that right now we are here to celebrate the top eight players, but he's hard to ignore.
"He's played very good golf and obviously put himself in a very good position for a captain's pick."
Woods finished eleventh on the qualifying table, three places short of automatic qualification. But remember he was late to the party having only returned to regular PGA Tour action at the start of this year.
Yes, question-marks remain over his ability to turn promising positions into victories but there can be little argument that he should be considered among the top dozen golfers in the United States.
The main issue will be whether he retains his position as one of Furyk's right-hand men. "Hypothetically speaking, right?" the US skipper smiled. "It is something I will discuss with Tiger and the other vice captains, what's best for the team.
"And we've kind of talked about that all year, what's best for Tiger, what's best for the team and we'll make that decision together and we'll move on.
"Either way, when you look at Tiger Woods as a player, as a vice captain, no matter what tag you put on that role, he's a huge asset to the team."
Tellingly, Furyk then added: "Even as a player he's been a vice captain, always has been."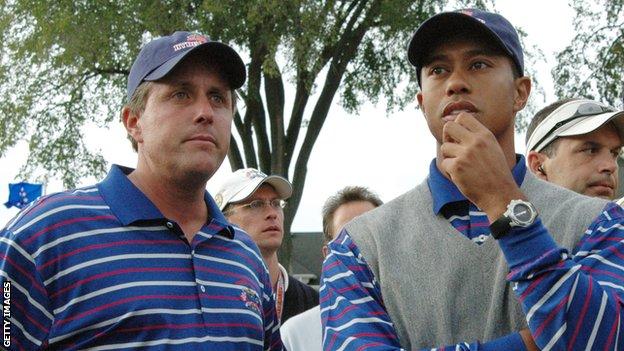 And imagine the furore and potentially unsettling impact of leaving out such an iconic figure. Indeed, the assumption among the American media is that both Woods and his contemporary Phil Mickelson will be among the four wildcards.
"They bring a lot to the team room, both those players as leaders," Furyk told me. "They can be the calm in the midst of a storm.
"How difficult would it be to leave them out? It would be difficult."
Yet Woods has played on only one winning Ryder Cup team and that was back in 1999 and last appeared in these matches at Medinah in 2012. Mickelson, meanwhile, has been an ever-present since 1995.
The 48-year-old left hander missed the cut at the PGA Championship and has had only one top-10 finish since winning in Mexico at the beginning of March. His form will surely come under scrutiny before Furyk announces three of his picks on 4 September.
The final spot is announced two weeks before the match on 10 September.
"It's important. You want guys who are playing well," Furyk said as he discussed the attributes needed by contenders for a wildcard pick. "We will look at a body of work for this season, big events.
"We are looking at how our next four fit in with our eight qualifiers and how that team meshes and gels. We will also look at Le Golf National and how it plays.
"I've played it a number of times and I've got an idea of what we are looking for and the type of player who will be successful there."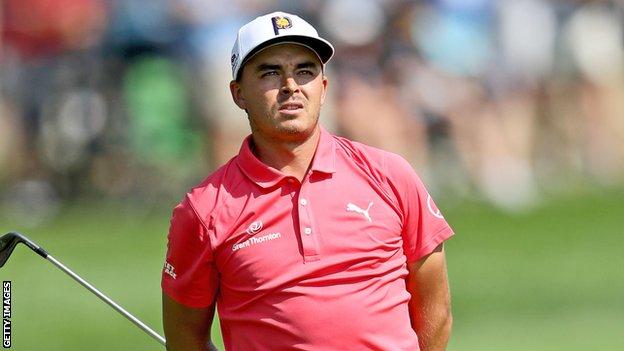 Already he has a stellar line up of eight automatic qualifiers among whom Rickie Fowler is the only player not to have won a major.
And at their vanguard is Koepka, who has collected three victories from the last six majors he has played, having missed the 2018 Masters with a wrist injury. It is a remarkable run for a player who has lived most of his golfing life somewhat below the radar.
"He seems to rise to the occasion," said Furyk. "The more difficult the situation, the more pressure in a major championship, he has risen to that occasion now a number of times. Those are the type of players you want in a Ryder Cup."
Koepka also has experience of playing the French Open at the venue for this autumn's match. He missed the cut in his one appearance in 2014.
But four years on, he will arrive in France a completely different figure - a formidable presence in a strong American team that will almost certainly also contain the name of Tiger Woods.