The Open 2018: Rory McIlroy willing to 'go down swinging' at Carnoustie

By Tom English
BBC Scotland at Carnoustie
Last updated on .From the section Golf64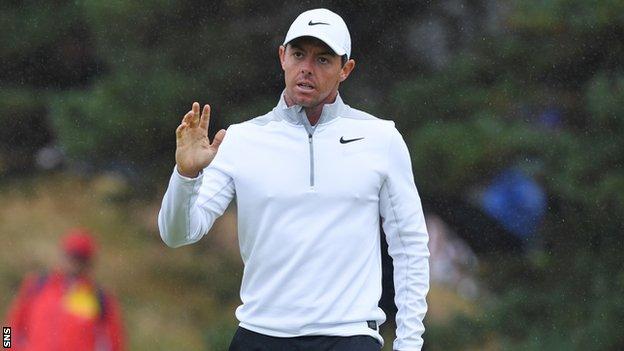 The 147th Open Championship
Venue:
Carnoustie, Scotland
Dates:
19-22 July
Coverage:
Live across BBC Radio, highlights on BBC TV and online, live text commentary and clips on the BBC Sport website.
It's not just his game that makes Rory McIlroy one of the most compelling characters in golf.
It's his conversation. It's the way he invites us into his mindset, a place of infinite wonder and complexity and fascination. The Northern Irishman is thrilling on the course and then absorbing off it. In full flow, he's something to see and hear.
McIlroy has one Claret Jug to his name and has now placed himself beautifully in the slipstream of the leaders in his pursuit of a second. He shot 69 in his second round at the Open at Carnoustie to move into an ominous spot on four under.
When talking later on about what happened out there and how he was feeling about it all he shot the interview-room equivalent of a 65. He said that he'd "played within" himself.
"I don't want to say [it was] easy, but it felt comfortable," the 29-year-old said. "I kept level-headed when I needed to. I didn't let the [wet] conditions get to me. I wasn't saying to myself, 'Jeez, I wish I was on the other side of the draw'. I just sort of got on with it. I didn't moan."
A question came and suddenly he was back on his theme from Wednesday when he spoke about his occasional hankering after the days of carefree golf, the freewheeling years when there was no pressure and no doubt, when he young and fearless. He said earlier in the week that he wouldn't mind reconnecting with that version of himself sometime.
"I've been a little bit too careful and tentative when I've been in these big tournaments," he said on Friday.
"Last day at Augusta [he was three off the lead overnight on Saturday, shot 74 on Sunday and finished six behind the winner Patrick Reed] and even the first day at Shinnecock [he had an 80 and couldn't make the cut], I was just holding on a little too much.
"I don't know, maybe I was worrying too much about the result and not focusing on the process. Sunday at Augusta was a big learning curve for me because if I went down swinging and aggressive and committing to every shot I would have walked away a lot happier.
"So this week one of my main thoughts is just to let it go. Just go out there and give it your all. I'd rather fail by trying 100% than by holding back and maybe not giving myself the opportunity to do well."
That devil-may-care McIlroy was in evidence on Thursday when he took on the golf course with drivers off many tees where most others were taking irons. He had to reel it back in a little on Friday because of the overnight rain. It was too damp to attack with abandon.
"I couldn't do it," he admitted. "All the bunkers were in play. If it's dry and it's little warmer you're flying those bunkers. With the moisture on the club face and the ball, it just wasn't worth it.
"I had to be a lot more conservative, but it ended up being the same score [as Thursday, a 69.] On a day like that, you just need to scramble and keep yourself in it."
McIlroy has put himself right where he wants to be after two rounds. It's the third Open in a row where he's improved his position from Thursday into Friday having gone from 58th to sixth last year at Birkdale and from 22nd to 15th the year before at Troon.
The year before that was Hoylake, where he couldn't better what he did on Thursday given that he was in the lead and stayed in the lead all tournament.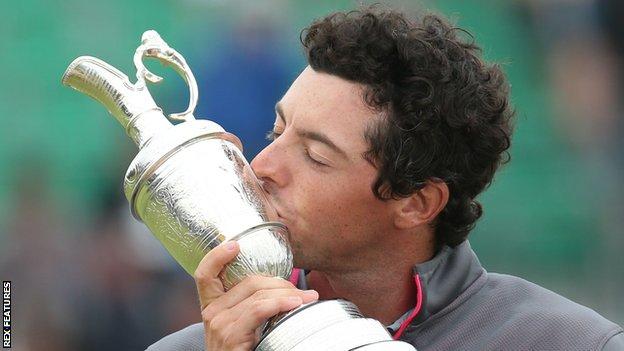 His recent Open record now reads first at Hoylake, tied for fifth at Troon and tied for fourth at Birkdale. Once more he is in the hunt even though he had a strangely low-key build-up to this championship.
The preamble had focused on many players but McIlroy wasn't at the top of the pile this time. He wasn't overlooked, but was possibly underappreciated considering his record in this championship in the last three years.
His place on the leaderboard is another reminder that though he has his travails, McIlroy, this wondrous talent and thinker, can return to brilliance at any time.