Brittany Lincicome set to make PGA Tour history at Barbasol Championship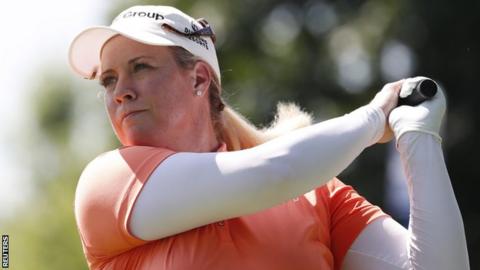 While all eyes are on the leading male players in the world at Carnoustie this week, one female golfer will be doing her bit to inspire young girls to take up the sport.
For as the 147th Open gets under way, Brittany Lincicome will be lining up alongside the men at the PGA's Barbasol Championship in Kentucky.
In doing so the 32-year-old American will be only the sixth woman in history to compete against men on the PGA Tour.
The last was Michelle Wie a decade ago.
Last month Lincicome and Wie were paired at an LPGA event in Arkansas and Lincicome, a two-time major winner, said she tried to ask the Hawaiian about her experiences against the men.
"She wasn't very helpful," Lincicome joked, "she said she couldn't remember, it was so long ago."
Annika Sorenstam, Suzy Whaley, Shirley Spork and Babe Didrikson Zaharias are the only other women to have competed alongside the men in the PGA's 102 years.
Lincicome was invited to join the tournament's 132-strong field on a sponsor exemption - she represents the parent company of the Barbasol brand.
Sponsor exemptions give tournament backers the option to add a player of their choice to the field when they would not ordinarily qualify.
"It's kind of surreal, I just can't stop smiling," Lincicome told the PGA Tour website.
"Obviously I've heard many times I would be the first LPGA or female person to make the cut in a men's event.
"I'm trying to block that all out and just go out and play and have fun and play my own game and not be too tense or uptight about it."
But her motivation is to inspire the younger generation: "If I can inspire one child to pick up the game of golf and want to play, I feel like my job as a pro has been succeeded," she said.
Lincicome has also written for the Players' Tribune website this week about her reasons for playing.
"The more I thought about whether to play in this event, the more I kept coming back to all the younger girls who I might be able to connect with and inspire by doing this," she explained.
"I thought about how an opportunity like this might be able to make a difference in how people think about our sport in the future."