The Open 2018: Tiger Woods says Carnoustie his 'best chance' for 15th major
By Peter Scrivener
BBC Sport at Carnoustie
Last updated on .From the section Golf166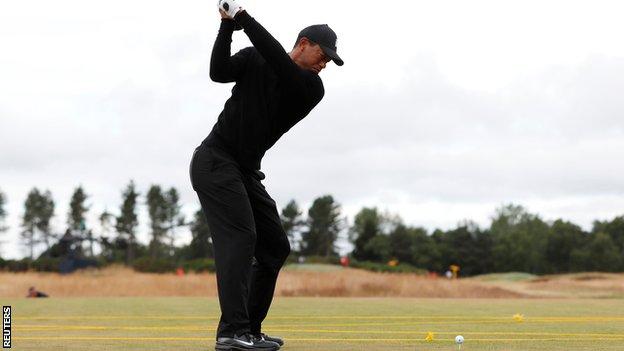 The 147th Open Championship
Venue:
Carnoustie, Scotland
Dates:
19-22 July
Coverage:
Live across BBC Radio, highlights on BBC TV and online, live text commentaries on BBC website.
Tiger Woods believes he can add to his 14 major titles at this year's Open.
The American, 42, is playing his first Open Championship since 2015 after recovering from back fusion surgery.
But when asked whether the Open - played on links courses - was his best chance for more silverware, he said: "Yes, because you don't have to be long to play on a links golf course."
Woods was joint 32nd at the Masters in April on his return to major golf and missed the cut at June's US Open.
The three-time winner of the Claret Jug added: "Look what Tom Watson did at Turnberry in 2009 at the age of 59."
Watson, who had won the last of his five Open titles in 1983, missed a putt to win the title that year and then lost in a play-off to fellow American Stewart Cink.
"You get to places like Augusta National where it's just a big ballpark and the course outgrows you. That's just the way it goes," Woods continued.
"At Carnoustie there are not many opportunities to hit the driver because the ball is going to roll 80 yards, so it's hard to keep the ball in play.
"I hit a three iron 333 yards in practice on the 18th hole so when I get a bit older I can still chase a long club down there, so distance becomes a moot point.
"But creativity plays such an important role. There's a reason Tom won five of these - he was very creative."
Woods got his first taste of links golf at Carnoustie as a 19-year-old amateur at the 1995 Scottish Open and he recalled playing the par-four second and "being close to 120 yards out and putting it".
He added: "I'd never done that before - that was one of the cooler moments.
"I spent two hours on the driving range hitting the ball to the 100-metre sign. I was hitting nine iron, four iron, five iron, just having a blast trying to hit the sign, being creative and using my mind."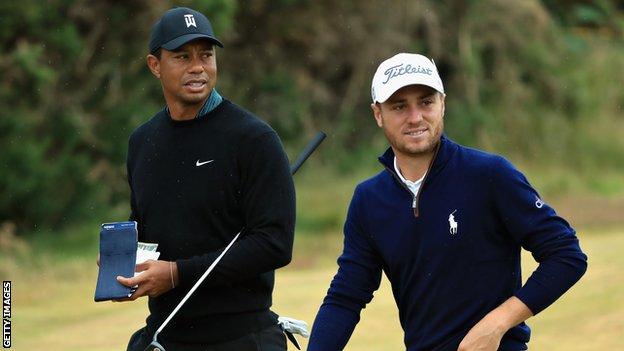 Woods finished joint seventh in 1999 and in a tie for 12th in 2007 on his other visits to The Open at Carnoustie.
The Open champion of 2000, 2005 and 2006 has also had nine top-10 finishes in his 19 starts in the tournament.
"I love playing links golf," he said. "You know you're not going to get the most perfect of bounces. You know a wonderful shot down the middle of the fairway could bounce some weird way.
"Traditionally, the guys who have done well over the years have been wonderful feel players and wonderful lag putters because a lot of times it is difficult to get the ball close and you have numerous putts from 40 or 50 feet.
"That's just part of it. And I think that's the fun challenge of it."
Koepka to attack with driver
The course will not be Woods' only challenge this week, with a quartet of his compatriots holding all four majors, while Dustin Johnson is world number one.
Jordan Spieth is the reigning Open champion, while Brooks Koepka successfully defended his US Open title in June to follow Patrick Reed's Masters triumph and Justin Thomas winning the 2017 PGA Championship.
Koepka, 28, is trying to become the first man since Woods, in 2000, to win the US Open and Open Championship in the same year.
And while he echoed Woods' "creativity" and "imagination" comments, he is preparing to attack the course and use his driver "eight or nine times, depending on the wind direction we could hit more".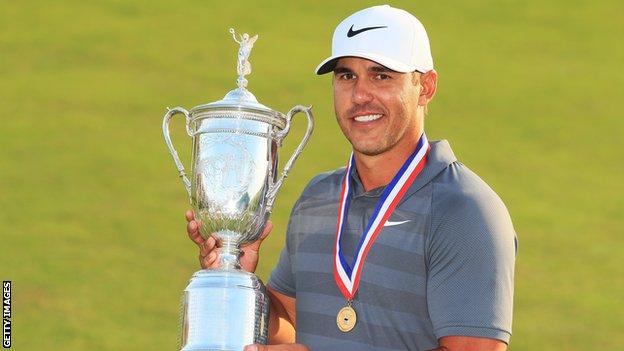 "I thought you play the course with a lot of irons off the tee, lay back of the bunkers, but sometimes we can take the bunkers out by hitting the driver.
"The rough is not quite as thick as I expected it to be so if you can get within 40 yards of the green, there's no reason not to take advantage of that."
World number two Thomas is wary of Carnoustie's many bunkers and concerned that if he chases too hard a bad score could follow.
"You can get in trouble pressing," he said. "I'm going to probably hit a lot of irons but if I get two or three over par on the front nine and try to change my gameplan and start hitting drivers, they can go into bunkers and gorse bushes, and you can easily turn it into a six over.
"For me, a lot of these holes have a bunker in play with a driver and that's causing me to not want to hit a driver because the fairway bunkers are like a water hazard and you can never hit the green from them.
"Some of the holes are just difficult. It's so hard to hit the fairways. You have to curve the ball into the fairway, land it in the rough and hope it gets out.
"It really does just present a lot of challenges."
Reed said his challenge was "getting a bit more comfortable with landing the ball short and letting it run" as he looks to build on his run of top-five finishes in the previous three majors.
The 27-year-old finished joint second at last year's PGA Championship before winning the Masters and ending fourth at the US Open.
In four Open appearances he has missed the cut twice but finished in a tie for 12th and 20th in the other two.
"The biggest thing is I've played more rounds, been more experienced with links golf," he said.
"It's hard, being from the US, to fathom and think I have 260 yards left, I can hit a 90% six iron and it's going to get there. Back home, I'm hitting a three wood.
"It's a true test on who is hitting the ball the best, who has full, complete control of their golf game, and if the wind blows and the greens firm up it's also going to test your mental game."
Meanwhile, Johnson said he plans to be aggressive this week in an effort to keep his ball out of the fairway bunkers.
"On the holes where I can hit the driver and take the bunkers out of play, I'm absolutely going to do that," he said.
"You hit it in a bunker and it's like a penalty shot. You can advance the ball forward but I haven's seen one that I could actually hit it out and on to the green.
"So navigating the bunkers is the biggest key. The rough is not very penal so if I can carry all the bunkers, I'm going to hit my driver.
"With the rough being down, it helps because you can hit it in there and still knock the ball on the green."