The Open 2018: The Smiths - Carnoustie pioneers who took golf to America

By Tom English
BBC Scotland
Last updated on .From the section Golf
The Open Championship
Venue:
Carnoustie
Date:
19-22 July
Coverage:
Daily highlights on BBC Two, live commentary on BBC Radio 5 Live, text commentary & reports on BBC Sport website
For the longest time the medals lay in a paper-thin glass cabinet just inside the door of Carnoustie golf club, an iffy alarm held together by Blu Tack the only thing protecting them from damage or theft.
For sure, this was a shrine to the remarkable Smith family, the mum and dad and the five sons who left the Angus coast in the late 1800s and early 1900s and became some of the most important characters in the early story of golf in America. But it was an unloved shrine. Truth be told, very few members knew the significance of what they had in their midst.
The medals were pinned to old boards, dozens of them from tournaments up and down America. At the heart of the collection were two gems - Alex Smith's US Open winners medal from Onwentsia in Illinois in 1906 (his brother Willie was second) and his second US Open winners medal from the Philadelphia Cricket Club in 1910 (he beat his youngest brother Macdonald in a play-off).
Four years ago, a man walked in the door of Carnoustie golf club (right across the road from the Carnoustie hotel), sized up the collection and made them an offer for those two US Open medals that he thought they wouldn't refuse.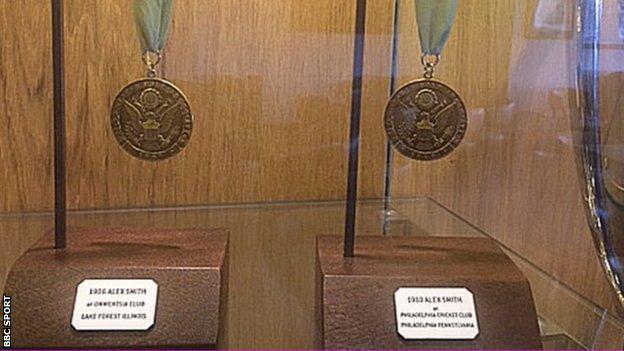 The offer was in the hundreds of thousands of pounds. They said no, it wasn't their place to sell them. The family had bequeathed them upon Alex's death and Macdonald had personally delivered them home. They weren't for sale, but it was a wake-up call to what they had. The first one, at any rate.
The second moment of awakening came a week later when a man called David Mackesey appeared. Mackesey introduced himself as president of Diablo Golf and Country Club - "the Californian home of Carnoustie golf club". Mackesey had done well in life. If business once consumed him, now it was the heritage of golf and the part the Smiths played in it that fascinated him.
The locals were stunned. The Californian home of Carnoustie golf club? What was going on here? None of them had ever heard of Diablo Golf and Country Club. The story of what happened next is a compelling one, and we'll get to it, but first a journey through the life and times of the Smiths.
John and Joan Smith knew the meaning of tragedy. They had 10 children, but five of them - two boys and three girls - never survived infancy. Their surviving sons worked with their father, a green-keeper at Carnoustie, caddying, golf club-making, doing whatever they could to make a living. Alex was the first of the boys to emigrate and, says Bill Thompson, the current captain of Carnoustie Golf Club, he became a golfing pied piper for the young men of the town.
"As golf clubs sprung up over America, it would be Alex that these clubs would turn to in order to find a golf pro," says Thompson.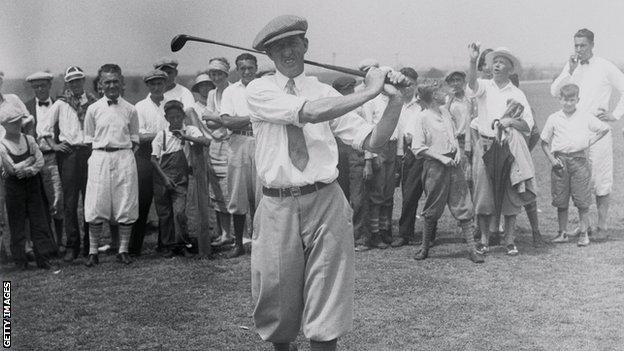 "Alex was a very respected figure. A champion golfer, a big and charismatic man. Invariably, when asked to recommend a professional for a newly formed club, he'd sing the praises of a Carnoustie boy. These lads all knew how to play, knew how to make clubs, knew what was required. Alex was hugely significant."
All told, around 300 of them left in search of a better life in the burgeoning world of golf. Most, if not all of them, were given their chance thanks to Alex, one of the first Carnoustie pioneers.
He left Carnoustie in 1898, spent 12 days on a steamboat to Ellis Island, New York, and then went 100 miles on a horse and cart at the other end. He was followed to America a year later, by his brothers Willie and then George. Willie won the US Open in 1899, Alex won it in 1906 and 1910. The Smiths were in the vanguard of bringing the game to America and showing the new world how to play.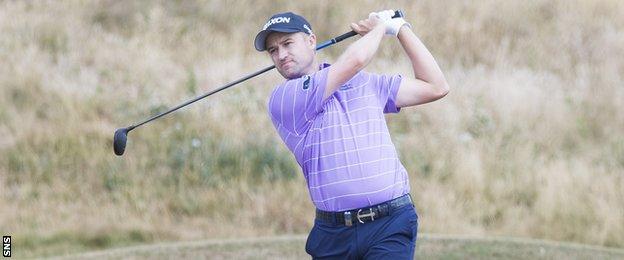 "During that period a set of railway barons purchased an estate from the government called Mount Diablo in California and they made a recreational home for their families there," says Thompson.
"They built a golf course and John Smith, the dad, was sent for as green-keeper. That's how the last of the Smiths arrived in America - mum and dad and the other sons, including Macdonald, or Mac, as he was known, all departed at that point.
"Diablo gave the Smiths a home and nurtured them for over 30 years. John and Joan, George and the other son, Jimmy, are buried in a cemetery just a few miles away. When a burial plot was picked for them the club deliberately found one that had a sight line facing Diablo and Carnoustie."
Many decades after the last of the Smiths died - remarkably, Joan outlived her husband and all 10 of her children - the family has brought Carnoustie and Diablo together. That was when Mackesey entered the picture with his passion and his obsession for bringing the Smith name back to life.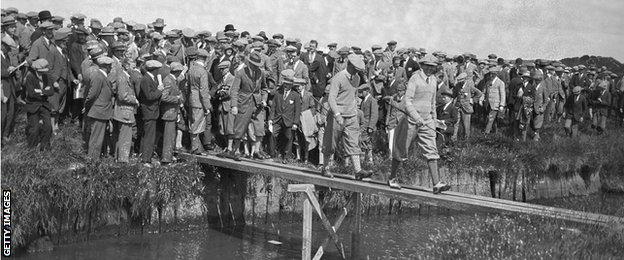 With Thompson now energised by the scale of the Smith story, the old glass cabinet with the dodgy alarm was ripped out and the whole clubhouse was redone. Everything is still on display for all-comers but it's infinitely more secure now. Extra material is getting added all the time. The archive of the Smiths has now turned into an official body, the Smith Society.
"People come in and are in tears when they read about the boys," says Thompson.
Thompson and Mackesey and their respective teams have gone on an adventure here. They talk all the time about their own discoveries; a piece of new information they've found out about the family, a new photograph they've unearthed, an old club that Mac used, a putter that once belonged to Alex.
"Every time you peel back a layer of this story you find something else," says Thompson. "Mac was, arguably, the best of them all. Bobby Jones, Tommy Armour, Gene Sarazen all spoke about what a great player he was. He never won a major, but he came incredibly close a number of times.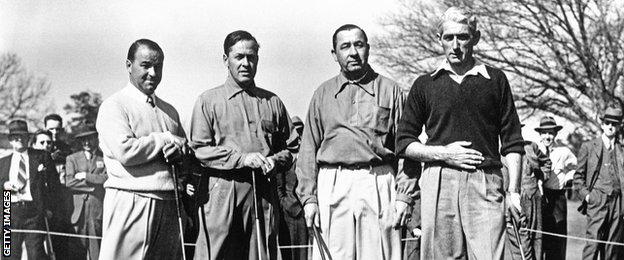 "His own story is extraordinary. He won a lot of tournaments in the early years in America, then went to war and came back profoundly deaf. His older brother, Willie, died in Mexico in the early weeks of the Revolution in 1915.
"He was the professional at Mexico City by then and Zapata's forces attacked his clubhouse and the roof came in on top of him. He died shortly after because of complications.
"That was a blow for young Mac and he kind of went missing for years afterwards. He withdrew from golf and and became a raging alcoholic for about 10 years.
"Then he met and married a rich widow, a very pious woman. He had no money and had lost all his teeth. He had wooden teeth and was working in an iron works shipyard in San Francisco and this lady (a socialite called Louise Cahill Harvey) got him off the drink, got him new teeth and got him back playing again. They lived in opulence in Long Island. Mac had the best years of his life after he met her."
Harry Vardon once said that Mac Smith was the greatest golfer in America - and Vardon wasn't alone in thinking it. Even after his guiding light, Alex, died of cancer in 1930 in his mid 40s - for years Alex was sponsored by Lucky Strike cigarettes - Mac pressed on, winning tournaments and friends everywhere he went, Bing Crosby among them.
Armour once wrote of Mac: "He had the firm features of an Inquisition fanatic, but inside he was gentler and kinder than Santa Claus. His swing is as graceful, as smooth and as apparently effortless as the swooping glide of a gull through the blue sky. He has the cleanest 21-jewel stroke in golf. He treats the grass of a golf course as though it were an altar."
Mac could have won multiple majors, but luck went against him. In 1925 at the Open at Prestwick he led by five shots going into the final round. He looked unbeatable. That's what the locals thought in any event.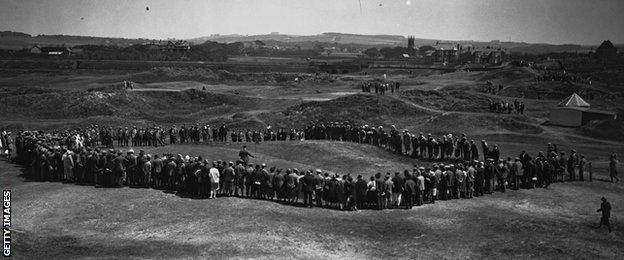 They turned out in vast numbers to support the returning hero. They crowded around him - and suffocated him. So huge were the galleries that they spilled across fairways and Mac had to fire over their heads at times. It was hopeless.
"Never before - or since - in golf has there been such a gallery," wrote Armour. "It was a stampeding, shoving, frantically partisan throng that came to witness Mac's life's ambition.
"Instead it saw and sensed the drama of a noble man with the hand of fate tearing out his heart. Mac Smith took an 82. It's still unbelievable to me."
One magazine called it "Death By Love at Prestwick". In 1930, Mac contended strongly at the US Open at Interlachen and at the Open at Hoylake but finished second to Grand Slam Bobby Jones both times.
Mac could have won in 1931 when the Open came to Carnoustie for the first time. Again he had the lead, again he let it slip. Armour won instead and felt for his friend.
"Here I am sympathising with Mac Smith when he's really one of mankind most to be envied," he said.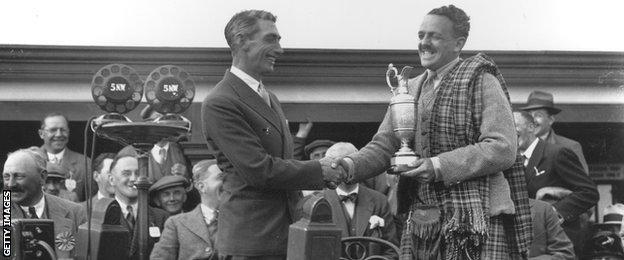 "Mac has peace in his heart. He has triumphed over ill-health and over Mac Smith. He is no Caledonian tragedy even though he often has been batted back a step away from golf's heights. Open champion or not, he has the dignity of a true champion, the mien of a monarch."
Sitting among the story of the Smiths, Thompson says that Carnoustie Golf Club's past is its future - "and our past is what it is because the Smiths have left it to us. The family could have sold all these medals, but they didn't. They donated it all back to the town and we're doing everything we can to let people know what they did in life. Anybody can come in and see it."
Anybody who cares about golf history should. It's a story of a unique family that deserves to live on, down through the ages.