The Open 2018: Carnoustie's 18th - the scariest hole in Open history?

By Tom English
BBC Scotland
Last updated on .From the section Golf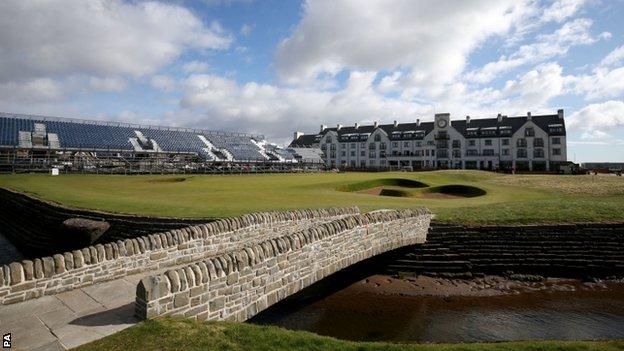 The 147th Open Championship
Venue:
Carnoustie, Scotland
Dates:
19-22 July
Coverage:
Live across BBC Radio, highlights on BBC TV and online, live text commentaries on BBC website.
When you ask a golfer - or in this case 14 golfers - to pick the toughest Open Championship hole of them all, you tend to be greeted in one of two ways - an immediate response borne out of bitter experience and delivered with a grimace and normally accompanied by some agricultural language or, alternatively, a long pause as the player churns over the options in his head while the blood slowly drains from his face.
During last week's Scottish Open at Gullane, we lined up a stellar panel of men who have been there and done it. From Ernie Els, winner at Muirfield and Lytham, to Padraig Harrington, winner at Carnoustie and Birkdale, to Darren Clarke, winner at Royal St George's, and onwards to Rickie Fowler, runner-up at Hoylake and Lee Westwood, runner-up at St Andrews.
With one player left to interview, the mantle of The Open's scariest hole was a tie between the 18th at Carnoustie and the 17th at St Andrews, two tracks that have an age-old history of causing drama on the biggest stage.
That last player, the one with the deciding vote, happened to be Harrington. Unsurprisingly, given his trauma there on the Sunday in 2007, he went with the 18th at Carnoustie.
Recently he said that the double bogey he ran up that day - he was in the burn twice, but won the Claret Jug in a play-off with Sergio Garcia - was the only time he has been embarrassed on the golf course. The Open championship returns to Carnoustie now and, as sure as fate, more embarrassment lies in wait at 18 for some or, if it blows, for many.
"Out of bounds left off the fee, water left, water right, water short, bunkers straight in front of you," said Harrington. "The second shot, you can hit the green and go out of bounds. It's the most difficult closing hole in major championship golf and probably world golf."
Not everyone agreed, but enough did. The 18th at Carnoustie - the toughest of them all.
Five-time major champion Phil Mickelson: "I'd go with 18 at Carnoustie. We all saw tragedy there and we know what it's capable of. It's one of the scariest, there's so much trouble everywhere. There's water right, water left, you have the rough, you have water short, out of bounds left is a major factor. There is a lot of trouble. Yeah, that's a tough one."
Graeme McDowell, 2010 US Open winner: "It doesn't have the same fear factor for me. The 17th at St Andrews would be tough to beat as regards a scary second shot. Intimidating drive and really intimidating second shot when you're coming down the stretch and you need it to happen. Road Hole for me."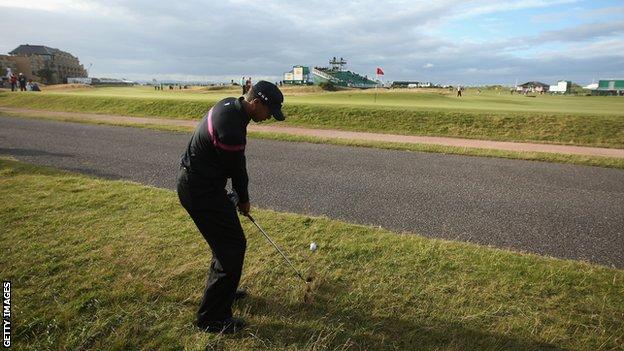 Justin Rose, 2013 US Open winner: "The Postage Stamp at Troon. It's the shortest hole on the Open rota, but if the wind is blowing across you it gets the knees trembling. It's simple when it's simple, but the minute the conditions start kicking up it's the scariest hole out there. On a long hole you have the opportunity to recover somehow and the 18th at Carnoustie you have options how to play it. On the Postage Stamp you have to be pin-point. Nothing less than perfect is good enough."
Rickie Fowler, runner-up in 2014 Open: "Oh, the 11th at Troon, no question. Blind tee-shot, gorse left and right, and once you do get it in the fairway it's still a long hole, close to 500 yards. It's just a brutal par four. At least on 18 at Carnoustie if you get it on the fairway it's an easier approach shot. It's a hard driving hole, but fairly straightforward. The 11th at Troon caused some trouble for me."
Lee Westwood, runner-up in 2010 Open: "The 11th at Troon springs to mind immediately. I've got a chill just thinking about it."
Four-time major champion Ernie Els: "Ah, good question. It's got to be 18 at Carnoustie when it's blowing its head off. Burns, out of bounds. Vicious."
Patrick Reed, 2018 Masters champion: "The 10th or the 11th at St Andrews. Which one is the par three? (It's the 11th). Yeah, that one. That's the toughest because it was blowing about 90 when I played it. We were hitting four irons and three irons into that hole, it was blowing so hard. That can cause mayhem."
Matt Kuchar, runner-up in 2017 Open: "It's got to be the 17th at St Andrews. For some reason, number one at Muirfield is one I find very tough, but 17 would be my pick. I don't think anybody who has played that hole more than twice hasn't been in that bunker."
Stephen Gallacher, 2014 European Ryder Cup player: "The 18th at Carnoustie or the 17th at St Andrews, both the same. Once you hit the fairway on 18 you've still got the burn, the out of bounds, the bunkers. The 17th at St Andrews is probably tougher. I'd wonder what the stroke average is on both of them. Carnage."
Darren Clarke, 2011 Open champion: "Ah, 16 at Carnoustie (long par three). Because it's brutal. Just brutal. No other word for it, brutal. Sorry, I need to go. Brutal."
Two-time major champion Martin Kaymer: "The 16th at Carnoustie is quite tough. If you give yourself two threes and two fours it's not that bad. It's tough to hit the green especially with the long club you have to hit and if you hit the green, it's quite an exposed green and it's tough to make two putts."
Danny Willett, 2016 Masters champion: "I'd pick a few. The 18th at Carnoustie is right up there and the 15th is very sneaky with the prevailing wind as well. The 17th at St Andrews has to be mentioned. The 18th at Troon is not as simple as people make it out to be. The first hole at Lytham - you get that pumping into the wind and it's cruel. The 18th at Lytham as well."
Thomas Bjorn, twice a runner-up in The Open: "The 17th at Carnoustie. If it's this dry at The Open, the 17th at Carnoustie is going to be a lot of fun."
Three-time major champion Padraig Harrington: "Ah, no, 17 is OK. The 18th is the one. For sure."
Harrington survived his malaise on 18 in 2007, but that hole has broken hearts going right back to Carnoustie's first hosting of The Open in 1931. We all remember Harrington versus Garcia in '07 and Jean van de Velde versus Jean van de Velde in '99, but in 1931 the 18th played a big part in costing the Argentine player Jose Jurado his chance of winning the Claret Jug.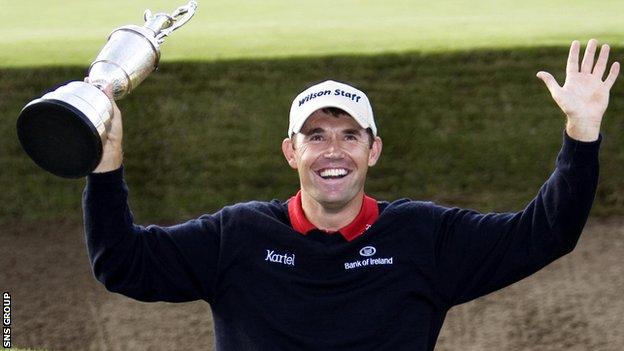 "For maybe 20 years I thought about it constantly," he said, in later life. "Usually at night I'd be woken up by memories of Carnoustie."
That same year, Carnoustie's own Mac Smith blew his own chance and again it was 18 that did the damage. "I felt rather as if I had gone to see a man hanged," wrote the golf-writing doyen, Bernard Darwin of poor Mac's horrors.
Down the ages to the present day the 18th at Carnoustie has struck fear into the toughest of hearts.