Matt Nicolle: The golfer with the 400-yard drive hoping to take on the world
By Brent Pilnick
BBC Sport
Last updated on .From the section Golf16
"I'm always being asked to do a Happy Gilmore swing, but usually as soon as they see me hit the ball they forget about that."
Matt Nicolle is used to people putting down their clubs and watching him hit balls at the driving range.
The 27-year-old is no normal golfer - he can hit a ball further than almost anyone in Europe.
And when most people think of men who can hit a ball a long way, the first person that comes into their mind is the ice hockey player-turned-golfer from the 1996 movie.
"Adam Sandler always comes up in conversation, it's Happy Gilmore, 'golf-ball-whacker guy', those are the nicknames you get," he says.
But there is money to be made by smashing a ball as far and as straight as you can - or long drive golf, to give it its more formal name.
'My longest drive this year is 425 yards'
Jersey-born Nicolle was a very promising young golfer, but the demands of trying to get on the tour with having to sustain himself financially meant he was never able to dedicate enough time to make the sport his living.
But, like Sandler's character, he was blessed with an awesome drive.
Now based in London, he balances his time coaching as a PGA-qualified professional, working in golf retail and and travelling the world trying to hit a ball as far as he can.
"My longest drive this year is 425 yards, and the PGA Tour average is about 280," he says, as he warms up at a driving range overlooked by Canary Wharf on one side and the O2 Arena on the other.
"There are some guys like Rory McIlroy, Dustin Johnson - the biggest hitters in the world - they'll hit it 320-340, so on our best drive we're 100 yards longer than them."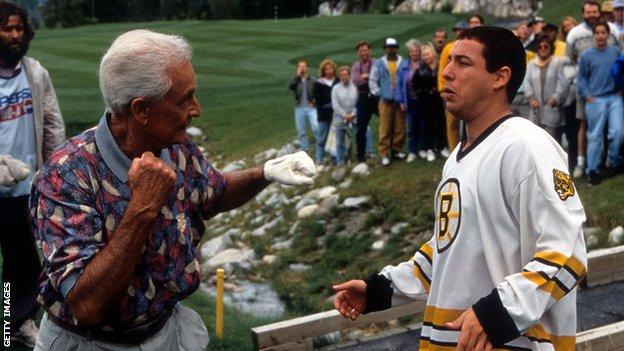 Extra long clubs, big tees and 140mph swings
There is a lot more to hitting a ball a long way than just brute force. Nicolle spends time in the gym, does pilates and yoga, and has a bagful of special kit to get the extra distance.
"People think to be ideal for long drive you have to be 6ft 8in and 120kg and that's how we create our power and speed," he says. "I create my speed through mobility, flexibility and rotational speed.
"I'm not the biggest - I only weigh 80kg so there's not a lot of mass to put through the ball - but through leverage and ground work I can create similar speeds."
Those speeds are mind-boggling - when Nicolle's specially-adapted driver crashes through his hardened ball atop a four-inch tee, it is travelling at around 140mph.
The shaft is 48ins long, four inches more than a regular driver, while it is five times as stiff as the stiffest you can get at a range.
His clubheads - which have an angle of just three degrees compared to nine or more on a conventional driver - are made from titanium as the carbon fibre ones usually used would crack.
And when it comes together it is spectacular - the noise that his club makes as it cuts through the air faster than most British trains go at top speed is only bettered by the awe of seeing his ball travel further than the length of four football pitches.
Can you make a living from long drive?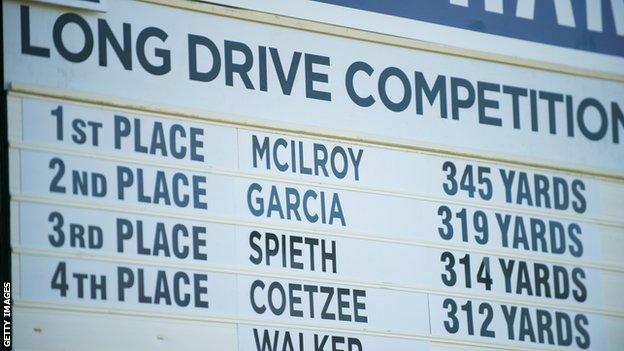 The sport of long drive is best compared to a home-run derby in baseball.
Competitors get 165 seconds to take six shots which must land on a fairway and the longest is the winner - the more accurate you are, the more chance there is that you will win.
At last weekend's Long Drive World Series event in London, Nicolle finished second behind two-time world champion Joe Miller.
But while the prize money on the main golf tours is huge - the Irish Open earlier this month had a prize fund of £5.3m with winner Russell Knox picking up £885,000 - long drive is more about the love of the game.
"There's £1,800 for first place on a European event and the top four pays out," says Nicolle, who is currently ranked 31 in the world.
"There's bigger money in America, that's where long drive evolved.
"It's getting to a point where you can earn a good living from it, but you're going to probably need some backing and support to enter the tournaments and travel.
"The World Championships, which are every September in America, there's $125,000 for first prize out there."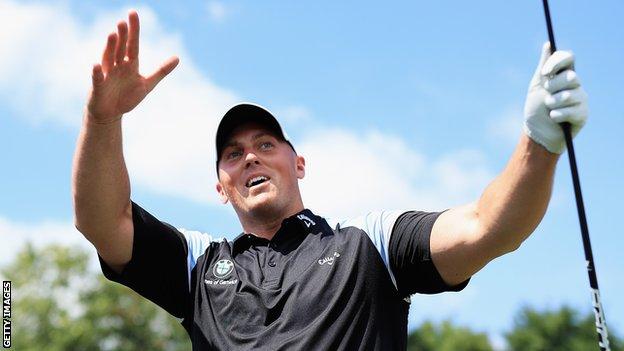 Unlike ordinary golf, where players can still compete at the highest level into their fifties, the career of a long-driver is a lot shorter.
"It does tear your body apart when you're swinging at that speed," says Nicolle.
"There's a masters division in America and you can still get it out there if you're good to your body.
"But it's not the longevity that normal golf has because that's a lot slower and the swing is a lot smoother, but there are guys in their peak who are in their mid-thirties."
And the ambition for Nicolle is simple - make waves at the World Long Drive Championships, starting with the 2018 edition in Oklahoma at the end of August.
"I've been involved in the World Championships in the past couple of years, I've improved a little bit each year but it's a difficult environment to go out there with the 100 longest hitters in the world.
"Most of them are American and you can feel a little bit isolated when you go out there and complete against them. The top 16 gets you through to the TV rounds so that's the aim this year really."