David Law: Scot credits Paul Lawrie after winning maiden Challenge Tour title

By Kenny Crawford
BBC Sport Scotland
Last updated on .From the section Golf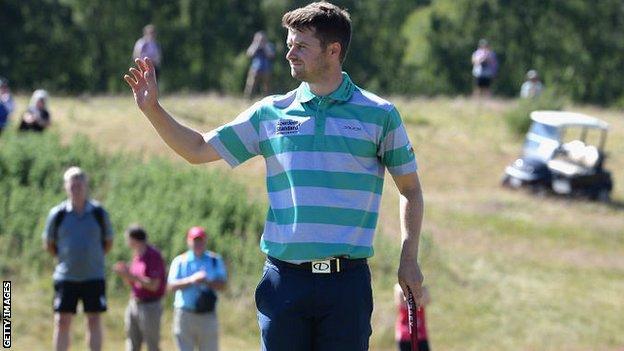 David Law believes much of the credit for his maiden Challenge Tour victory should go to the input of Paul Lawrie.
The 1999 Open champion has invested serious time in his Aberdonian protégé and it paid off when Law won the SSE Scottish Hydro Challenge on Sunday.
"Paul's helped me out since I was about 15, so that's 12 years now and he's stuck by me the whole time," Law told BBC Scotland.
"He's always there if I need him - advice or coaching."
Law's triumph at Spey Valley GC was his first in 100 attempts and five years on the Challenge Tour, lifting him to 10th in the Road to Ras Al Khaimah rankings.
The top 15 at the end of the season earn the step up to the European Tour, which was how Bradley Neil graduated to Europe's top tier in 2017.
"I've done short game and putting with Paul for years, which obviously he's exceptional at doing himself," said 27-year-old Law.
"He texted me on Saturday night to ask if it was okay to come up and watch my final round on Sunday and I was delighted for him to do that.
"Even after winning yesterday there are still things I can learn and I'm sure there are things Paul picked up on that we'll discuss.
"He's been hugely influential in my golfing career. I was over the moon and delighted to win, but so was Paul. All his hard work that he's done with me; it's nice to be able to repay that with good results.
"I've now got the confidence that I can win on the Challenge Tour."

Lawrie announced on Monday that he was ending his 2018 season early because of "debilitating" back and foot injuries.
It means he will miss the Scottish Open at Gullane and The Open at Carnoustie, where he won in 1999.
"I'm really gutted that he won't be playing those," said Law.
"He's still got a huge appetite to play. When he's fit he's still hugely competitive on the European Tour and playing well enough to win tournaments, without a doubt.
"I know it's been a frustrating time for him, and fingers crossed he does find a solution to these injuries and he can be back playing again soon."