US Open: Justin Rose one off lead amid Phil Mickelson controversy
By Andrew Mullen
BBC Sport
Last updated on .From the section Golf352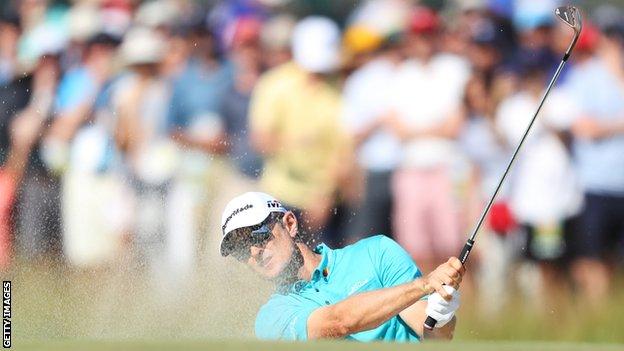 US Open, third round
+3
D Berger (US), T Finau (US), B Koepka (US), D Johnson (US);
+4
J Rose (Eng);
+5
H Stenson (Swe)
Selected others: +7
I Poulter (Eng), T Hatton (Eng);
+8
M Fitzpatrick (Eng);
+9
P Casey (Eng), R Knox (Sco), T Fleetwood (Eng);
+17
P Mickelson (US)
Full leaderboard
England's Justin Rose is one shot off of a four-way tie for the US Open lead amid a major third-round controversy involving USA's Phil Mickelson.
Rose, the 2013 champion, shot a three-over 73 at Shinnecock Hills to end four over and trail Dustin Johnson, Daniel Berger, Tony Finau, and Brooks Koepka.
World number one Johnson, who had led by four after round two, hit a 77.
Mickelson incurred a two-shot penalty after deliberately stopping his ball from rolling off the 13th green.
Rules officials could have chosen to disqualify the six-time US Open runner-up but instead elected to penalise the American, who shot an 11-over 81 to drop to 17 over.
"If someone is offended I apologise, but toughen up. Knowing the rules is never a bad thing. You always want to use them in your favour," said Mickelson.
Rose described conditions as very hard and added: "The course was just a battle. There was no reprieve out there with any shots but I survived it and I've now got a good shot," said Rose.
Fellow Englishman Ian Poulter slipped down into a tie for 10th at seven over after a 76.
Americans Berger and Finau matched the best round of the week in advantageous morning conditions with four-under 66s, and were in the clubhouse tied for 45th overall as the leading pairs took to the course.
Tight pin positions, coupled with greens which grew harder and faster as the wind and sun dried them out, limited scoring in the afternoon, with two-time major champion Zach Johnson, who had a two-over 72 to drop to eight over, suggesting the course had "surpassed" the limit of fairness and playability.
Mickelson's 'moment of madness'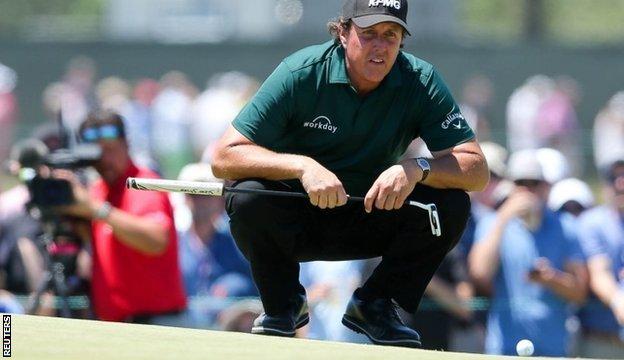 Mickelson, who was five over par for his round before playing the 13th, defended his decision to jog after and then hit his missed bogey putt back towards the hole despite the ball still moving and appearing to be heading off the green.
He eventually needed eight strokes to complete the hole before accepting a two-shot penalty from the United States Golf Association (USGA) for "making a stroke at a moving ball", rather than the more severe offence of "an action with the intent to influence the movement of a ball in play" which could have resulted in disqualification.
The five-time major champion, celebrating his 48th birthday, said he quickly decided the two-stroke penalty would be better than allowing the ball to roll off the green.
"I know the rules and the ball was going to go off in a bad spot. I did not feel like continuing going back and forth. I would still be out there potentially. I've wanted to do it many times before and finally did," said Mickelson.
Playing partner Andrew 'Beef' Johnston laughed off the incident as "a moment of madness".
Former Ryder Cup player Oliver Wilson, speaking on BBC Radio 5 live, labelled the incident "comical" and suggested Mickelson was "very lucky" to be handed "the softer option" of the two-shot penalty over potential disqualification. "If I was a player behind him, I'd be annoyed," he said.
Asked why Rule 1-2, which covers a ball being "influenced or deflected" and can lead to disqualification for a "serious breach" was not invoked instead, John Bodenhamer, the USGA's senior managing director of championships and governance, said: "Phil didn't purposely deflect or stop the ball, which is talked about in the reference under Rule 14-5. He played a moving ball."
Steve Elkington, the 1995 US PGA champion, was among several former players calling for Mickelson to be disqualified and he added on Twitter: "Absolutely 100% conduct unbecoming."
BBC golf correspondent Iain Carter said: "It was a deliberate breach of the rules. If that is not a serious breach of the etiquette of the game, I don't know what is."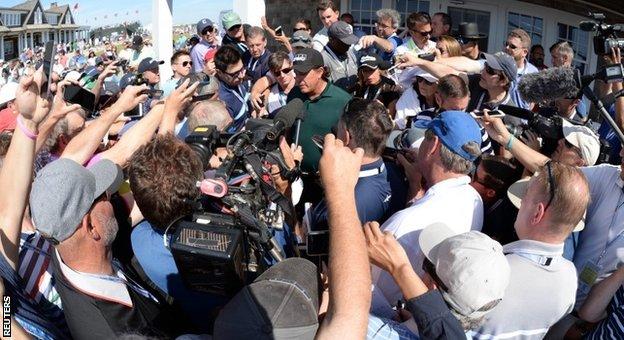 'They made us look like fools'
Mickelson's decision was certainly an unusual solution - John Daly did similar at the 1999 US Open - but was a sign of things to come for the leading groups, who endured the worst of the conditions on sun-baked greens.
The last time Shinnecock Hills in New York state hosted the US Open in 2004, play had to be suspended during the final round to water the seventh green which had become unplayable.
USGA chief Mike Davis insisted before this year's tournament that lessons had been learned but after Saturday's round, in which only three players broke par, he said: "We will admit there were some aspects of the set-up where we went too far, in that well-executed shots were not rewarded and in some cases penalised."
"It got too tough in some areas. If we got a mulligan, we would have slowed the greens down this afternoon. We are confident we can slow the golf course down going into Sunday."
Davis revealed Mickelson had telephoned him to clarify whether or not he should have been disqualified.
"Phil really did want to understand how the rule operates because he didn't want to... frankly, as he said to me, he goes, Mike, I don't want to play in this championship if I should have been disqualified," said Davis.
"That's where we clarified that, Phil, you actually made a stroke at a moving ball, and so we have to apply that rule (14-5).
"That's different than if he had deliberately just stopped the ball or whacked it in another direction or something like that. So it's just, it's us applying the rules."
Virtually every hole seemed to offer its own challenge of stopping the ball on the putting surface, with seemingly regulation shots rolling off the greens, leaving many players frustrated.
Spain's Rafa Cabrera Bello, who finished his six-over 76 with a triple-bogey seven on the 18th, labelled it "not a fair test of golf".
"Greens were unplayable, with unnecessary pin positions. USGA found a way to make us look like fools on the course. A pity they manage to destroy a beautiful golf course," added the Spaniard on Twitter.
'It was impossible'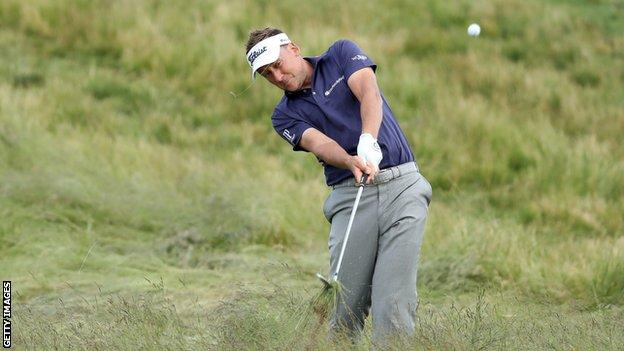 Poulter also fell foul of the conditions, particularly on the 15th hole, when his "perfect bunker shot" landed five feet short of the hole.
He said: "The ball had no speed on it but it ran five, six, eight, 10, 20, 50 feet past the hole. It was impossible.
"It was brutally tough. Some of the putts were impossible. Some of the pin positions were impossible to get at, to even leave yourself a 25-foot uphill putt. They set it up like this for a reason. They want it brutally hard. It's a stern test."
And Davis' comments did little to appease the world number 27, who is seeking his first major success.
In a rant on Twitter, Poulter said of Davis' words: "Is that an apology? You don't get mulligans in business at this level. How can this team keep doing this without consequences?"
The Englishman also said he had been verbally abused on every hole by spectators, and at one point spectators cheered as his ball dribbled off a green with some loudly calling him a "clown".
Sweden's Henrik Stenson, who briefly held the lead during the early stages of his round, had five bogeys on the back nine of his four-over 74.
He too saw an excellent bunker shot gather pace and run off the back green on the 15th.
"It's a bit of a lottery at times and it's a bit ridiculous at times but we know that. It seems to be the goal of the USGA otherwise they wouldn't keep doing this. But I'm in a decent position," he said after dropping back to five over overall.
'Seven over is usually a terrible score'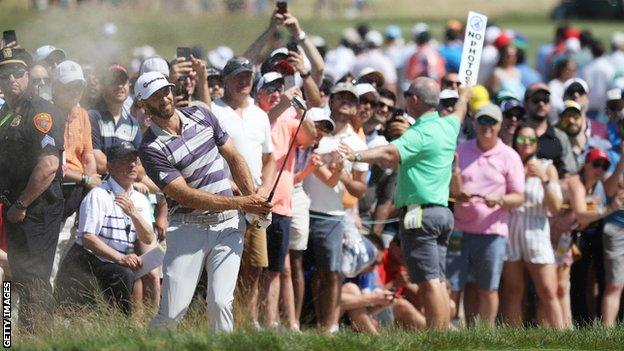 Johnson had just four bogeys in his opening 36 holes, which resulted in the 2016 champion holding a four-shot halfway lead.
But after a first double bogey of the week at the par-three second, four bogeys followed on the front nine as Johnson surrendered the lead.
He steadied himself on the back nine, with a birdie on the 11th and he had a one-shot lead playing the last but finished with a three-putt bogey from 18 feet.
"I didn't feel like I played badly at all," he said. Seven over is usually a terrible score, but with the greens the way they got this afternoon - they were very, very difficult," he said.