US Open: Tiger Woods says playing again is 'a pure bonus'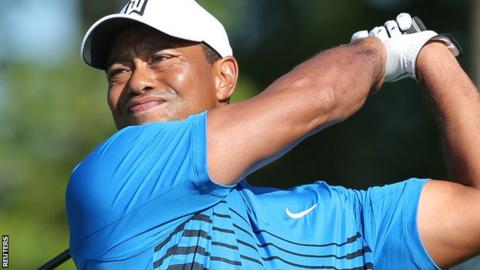 US Open, Shinnecock Hills, New York, 14-17 June
Coverage: Live text and radio commentary on the BBC Sport website, BBC Radio 5 live and Radio 5 live sports extra
Three-time champion Tiger Woods says playing in the US Open for the first time since 2015 is a "pure bonus".
Woods had his fourth back operation in three years in April 2017, and watched last year's US Open on television.
"This time last year I had just been given the OK to start walking again," said Woods, who partners Justin Thomas and Dustin Johnson at Shinnecock Hills on Long Island on Thursday.
"I had no expectation of getting this far," the 42-year-old added.
Woods won the last of his 14 majors a decade ago, the US Open in 2008, while recovering from a serious leg injury - two stress fractures of his left tibia.
As well as injuries, he has had to contend with issues away from the course - In May last year he was arrested on suspicion of driving under the influence, pleaded guilty to reckless driving and was given a year's probation.
Reflecting on where he was 12 months ago, the world number 80 said: "It was about just having my standard of life. Forget golf. Could I participate in my kids' lives again? That was the main goal; being able to play again was a bonus.
"A lot of this is a pure bonus because of where I was. To be here is a great feeling and one I don't take for granted."
Without a victory since 2013, Woods finished joint second and joint fifth on the PGA Tour in March and then in his first major since 2015 at this year's Masters, he was joint 32nd.
"I have given myself chances to win, which I did not know I was ever going to do again, but also I'm not happy with the fact that I didn't win," the winner of 79 PGA titles said.
"Of the tournaments I've played in this year, there's been something missing; hopefully this is one of those weeks where I put it all together and we'll see what happens."
Woods beats the traffic - by staying on a yacht
Woods will be staying on his $20m 155-foot yacht named 'Privacy' - which features a theatre, gym and jacuzzi - in an attempt to combat the traffic problems from official hotels west of the Suffolk County venue in the state of New York.
"Staying on the dinghy helps!" he said. "I was fortunate my dad and I stayed with one of the members in '95 and in '04 I was only a few miles north so that makes traffic so much easier.
"I've heard a few guys saying it takes two-and-a-half to three hours from the hotel, so there's a good chance someone might miss their time.
"You get a little traffic or a little fender bender [crash] and it's conceivable."
The vessel is moored at Sag Harbor, which is 14 miles east of the course and has a population of 2,000, including singer Billy Joel.
Woods said: "Sag Harbor is a cute little town. I've only been there for a few days now.
"I haven't really got a chance to walk about a little bit, but certainly will this week."
But is Mickelson a better story?
While Woods seeks redemption with a return to winning ways at a major, another US veteran - Phil Mickelson - is looking to complete a career grand slam of major titles.
Only five golfers have won all four majors and 47-year-old Mickelson aims to be the sixth - the five-time major winner has finished second at the US Open on six occasions.
"I think it makes a bigger difference for Phil than Tiger. I think there's a different meaning to those two," said three-time major winner Jordan Spieth.
Australia's Jason Day, though, disagrees. "I think the biggest story would probably be Tiger," he said.
"Not taking anything away from Phil because winning the career grand slam is absolutely huge. But for what happened to Tiger, it's been 10 years, what he did in that period of when he dominated, and I think a lot of people are kind of chomping at the bit for him to come back and do something special -- seeing if he can get back to winning and beating Jack's record."
Spieth unaware of play-off change
In February it was announced that the traditional US Open play-off over 18 holes on a Monday, which was in operation when Woods last won the event in 2008, would be replaced by a two-hole aggregate play-off.
One man who was not aware of the change was 2015 champion Spieth.
"I was even looking at a weather forecast for Monday, thinking what does it look like if you happen to work your way into a play-off. Shows you what I know," the world number four said.
Spieth is the only member of the world's top six without a victory this season and the 24-year-old said: "Compared to previous years, the limited number of chances I've had on the weekends has been frustrating.
"I feel like my game is in the best shape it's been in a long time, including last year."