Jean van de Velde's Open disaster at Carnoustie showed how hard winning can be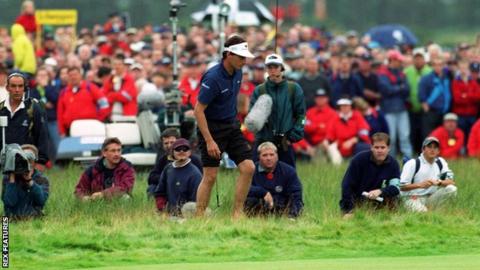 How difficult is it to win a golf tournament?
It is a good question with a Carnoustie Open Championship on the horizon - especially when you consider Jean van de Velde's 1999 capitulation.
All the Frenchman required was a double bogey at the last to claim a maiden major title yet, infamously, he contrived to take seven on that closing par four.
The next time the Open went to this fearsome Scottish links, in 2007, Padraig Harrington needed a play-off to beat Sergio Garcia after taking a messy six on that final hole. Anything less would have given him victory.
And it is not only that beastly 18th at Carnoustie that illustrates the difficulty of crossing the winning line.
Only on Sunday it took four extra holes for Ariya Jutanugarn to close out the Women's US Open despite the Thai carrying a seven-stroke advantage into the back nine at Shoal Creek.
At any level, strength of mind is a vital commodity and the unique pressure of the mental game is our big talking point on The Cut BBC Golf Podcast this week.
Jutanugarn had to dig much deeper than she ever expected to become a two-time major champion and Harrington needed a brilliant up-and-down to make the play-off against Garcia.
At least those two emerged with titles to their name. Van de Velde was runner-up to Paul Lawrie after the most costly final hole foul-up in the history of the game.
Yet the genial Frenchman is remarkably unscarred by what most players would surely consider a career-ending collapse.
"We all fight to have our name on the trophy but the journey is sometimes more important than the destination," Van de Velde told The Cut.
"I've always felt that I was very lucky to have made a living out of my passion, to have the world as my playground and lucky enough to play in the best golf tournaments in the world.
"As a kid who likes the sport, who doesn't want to do that? Sometimes we have to have perspective and not only cry over what we didn't get."
Van de Velde was speaking during a recent visit to the Angus Links, which stages this year's Championship from 19-22 July. He vividly remembers that week 19 years ago when he tamed a brutal Carnoustie for 71 of the 72 holes.
"I was playing extremely well and I was putting very well, more importantly," the now 52-year-old recalled. "I felt comfortable, I won the qualifying at Monifieth down the road, shooting two 67s to qualify.
"I came here and the set-up was extremely tough, the conditions were horrendous, it was so windy. All you could hear were the biggest names in golf saying how difficult the course was.
"I guess everybody was a bit shaken and discouraged with what was happening because if you missed a shot you could do a double or triple bogey very, very quickly. It was just a matter of trying to survive the test and survive the week."
Rounds of 75-68-70 put Van de Velde level par with one round to go, five shots clear of the American Justin Leonard and Australia's Craig Parry and 10 clear of eventual champion Lawrie.
By the time the Frenchman arrived at the final tee, he was three ahead knowing a double bogey would be enough for him to claim golf's most historic and prestigious title.
Despite his sizable advantage, Van de Velde chose to use his driver off the tee, and was lucky to find dry land to the right of the Barry Burn. "I got away with it - I was on the fairway and I had a terrific angle," he admitted.
"People say I should have played left but the fact of the matter is that I was the one playing the golf in accordance with my DNA. I felt hitting a two iron was not too much of a problem.
"All I had to do was hit it towards the flag, finish in the bunker and the game was over. Now, I hit a piece of metal the size of a golf ball on the grandstand and the ball came back after ricocheting off the wall on the side of the burn and went back another 30 yards.
"If it had stayed by the grandstand I would have had a drop and would have probably made a six. But things happen, whether it is for a reason or not."
Remarkably, Van de Velde insists he did not do much wrong on that final hole. His one mistake, he contends, came with the third shot from the rough when he went directly for the green.
"I could have hit it sideways but the ball was lying so bad I wasn't sure that I could have left it on the fairway," he said.
"Hitting it forward from that lie was bringing the water into play; it was bringing everything into play. I could have shut the clubface and hit it out of bounds so the third, going forward, was definitely a mistake there."
His ball ended up in the burn in front of the green. Amid scenes of French farce, Van de Velde rolled up his trouser legs and paddled into the water to size up playing from the hazard.
"The tide was going up otherwise I could have played that ball without any problem from down there - it is like a bunker shot," he added.
Instead he took a penalty drop in the rough, found the greenside bunker and bravely got up and down to earn a place in a three-way play-off with Lawrie and Leonard.
"There's no doubt I knew where I stood, you know what you have to do," he said. "But I did not panic at any time, I did not lose my composure.
"I made a bad choice on the third one, the rest I maximised it. I was fine, I was really OK. There was no negative emotion, there was no 'oh my god, it is slipping away'.
"People forget I could have won the play-off. At least I gave myself a chance to win despite all the trauma."
It is clear Van de Velde is completely at peace with what happened. "I'm just saying the course - sooner or later - was going to take a few prisoners and it just happened for me to be on the last hole," he said.
"At the end of the day, how many people can say that they went through those emotions; they walked down the fairway with that crowd on 18, leading the tournament. I mean, come on, you gotta be real here."
It might be easier to be so sanguine nearly two decades on but Van de Velde rationalised the experience almost instantaneously.
What did he do that night when Lawrie was celebrating a brilliant closing 67, play-off victory and a first major title?
"I actually invited all my friends, we had dinner here in the hotel and I had 15 people around the table and we celebrated the week," Van de Velde said.
"We had something to eat and we drank a lot of red wine." Alas, for him, it was not poured from the famous Claret Jug.
Van de Velde will be back at Carnoustie next month commentating for French television. "I will be walking in the middle of the fairway and you probably won't see me in the burn this year," he laughed.
More seriously, he is living proof that winning is not everything. He also knows better than anyone the trophy will not be securely in the hands of the next Open champion until he completes all 72 holes.
Winning is never easy, especially at Carnoustie.