Sandy Lyle 'sad' at thought of playing in last Open Championship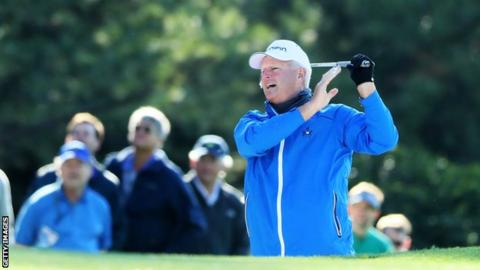 Sandy Lyle admits he is "excited" yet also "sad" that this year could be his last appearance in the Open Championship.
The 1985 winner's exemption ends after the tournament at Carnoustie in July now that he has reached the age of 60.
Lyle will need to qualify for the event from now on.
"It'll be quite emotional I'm sure coming down the 18th, whether it's the second day or the four rounds," Lyle told BBC Scotland.
"I'm excited on one side of it, but also a little bit sad as well. It will possibly be my last open as far as qualifying situation, my age now of 60. So 40 odd years of playing in the Open Championship, it's been a good innings."
As well as his 1985 Open triumph at Royal St George's Gold Club, Lyle also became the first British player to win the US Masters three years later.
Lyle's Open win netted him £65,000. This year's winner will get in excess of £1m.
However, Lyle says the prestige of winning the claret jug is the most important thing.
"It's like getting an Olympic medal," he said. "All the hours of frustration, years of studying, and years and years of playing, this is the reward at the end of it.
"It's not really to do with the prize money in the end, it's for the honour of winning the Open Championship. It's history, you can't take that away.
"If you win that trophy it's something special. Being announced as the Open champion on the first tee, it makes you hair stand on end."
Lyle has also revealed he would welcome a round of golf with US president Donald Trump when he arrives in Scotland.
"If the chance arise I would like to play with him," he said.
"I played at Turnberry and I played at a Donald Trump course in America when we had a PGA event there. He's done a very good job on Turnberry.
"If they pick the phone up I'll make the space."