Women in Golf Charter: Golf 'has to change', says R&A chief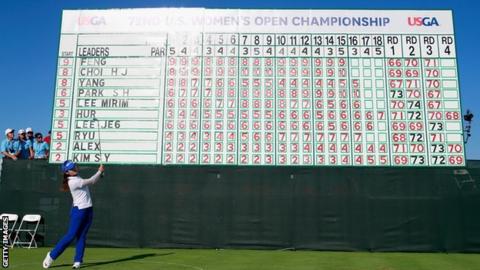 Golf is "flat" and "has to change" to attract female players and families, says the chief executive of the game's governing body.
Martin Slumbers was speaking as the R&A launched a Women in Golf Charter in a bid to encourage and increase female participation.
The Charter also aims to improve the "recruitment, retention and progression" of women working in golf.
"Doing nothing is not an option," Slumbers told BBC Sport.
"The majority of golf clubs are struggling because their product is aimed at a target market which is shrinking.
"At best we are flat and that has to change. When you look at raw statistics, it is women who bring children to play not men. It is just such a compulsive story.
"We want to make sure the R&A is modern and relevant to today's society and we see our overall goal that golf is thriving 50 years from now."
It is only four years since the St Andrews-based Royal and Ancient Golf Club voted to admit women members for the first time.
The club is linked to the R&A, which runs the Open Championship and, along with the United States Golf Association, administers the rules of the game.
Established golf clubs have struggled to maintain membership levels in recent years, with figures showing a 7.9% drop in registered golfers in the UK since 2012.
Female golfers are seen as potentially key drivers to reverse this trend, and England Golf has signed up to the Charter.
Slumbers said the R&A would have to have "difficult conversations".
"I think if you spend your whole life looking backwards you never achieve anything," he said.
"I think the R&A has changed and changed very quickly and has embraced its new world. We are a pretty equal organisation but we know we are not perfect. The important thing is we have got to lead and bring the industry with us.
"We know we need to change so I'm very confident. Will it take longer than it should? Yes probably, but that doesn't matter - you have to get going. Everybody working together will make it happen.
"Time will tell, but I'd like to think for club golf, amateur golf, today is a very important day."