Players Championship: Matthew Fitzpatrick on very, very slow greens and Tiger's return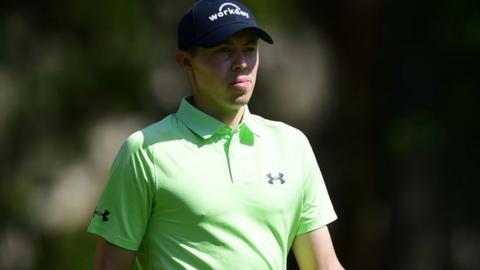 Ryder Cup star Matthew Fitzpatrick completed a third-round 70 to move to four under par at the prestigious Players Championship. For the latest instalment of his players diary for BBC Sport he reflected on failing to heed the advice of the Sawgrass fans and a round spent in the company of European Ryder Cup team-mate Rafael Cabrera Bello.
I guess I'm living proof that the danger of the short island green 17th is not just provided by the water. My tee shot finished just four feet from the hole but that green seems to be quicker than all the rest.
The other greens have been really true but very, very slow, which has surprised me. There's so much emphasis on that 17th it seems like it's the only one they've cut all week.
I had my downhill four-footer and I only tapped it. Then it took a bobble left and it was only going about two and a half feet past but it continued to go another four or five feet further.
They know how to set up the course and it's a bit of a sucker pin because you can knock it close but, if you try to hit through the break, you can end up like I did.
I probably should have taken the advice of the lads standing by the green. They were shouting "left edge, left edge" so I probably should have hit it there.
It's always good to play with Rafa, we get on very well. I like watching him because he is so steady and rarely hits real bad ones, although he did hit two in the water today. The other thing is he can go on runs and throw three or four birdies at it.
I noticed he was using his Ryder Cup marker and hopefully we will both be there again for Europe in September.
For me, though, this was a nearly round and very frustrating. The good was really good but I need to get rid of the bad.
I had five bogeys but recorded six birdies so it could have been a six-under-par round and I would have made a massive jump; it is a disappointing outcome.
There were just too many loose shots and a couple of silly errors. I three-putted twice, including that one from four feet on the 17th.
A bad drive into the trees on the 10th guaranteed a bogey and I hit a terrible seven iron from a perfect position on number five, which left me in an impossible position to get up and down.
The most annoying thing is that I would throw a birdie at it and then I'd make a bogey, then I'd throw two birdies at it and find a way to make two more bogeys.
There was a buzz around the place, though, and I knew Tiger was doing something special.
I heard some early roars when I was on the range and I could see he was going low because his name came up on the leaderboard while I was going round.
It is exciting to see - it is obvious that he is back.