Players Championship: Matthew Fitzpatrick on how Rory McIlroy helped him at Sawgrass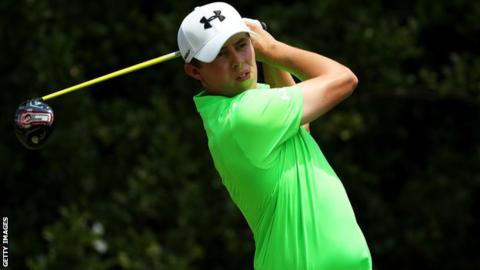 Britain's Matthew Fitzpatrick compiled a battling second-round 70 to make the cut at the prestigious Players Championship at TPC Sawgrass in Florida. The four-time winner on the European Tour shared his thoughts with BBC Sport in the latest instalment of his player diary.
I probably have to thank Rory McIlroy for being able to get to grips with this place. This course is designed to mess with your head and I learned that from reading quotes from Rory.
He was saying that he didn't really like the golf course but he could see himself winning round here. I read what he said about the designer Pete Dye and how he tricks you off the tee.
The sight lines suggest the landing areas are very narrow, but in reality there is more room than you think. Half the time when I miss fairways here I end up thinking to myself "how have you done that, it's bloody massive!"
As a result, my attitude for the second round was very good. I didn't beat myself up and it is the first time in a while that I've realised that I can actually make three birdies anywhere in the world.
I needed to do that down the stretch to make the cut and I had the belief that I could do it. Funnily enough two of them came on two of the hardest holes on the back nine, the 13th and the 15th.
It was really important that I didn't lose my head because every hole is difficult around here. So I'm really pleased with that performance.
I started very well with three birdies in the first four holes, although there was a bogey in there as well. Holing a few putts, though, left me delighted - especially after the frustrations of the first round.
Then the round started to get away from me with a couple of bad breaks, a couple of bad shots, but I was able to pull it back together on the back nine, coming home in 34.
On the 10th I three-putted for bogey and on the first putt I felt like I barely touched it and it went six feet past so I felt quite unlucky there.
But thereafter I was able to get it going and made a couple of good putts for birdie coming in and they came on those holes where you'd probably say I wouldn't have chances of making inroads.
The par-three 13th is not an easy hole and the 15th I had to hit a five iron to reach the green, so I was very pleased with that.
My first-round scorecard with one birdie, one bogey and 16 pars looked pretty bland - this one was quite the opposite. It was a bit of a rollercoaster but, unusually for me, I always felt that I was going to make more birdies than bogeys, which is a good thing.
I think this is the sort of round I can take a lot of confidence from going forward. I didn't feel like I had my best game out there, by any means, but still managed to shoot two under.
When I came in that was enough to move me up 30 spots on the leaderboard so it's pretty good.