Players Championship: Matthew Fitzpatrick on the putts that 'just wouldn't go in'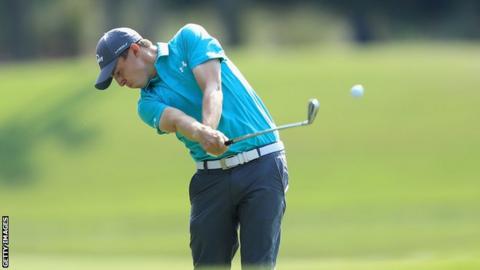 Britain's four-time European Tour winner Matthew Fitzpatrick is competing in this week's prestigious Players Championship at TPC Sawgrass in Florida. The 24-year-old from Sheffield, who carded a level-par 72 in the first round, shares his insights in his diary for BBC Sport.
My scorecard looks a bit boring with just one birdie and one bogey but I really feel I deserved a better score than 72.
A two-under-par score would have been a much better reflection because I had six birdie chances inside 15 feet, which is pretty decent.
But I just putted awfully. I had a couple of good up and downs but got some bad breaks as well.
The funny thing is whenever I have played here in the past the greens have been lightning fast - and that was great because I love putting on quick greens. This week they seem really slow and I've not adapted to them.
I feel like to get it past the hole I've really got to smash the ball, then before you know it you've got four feet coming back. Anything that was scoreable distance just wouldn't go in.
In my previous diary I stressed the importance of accuracy from tee to green and that's the big cause for satisfaction after this round.
The one bogey, on the first - my 10th hole - was very unlucky. My drive ended up semi-plugged in the face of a fairway bunker. The face was only about an inch tall and it was right up against that - three inches either way and I could have got a full club on it.
I played with one of the guys at the top of the leaderboard in American Chesson Hadley and the big difference for him was that he kept holing the putts. He played solidly and every chance he had he took. He carded eight birdies, which is pretty impressive round this place.
The thing that pleased me most was my attitude. I've come back off a break after the Masters and Harbour Town last month and I really wanted to be more relaxed on the golf course. That was really good today, so that's a positive.
I only had the one bogey so there wasn't too much to get down about. In the second round I need to stick to my plan: play smart.
Looking at the scores, the cut is likely to come at one under par. So I need the putter to warm up, get myself into the middle of the pack and take it from there.