Irish Open: European Tour praise for Ballyliffin preparations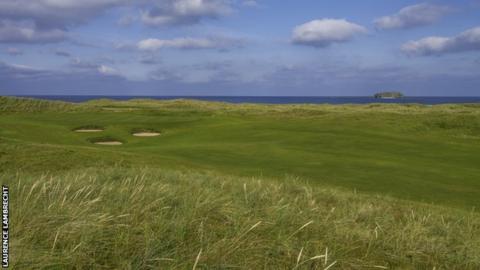 The European Tour says it is absolutely delighted with Ballyliffin's preparations for its hosting of the Irish Open in July.
Tournament director Simon Alliss visited the course on Wednesday to assess the venue's readiness for the Rolex Series event and predicted that "no-one is going to be disappointed".
Alliss, the son of legendary BBC commentator Peter Alliss, said tickets sales have been "really encouraging" and described the facilities at the county Donegal venue as "world-class".
"I think we will see numbers we are used to seeing in events of this size," he added.
Just under 80,000 spectators attended last year's tournament at Portstewart.
"The venue is world-class. It has now got an incredible locker room facility and an incredible pro shop as well as fantastic changing facilities.
"The greats that come here in July will all leave with great memories."
A media day saw Alliss and the assembled writers and broadcasters being buffeted by gale force winds of more than 50 miles an hour on the Glashedy links.
Ballyliffin's general manager John Farren joked that he is certain the sun will be out in the Inishowen peninsula in early July before delivering a passionate explanation of what hosting the event will mean for the entire North West region.
"It's huge for us. A tournament of this scale coming to Kildare, Galway or Dublin is just another week of the year," added Farren, who worked tirelessly to bring the event to his beloved club.
"I've compared it Donegal staging the World Cup. That's how big a deal it is in terms of the exposure we are going to get.
"It's long overdue but we intend to take our moment in the sun.
"We expect the week to match previous attendance records. We're quite confident of that. The field, the prize fund, sponsors and the whole festival atmosphere will capture the Irish golfing public's imagination."
Farren insists fears of a lack of suitable accommodation for the event are misplaced.
"We have the accommodation capacity and we've been working very closely with providers in Donegal and Derry in terms of co-ordinating the accommodation.
"Everyone in the region sees this as a huge opportunity to showcase, not just golf, the whole region, scenery and what we have to offer up here.
"Everyone is buying into it. I haven't heard any negative reports about the event. There are going to be impacts on the community but people are looking at the big picture because we have been waiting for this moment for a long time.
"We believe we have a product here in terms of the Glashedy links. The European Tour and our sponsors and bringing a world-class product to a world-class golf course. There is no reason in the world why we can't deliver a world-class tournament."
Wednesday's recce by the European Tour also included an announcement that Dubai Duty Free will extend their title sponsorship of the event until 2022 plus the announcement that former European Ryder Cup vice-captain Des Smyth will be a tournament ambassador from 2019.
Dubai Duty Free's involvement with the event has seen prize money rise from $2.5m in their first year to the current $7m purse.
Tournament host Rory McIlroy and last year's winner Jon Rahm are expected to be joined by other big name entrants in the coming weeks although suggestions that Tiger Woods could tee up at Ballyliffin appear unlikely.