Coldplay is not cool golf - music enhancing golf is hard to fathom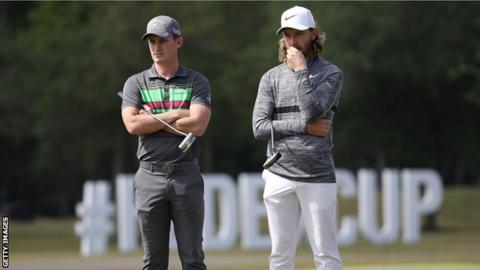 Watching Tommy Fleetwood's reaction to playing partner Chris Paisley holing out for eagle to complete a fine performance in New Orleans fully vindicated the PGA Tour's format change last week.
Paisley called his pitch to the bottom of the cup at TPC Louisiana "the coolest moment I've ever experienced on a golf course" after Fleetwood charged over to embrace and celebrate with his Zurich Classic partner.
This was the second year of the event being a team competition, with the players pairing up to play fourballs and foursomes. And while it works well some of the attendant hype is way out of tune.
Undoubtedly, the format brings out personalities and sporting tension, adding a welcome new dimension to the staple of 72-hole strokeplay.
The decision to make the final round the more demanding foursomes alternate shot format also worked. It put players under the cosh, having to perform for their partner with the title on the line.
How the format works
Foursomes: Teams of two compete with one ball per team, taking alternate shots until the hole is completed.
Fourballs: Each player has their own ball, and the team's lowest score on each hole counts.
As Paisley's ball disappeared, it was little wonder that fellow Englishman Fleetwood beamed with such delight. He knew his day's work was done with his mate having just helped each of them land $216,900 for finishing tied fourth behind Americans Billy Horschel and Scott Piercy.
But while the format was a hit, the decision to use walk-up music on the first tee, surely, missed by a mile. It is symptomatic of the game trying too hard to modernise itself.
The notion that songs piped through a loudspeaker can enhance a golfing experience is hard to fathom.
The European Tour has used tunes on the range at several events. The thinking is that it somehow makes the experience "cool".
This is so far off the mark. The reason fans love watching players on the range is to watch them hone their technique and to admire the unique sound of a perfectly struck ball.
The music gets in the way and it must be remembered Coldplay is not cool golf. The sport should have the self-confidence to say it can be "cool" without musical accompaniment.
Last weekend seeing Alex Cejka and Ben Crane head-banging to Whitesnake's 'Here I Go Again' before teeing off their third round was a step too far.
"I think it's awesome," Crane stated. "It's super fun. Yeah, I think guys should be required to do something."
Cejka, added: "A lot of guys, like the Australians we were playing with (Greg Chalmers and Cameron Percy), they were standing there like everybody else. A little bit boring.
"We're crazy characters, so for us it was normal, you know? Everybody is different. Some guys might like it, some guys don't."
Cejka concluded: "It was cool." Crane added: "It was very cool."
Really? It left this stuck-in-the-rough observer feeling distinctly cold to the idea.
Thank goodness PGA champion Justin Thomas and his partner Bud Cauley didn't make the cut (the music was only there at the weekend). Their choice was Elton John's soporific Circle of Life.
"It was a team decision," Thomas admitted. "It's hard to pick a pump-up or walk-out song for a shot you are hitting a hybrid or a three wood on.
"Getting pumped up didn't really do a lot of good, so we just figured we would have some fun with it."
At least it was a decision based around golfing performance and that has to be at the heart of any tournament experience.
Olympic champion Justin Rose poked a bit of fun at his playing partner Henrik Stenson by playing Spandau Ballet's 'Gold' - the Swede won silver in Rio - but while music and hullaballoo can work in a stadium environment golf courses are not those kind of venues.
We have debated this topic further in this week's The Cut BBC Golf Podcast - which can be downloaded from the BBC Radio 5 live section of the website, or the golf homepage - and we also look ahead to another event where there will be a full-on assault to our senses, The GolfSixes at The Centurion Club near St Albans on 5-6 May.
Like the New Orleans tournament, this European Tour event is a welcome shift with the emphasis on pace of play, teamwork and playing for your country.
Last year the golfing side was fascinating. The use of a shot clock on one of the holes led to the players calling for the time limit to be reduced from 40 to 30 seconds.
It looked a viable golf equivalent to Twenty20 cricket and it undoubtedly has potential. Where it fell down was with the razzamatazz, the music and awful commentary.
A golf course is no venue for dry ice. These are usually beautiful places, don't obscure their majesty with artificial clouds of fog, incongruous music and intelligence insulting announcements.
Golf lends itself to all sorts of entertaining formats and these are the proper vehicles to provide much needed innovation to the game.
US tour player William McGirt believes last week's PGA Tour pairs event could be further enhanced by introducing a round of Texas Scramble. Players would play their next shot from whichever is the most advantageous position achieved by the previous stroke.
McGirt reckons teams could shoot 19-20 under-par in such rounds. "Maybe play fourball and foursomes the first two days, make the cut, have a scramble to either tighten things up (on the leaderboard) or spread it out," he said.
Why not? It would remain a genuine test of golf especially if you finish the event with the more demanding foursomes, as was the case last week.
GolfSixes is also played with an alternate shot format, greensomes, where the players choose which of their drives they want to hit from. It is fun and will be further enhanced by the inclusion of female teams for the first time.
As long as the golf takes priority and it is not dragged down by too much surrounding phony hype, it is a format that can prosper. It needs to because big-money backers are required to attract the biggest names and without them it has no viable long-term future.
With all such initiatives it should be remembered the coolest thing is the golf. Just ask Tommy Fleetwood and Chris Paisley.