Richie Ramsay - Scottish win on European Tour is overdue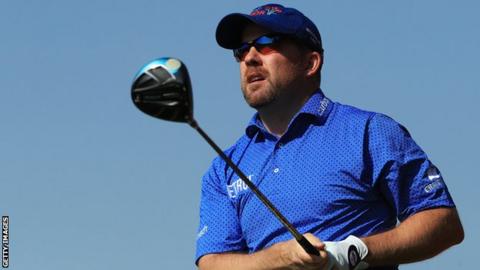 Richie Ramsay is hoping good memories of Morocco can help him end a three-year barren run for Scottish players on the European Tour.
The 34-year-old Aberdonian is in Rabat this week for the Trophee Hassan II event, which he won in 2015.
No Scot has triumphed on the European Tour since then.
"It is too long and we're all out here trying to win every week, but every year the competition gets stronger and deeper," Ramsay told BBC Scotland.
"There are a lot of players from countries you wouldn't expect to be a golfing nation.
"I try to give 100% every week and if that means I finish 60th, then so be it, but if it means top 10, then I go away with the same attitude that I tried to be the best I could be on the golf course.
"I enjoy coming here. It's sunny with blue skies and there's a feel-good factor because I won a few years ago."
The last of Ramsay's three Tour successes came when he pipped France's Romain Wattel by one stroke.
His 2015 triumph was in Agadir but since then the Trophee Hassan II has been at Royal Golf Dar Es Salam in Morocco's capital, Rabat.
And Ramsay expects altered greens to throw up all sorts of challenges this week.
"If this was in Europe, I have no doubt it would be one of the top 20 courses there," he told BBC Scotland.
"From tee to green is really good and the greens were always pretty fair. But they've changed the greens. The surface is immaculate, and there are a lot of undulations now.
"It's going to limit pin positions and you'll see a few guys this week - hopefully I'm not one of them - who will get themselves into a bit of trouble on the greens.
"You can be 25 feet away and not be able to get it inside 10 feet with the amount of undulations.
"So it's going to be a testing week but you've got to try to be as patient as possible, come up with a game plan and try to hole putts from eight or nine feet just to make par."
Ramsay is joined in Rabat by eight other Scots. Paul Lawrie, Stephen Gallacher, Marc Warren, David Drysdale, Scott Jamieson, Connor Syme, Bradley Neil and Grant Forrest are also in the field for the first round on Thursday.
"A little bit of wind would be good," added Ramsay.
"I think it tests the guys out a bit more; you've got to hit different shots - especially when the greens start to firm up more.
"I'm used to those conditions more, so they favour me. We're not far from the water here so there might be a bit of a breeze coming through."